The Fashion Trend Gearing Up For A Big Comeback, According To An Expert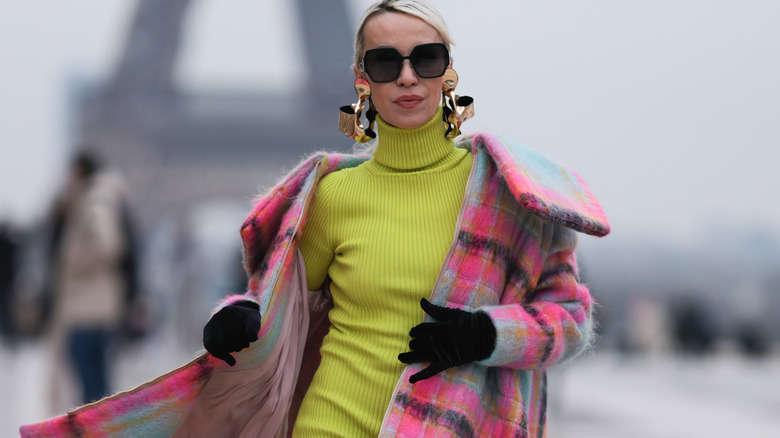 Jeremy Moeller/Getty Images
It can be hard to stay on top of fashion and keep your wardrobe feeling fresh, especially right now. The past few years have been a style rollercoaster, with fads quickly shifting between nostalgic throwback looks and unapologetically experimental ensembles. We've seen everything from neoclassical regencycore outfits to hyper-modern Y2K revival trends dominating our social feeds.
With so many niche aesthetics now claiming their own tribes on Instagram and TikTok, it can be hard to know which looks are truly on the up and up. Of course, a major part of fashion is simply finding what speaks to you. But when you're left struggling to wade through all the conflicting outfit inspo crowding your For You page, you may not know where to start.
So how can you identify the hottest incoming looks and work them seamlessly into your personal style? To find out what this year has in store, we spoke to Bertha Salazar, the senior styling director at iconic retailer JCPenney, and she revealed the biggest, buzziest fashion trend gearing up for a major comeback in your closet.
Vibrant color is on the rise
Fashion can be an unpredictable and ever-evolving form of self-expression — which is why it pays to have an expert in your corner. Leveraging her industry knowledge and talent for trendspotting, here's what Salazar predicts for the year to come. "2023 will see many micro-trends, but one thing for sure to be huge all year is bold colors," she says. "Whether a vibrant fuchsia or a rich cobalt blue, adding your favorite bright, bold color will level up your look, and maybe even lift your mood."
After a few rocky years, that mood boost is just what many people need. In fact, Salazar suspects that it's a key factor in the growing popularity of color-forward fashion. "I think for many, post-pandemic dressing has been an opportunity to reevaluate our personal style and how we want to show up in our daily lives," she observes. "Wearing bold colors is empowering and optimistic, allowing people to find joy in getting dressed up and going out again. Even if it is just back to the office."
In 2023, the world is your oyster. And whether you're headed to work, meeting friends for brunch, or going out for a night on the town, bold color is a universally applicable trend that you can work into every outfit for an instant injection of positive energy. But where should you begin?
How to add color to your wardrobe
If you tend toward a more muted clothing palette, you may be wondering how to stay on-trend with the addition of bold colors. Rather than reinventing your wardrobe from the ground up, you can start by selecting a few statement pieces that complement your usual everyday looks. For instance, dial up your work outfit with a colorful twist on staple items, such as a pair of eye-catching yellow pumps or this Petaluma Pink Women's Blazer from Worthington. A single daring item can take your entire look from run-of-the-mill to fashion-forward.
Or, if you're really vibing with super-saturated hues, you can double down by pairing multiple pieces in similar shades. As Salazar notes, "From a striking, monochromatic head-to-toe look or just a colorful shoe, this is a trend that you can easily customize for your individual style."
Fortunately, this year promises plenty of stunning options to work with. Salazar predicts that fashionistas will be spoiled for choice when it comes to brightly colored statement pieces. "We can expect to see bold colors, especially fuchsia, dominate across all categories of apparel and accessories for women and men for the rest of the year," she says. "And because this trend goes beyond silhouettes or specific style genres, we will continue to see exciting new products served up in a multitude of head-turning colors making this trend hard to resist."