Olive Oil For Nail Strength: Does The TikTok Hack Really Work?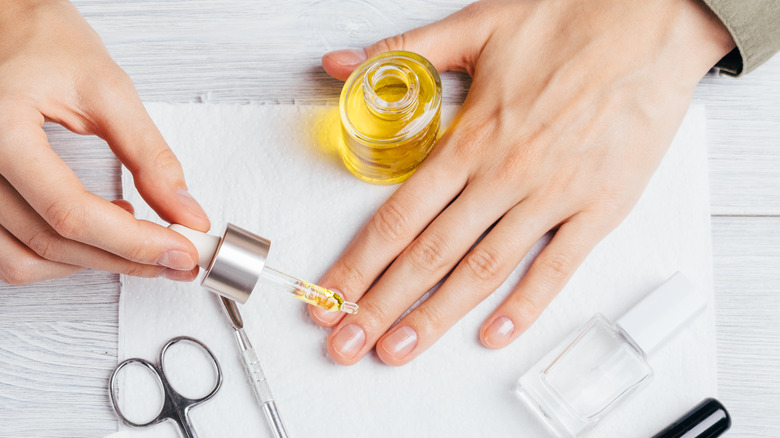 progressman/Shutterstock
Social media is a fabulous place to find tips and tricks for taking your makeup, hair, and fashion game to the next level. That definitely includes beauty hacks which can introduce you to clever ways to make your routine easier and faster while offering seriously impressive results. If you want to know how to get stronger and healthier nails, then a certain hack that's been circulating on the platform promises to do just that.
First, you should be aware of the fact that the hack can be tackled in at least three different ways. Perhaps the most straightforward one from a TikTok user called @health.care35 simply involves pouring a little olive oil into the bottle's cap or a small dish. You can then use a cotton swab to soak up some oil and rub it onto your nails. Doing this once a day will eventually give you the results you want. The second method comes from TikTok user @pretsamie7 who suggests pouring olive oil into a medium-sized bowl and spending 20 minutes with your nails dipped into the liquid. Finally, @parabellbeauty's TikTok technique is similar but includes lemon juice stirred into olive oil and a 10-minute nail bath in the mixture two times each week.
Of course, before you try this out for yourself, you surely want to know if this hack is even going to work. 
Olive oil provides your nails with moisture and nutrients
If your nails are thin and break easily, then you may want to give olive oil a try, as it might give your nails the boost of strength that they need. "Particularly with the discussion of brittle nails, management does involve using moisturizing oils to improve splitting of the nail plate and improving nail quality," Rachel Nazarian, M.D., F.A.A.D., told Shape.
Nazarian pointed out that the oil might cover the nail in a way that prevents moisture from escaping which, in turn, keeps the nail more hydrated, healthy, and strong. Director of cosmetic and clinical research in dermatology at Mount Sinai Hospital Joshua Zeichner, M.D., also explained, "While [olive oil] does not promote new growth per se, it does improve brittleness and reduce breakage, allowing the nails to grow to the best of their ability."
Beyond that, board-certified New York City dermatologist Debra Jaliman, M.D., told the publication that olive oil contains both vitamin E and vitamin A which can help to keep nails strong, not to mention nice and shiny. Meanwhile, co-founder of Skintensive Anar Mikailov, M.D., F.A.A.D., explained, "[Olive oil] is rich in fatty acids, [such as] oleic acid, linoleic acid, and palmitic acid, as well as lipids and antioxidants." 
Olive oil can also benefit your cuticles and hands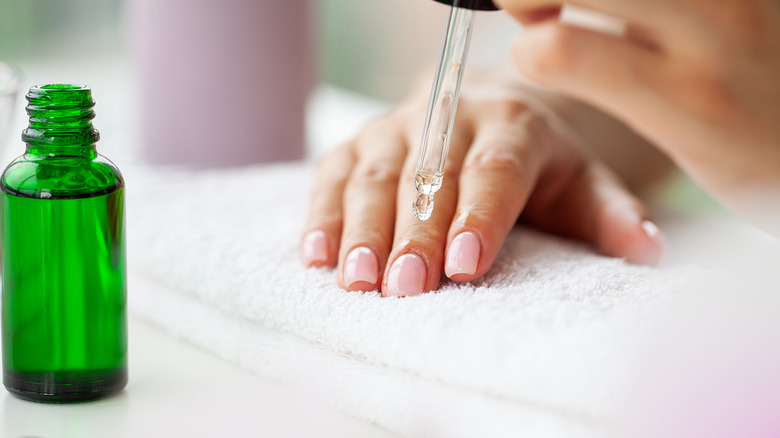 Yuriy Maksymiv/Shutterstock
While you're using olive oil to strengthen your nails, you can also put it to use in other ways. For instance, it can help to soften your cuticles. Start by adding white vinegar to the same amount of warm water. Leave your cuticles in the solution for five minutes to give them a cleaning. Now, dry your fingers and rub olive oil onto your cuticles and wait for 10 minutes.
As you do that, you might also want to show your skin some TLC. Take about a teaspoon of olive oil and spread it onto your hands. Next, slide gloves on or put plastic wrap around your hands. Leave this on for a couple of hours or while you sleep for the night. This will give the olive oil plenty of time to soak into your skin without rubbing off. Board-certified dermatologist and founder and CEO of Eighth Day Tony Nakhla, M.D., told Women's Health, "This process is called occlusion therapy, and forces the oil into the skin, which contains potent polyphenols and antioxidants that help restore and renew skin cells."
Finally, you might be able to add a touch of olive oil to your favorite moisturizer to give it an extra boost of power. Or, you can opt for a product that already features an olive oil-rich formula that will offer you the kind of benefits that you have in mind.