The Easy French Manicure Hack That You'll Only Need A Silicone Sponge For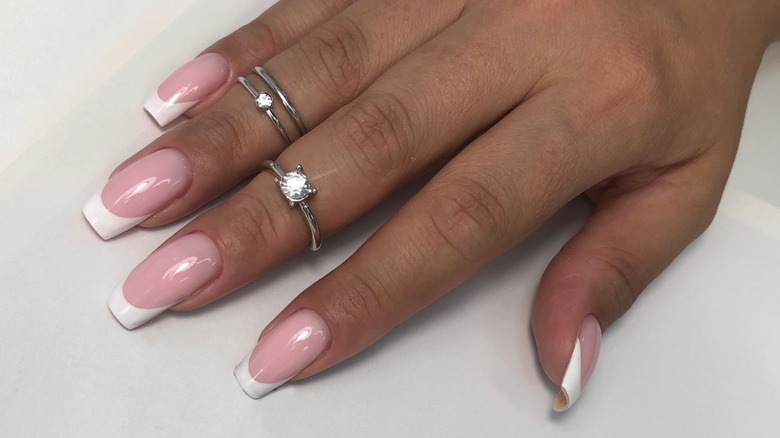 Bogdan Kovenkin/Shutterstock
If you appreciate super-helpful TikTok beauty hacks, then you might have come across one that offers you a snazzy tip for tackling the classic French manicure. Ooh la la! This hack is so clever and so easy that it might become your new favorite way to do your nails. Frankly, it's so popular that when it was posted by nail artist Sara Cady, it immediately went viral. We're talking millions of views in just about a month's time, according to Newsweek.
"I'm still in shock that over 12 million people have seen and wanted to watch my video," Cady said while talking to Good Morning America. "I only posted it because I thought it would be a great hack for beginners and at-home users."
Cady also pointed out that she had seen TikTok user @lee_beauty_studio share an earlier video about the hack and others have definitely joined in the fun and posted their own videos in the time since. You'll surely understand why and may want to give it a go yourself when you find out how quick, simple, and effective this manicure hack can be.
A quick dip and press will nail this french manicure
Before you try out this nail hack, you'll need to gather a couple of supplies first. While you'll obviously need a bottle of nail polish in whatever color you want the tips of your nail to be, you'll also need a silicone sponge. This can be like the one you might already use to apply makeup, although you can also use a silicone stamper meant specifically for nails. If you don't have either kind, then you can likely pick one up at a store or online.
While the technique is rather straightforward, TikTok user @nailzkatkat offered a fabulous tutorial that shows how it's done. Using a baby lime shade, she has applied nail polish to the surface of the silicone. Then, instead of pressing the sponge or stamp onto your nail, dip your nail into the polish and quickly press it forward. This will give the polish a chance to cover the tip of your nail in the perfect curved shape. That's it! According to @nailzkatkat, the entire process only takes five minutes.
Although you may need a few tries before you get the technique down, the polish and sponge (or stamp) should do most of the work for you. That's why you'll definitely want to use a silicone tool. However, there is another good reason why it's the best option for this particular hack.
Why you should use a silicone sponge for this hack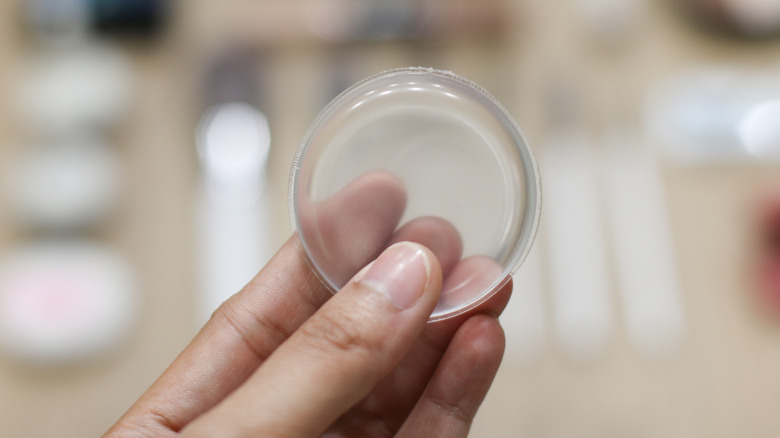 Melimey/Shutterstock
You may be tempted to attempt this French manicure hack with another kind of sponge that you already have at home. However, that might end up being a big mistake. Along with the fact that you might end up with unwanted texture on your nails from a porous sponge, you may only be able to use the sponge that one time since nail polish may stain and ruin it. On the other hand, silicone sponges are not only smooth, but Urban Decay's Global Makeup Artist Steve Kassajikian told Byrdie, "As long as you're using liquid products, you can use the silicone sponge to apply multiple products."
This can come in handy if you want to try different kinds of nail art with one tool. For instance, Prairie Beauty Love suggested a variety of methods that will leave you with a range of effects. Along with what has adorably been deemed an abstract smoosh, a marble smoosh, and a sunburn smoosh, there is also stamped dry brushing and a combination of the two techniques which gives us the dry brushed smoosh. Each one involves applying polish directly to a silicone stamper in different ways and with different shades in order to achieve stunning results.
That's why you may want to give a few other techniques a try after you perfect your French manicure.