Cropped Jackets Take NYFW Fall-Winter 2023 By Storm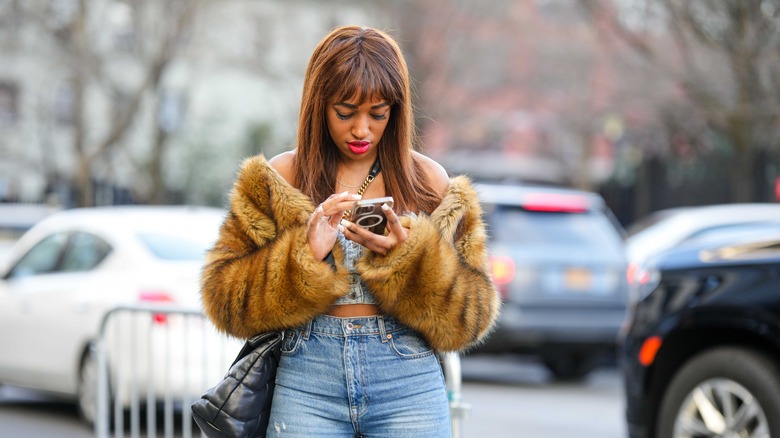 Edward Berthelot/Getty Images
We may receive a commission on purchases made from links.
With NYFW in full swing, this time is all about uncovering the hottest trends for the next fall and winter seasons. Since many designers are sticking to the Y2K and early '90s era as their inspiration for this year, many clothing pieces we remember are coming back for another moment in the spotlight. One of these pieces is the cropped jacket. Between bomber, leather, and denim jackets, there are various versions to choose from in the fall and winter collections. There are no limits to the type of cropped jacket you can wear since this trend is all about bringing an unexpected twist to a classic clothing piece. 
As designer Tory Burch explains, "For Fall/Winter 2023, we wanted to challenge perceptions of beauty and femininity. We broke down the traditional wardrobe and rebuilt it with an undone attitude. Familiar silhouettes are reinterpreted through sculpting, tailoring, and twisting while preserving simplicity of form." This fall and winter are all about breaking down the fashion rules and bringing something new to your style. There's no better way of crushing the mold than a fiery cropped jacket for the season. It doesn't matter if you are a minimalist or maximalist, as the cropped jacket is as versatile as it is chic.
Bright and bold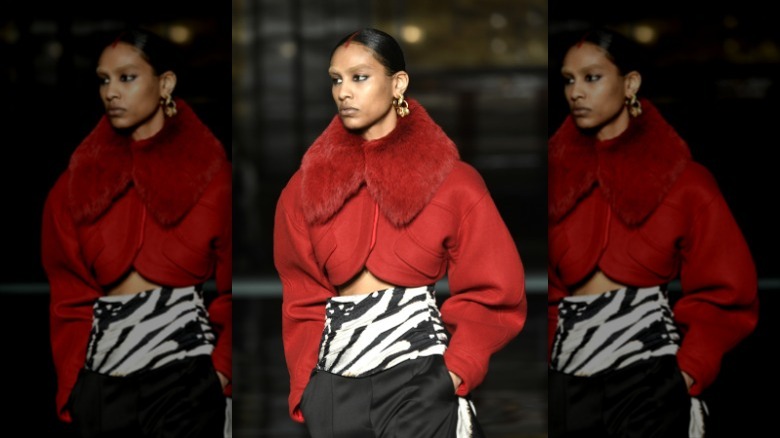 Fernanda Calfat/Getty Images
We are already breaking down the rules by donning a cropped jacket. Take it a step further by opting for a splash of color. Many designers are taking their hues to the extreme by reaching for saturated colors and using them as a chance to brighten up the fall and winter seasons. While there is no replacing winter whites, try adding a vibrant cropped jacket as the perfect contrast during the gloomy, colder seasons. Popular colors of the year like magenta, red, and pink are the ideal shades to incorporate this upcoming fall and winter season.
Remixed classic pieces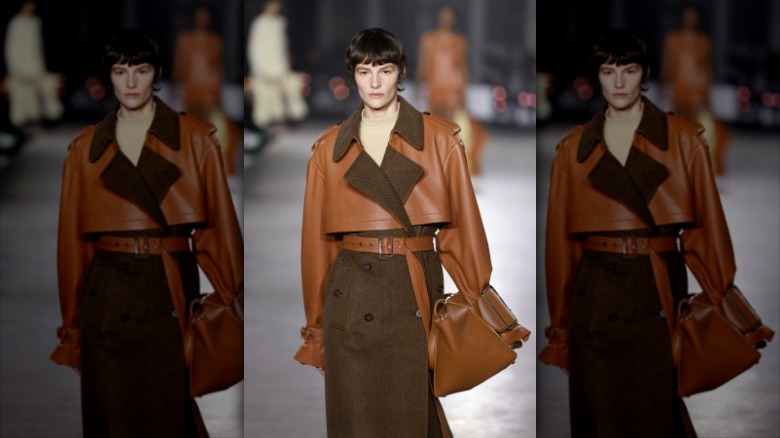 Arturo Holmes/Getty Images
Everyone loves a good aviator jacket during the fall season. As classic as this piece is, it's always a fun idea to give it a bit of a remix. Designers have redesigned this fall and winter staple into a shorter version to add more edge. While this piece will still keep you warm and comfortable during the colder weather, its shorter hemline will give you longer legs and a grander stature. Use this shorter piece as the perfect way to elongate your body and give you the supermodel look you desire.
A retro and fun look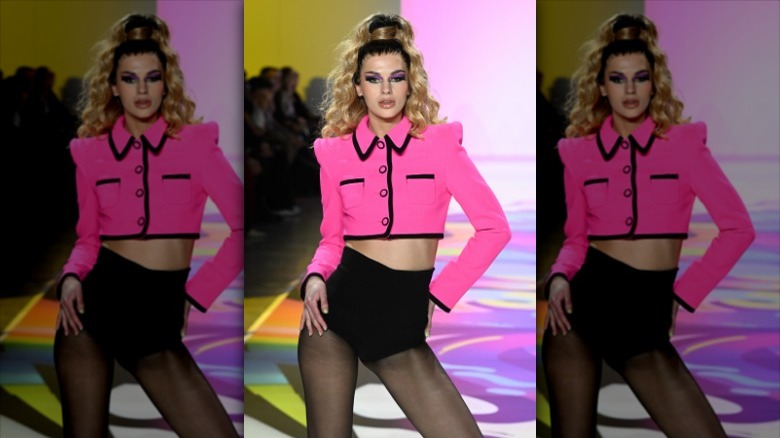 Noam Galai/Getty Images
Cropped jackets are a must-have if you love a fun retro look. If you are a fan of vintage styles, a tweed cropped jacket is an ideal way to bring back the iconic designs from Chanel, Dior, and other high-fashion houses. These specific cropped jackets are staples if you want to add a feminine touch to a classic workwear design.
A must-have two-piece set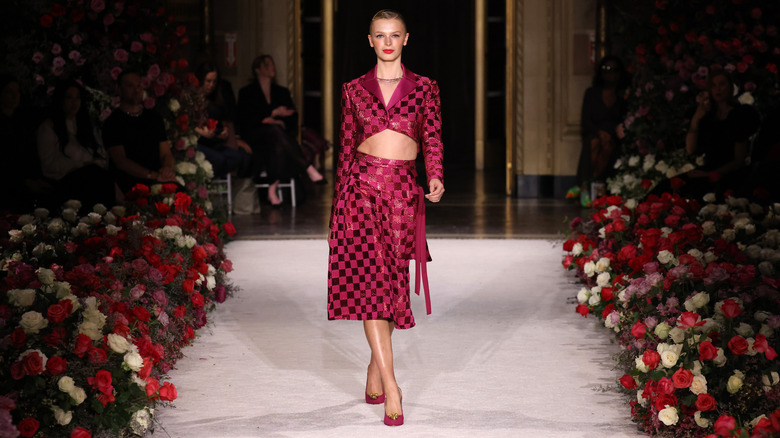 Jp Yim/Getty Images
Matching sets are a must-have for 2023. These outfit sets are the easiest way to level up any look without having to put in any extra effort. If you want to incorporate the cropped jacket into your closet, opt for a matching set with pants or a midi skirt for extra skin coverage. A fun matching set is the simplest way to style a cropped jacket without having to purchase any extra pieces. Not only are these ensembles always in style but they are still perfect for any situation or event.
Chic and shorter outerwear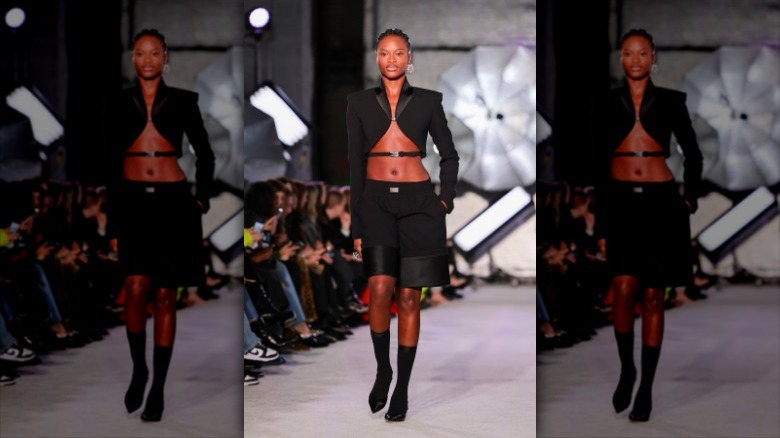 Theo Wargo/Getty Images
Just because you are opting for a shorter hemline, doesn't mean you have to sacrifice a sophisticated style. Cropped jackets can also be worn to get a modern and chic look during the fall and winter. To create an elegant look, simply reach for a cropped blazer jacket for an extra touch of sophistication. Style this with a pair of black trousers for a sleek look that can work for any formal event.
Textured cropped jackets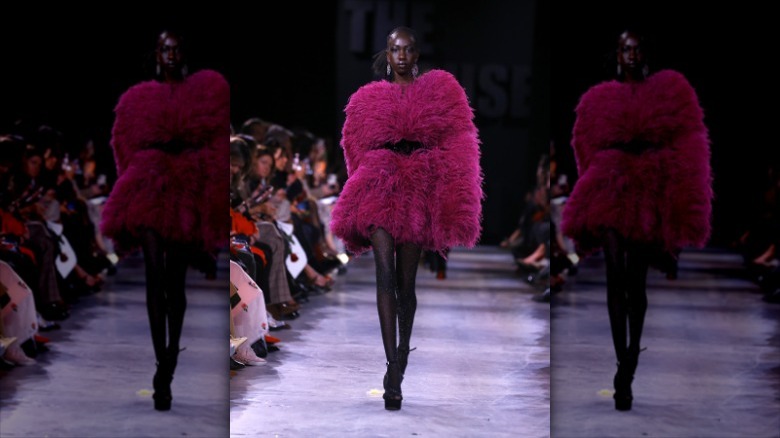 John Lamparski/Getty Images
One of the biggest trends the fashion world has embraced this year is textured fabrics. Sheer fabrics, fringes, and 3D objects are some of the newest trends you need to incorporate this fall and winter. Combine both trends by reaching for a textured cropped jacket that will create a statement moment anywhere you go. Opting for thicker textures and fabrics like wool or sherpa will also help to keep you warm and comfortable during the colder seasons.