What's The Deal With TikTok's Big Red Boot Obsession? (& How To Score A Pair, If That's Your Thing)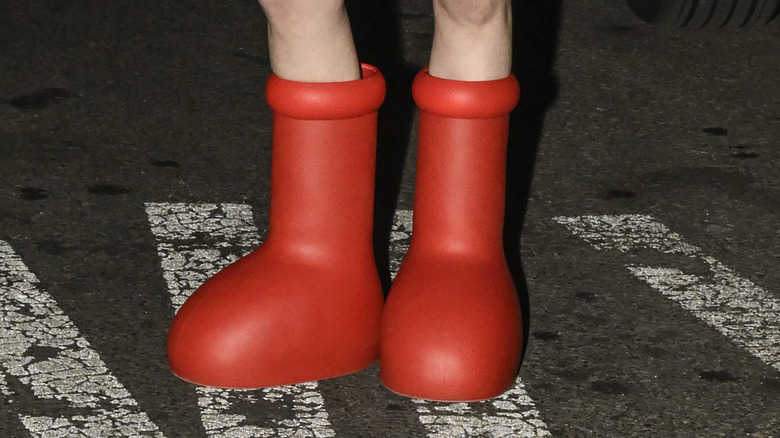 Daniel Zuchnik/Getty Images
We may receive a commission on purchases made from links.
People have missed styling themselves for everyone to see, which is why people are now literally going big or going home. We have seen some unique pieces in the fashion world in recent years, such as Loewe's broken egg shoe and plastic jeans, but this one may take the cake. If you have been on TikTok anytime in the past two weeks, you have probably seen a pair of oversized red boots. These are the trendiest boots of 2023. 
Looking at them alone, they seem similar to the clown shoes you see on Ronald McDonald. Maybe "clowncore" will become the next big aesthetic, as even Harry Styles himself wore what some say is a clown-like jumpsuit to the 2023 Grammys. MSCHF's $350 big red boots seemed to be the star of fashion week and beyond. The boots are cartoonish, made of TPU rubber and EVA, and MSCHF even stated that "if you kick someone in these boots they go boing".
Unique designs are nothing new for the brand. Experimental MSCHF is known for its unique, one-of-a-kind items made in limited batches. In fact, the big red boots are already sold out. In the past, they have also created items like a boot that looks like an ankle stabilizer and a giant Froot Loop. Yet, these red boots are making the biggest impact of all.
Why are people so obsessed with the MSCHF red boots?
It may be an understatement to say that people are obsessed with these boots, as the boots are sold out on the MSCHF website and re-selling on sites like StockX for over $1,400. It seems that fashion lovers will do anything to get their hands on these shoes — but, why? In most cases, it is not because the wearer thinks the boots are fashionable, but more because they believe they are a colorful fashion statement. 
Those who love fashion, also tend to love a fun fad. Not everything has to be practical or a forever piece. Thanks to TikTok everyone wants this impractical, yet fun piece. TikTok user @radasxu showcased a video of her styling the big red boots that led to millions of views and over 710,000 likes, proving that these boots have definitely caught attention. Other influencers and fashion lovers also got a hold of the boots, wearing them across social media posts and driving more hype to the shoe. More than ever, people are wanting to have a bit of fun with the way they dress and stop dressing as practical as they have in the past years. So, if you are looking for a way to branch out from your usual fashion, maybe the big red boots are calling your name.
How to get your own
If you are looking to try the big red boots for yourself, you probably won't be getting them directly from MSCHF. Since MSCHF typically does limited edition drops, there is little chance the sold out shoes will be restocked on the site. Unfortunately, MSCHF items often increase in resale value because of this. 
As of right now, the going rate for the big red boots is well over $1,000 and these prices are not expected to go down. The demand is high, with users commenting statements like "give me these boots" on the company's Instagram posts. It seems that if you are looking to get your own big red boots, you may have to fork over the cash. Though, if you are looking to get a similar look for a fraction of the price, there are always classic red Hunter Rain Boots to tie you over until you save up the cash or the fad disappears.