Here's How Long A Perm Typically Lasts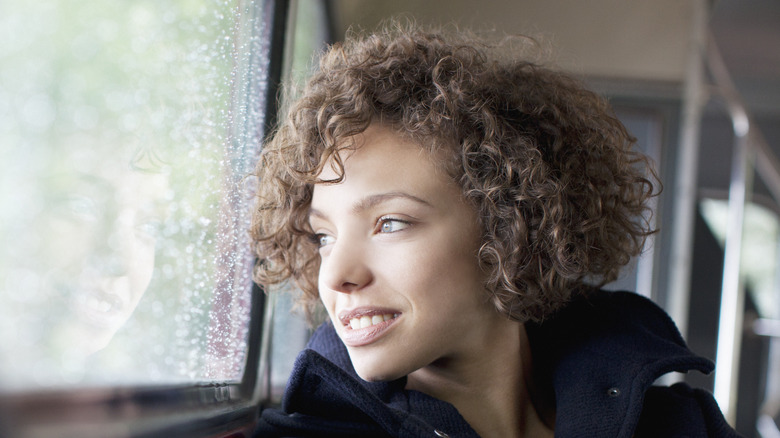 Sam Edwards/Getty Images
When it comes to perms, they are undeniably an option that rises in popularity and then seems to fade out of fashion for a time. In fact, people have been getting perms for more than 100 years, and these days, they are definitely among the hairstyles that are making a comeback, according to Prose. That's in large part due to the fact that there are fabulous new ways to create, maintain, and style a perm that makes them more manageable than ever and gives them an enviably contemporary look.
A process that's unsurprisingly evolved as techniques have become sharper and products have improved, Prose points out that there are two methods that tend to be used nowadays. While one is called a cold perm and the other is a digital perm, both stick with the chemical nature of the technique. Beyond that, each method involves wrapping your hair around rods, rollers, or wraps and then putting a chemical solution on top. While that's pretty much it for a cold perm, a digital perm changes things up a little by also heating the rods. Although the exact timing of the process will depend on how long your hair is as well as how thick it might be and other potential factors, it generally takes an hour or two to end up being a curly girl.
If this has piqued your interest and you want to take the plunge, then you're surely also wondering how long a perm typically lasts.
You may only need two perms each year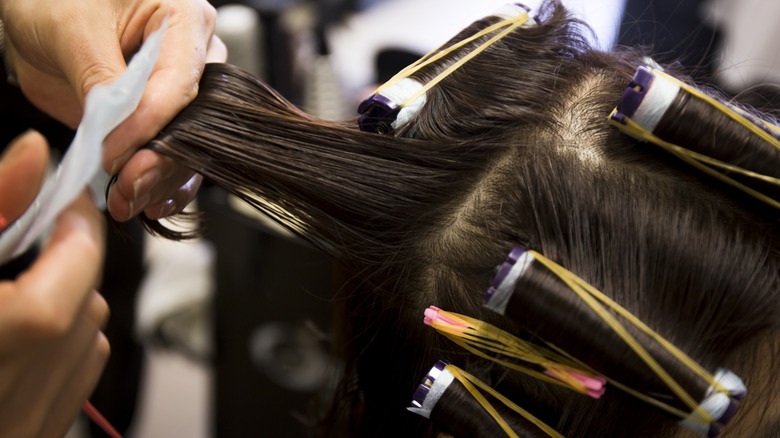 Geolee/Getty Images
If everything goes right, then you should be able to enjoy your perm for around six months, Michelle O'Connor, a professional hairstylist and the Artistic Director at Matrix, told Byrdie. Of course, that's only if you take care of your hair and avoid any perm-ruining action.
For instance, you can keep your perm pristine by giving it the kind of specific TLC that curly hair — whether natural or permed — requires. First, do your best to keep your newly permed hair from getting wet for two days or more. That means no washing it and no walking in the rain without an umbrella. When you are able to wash your hair, be sure to use a shampoo that will leave the strands properly moisturized. You should also try to stay away from styling tools that use heat as much as possible and pop on a satin cap at night if you're able.
"Permanent hair color shouldn't be performed immediately after a perm service," O'Connor also explained. Instead, O'Connor suggests waiting a week or more before adding color. She adds, "Steer clear of parabens, alcohol, and sulfates in your hair care products, as these ingredients can strip your hair of moisture." Granted, if you're not thrilled with the result of your perm or just don't think it suits you, then you can take a few steps to reverse and repair what you've done.
You can get rid of a perm faster if needed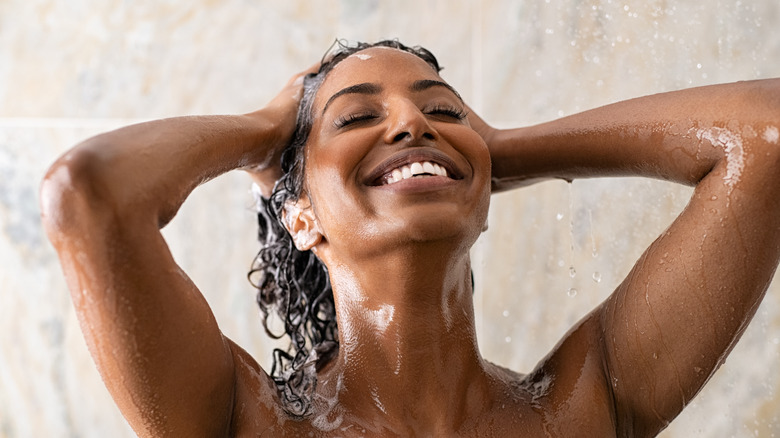 Ground Picture/Shutterstock
While there are definitely ways to preserve your perm and keep it around for as long as possible, there are also ways to get rid of it faster if you're not exactly thrilled with your semi-permanent curly hair. If you decide right away that your perm was a mistake and aren't willing to give yourself a little time to adjust to the new look, then you can go into action right away. 
First, jump in the shower and wash your hair as soon as possible, according to Madison Reed's Love is in the Hair. Use a shampoo and conditioner that's specifically meant for colored hair so that you can protect your chemically-treated strands. This step can either fully undo the perm or at least ease the curls somewhat so that they're not as tight. You can also use a deep conditioning treatment on your hair or one that relies on hot oil which will also help your permed curls relax — best if left for a few hours or even overnight while you sleep, just cover your hair with a cap until you're done.
Finally, when it comes to shorter or stubborn pieces of hair, Love is in the Hair points out that you might need to simply stick with styling tools and products to straighten as well as snip off little pieces that just won't give up their curl. Just be careful not to cut away too much.