Golden Hour: 7 Warm, Glittery Looks From NYFW To Inspire Your Wardrobe All Year Long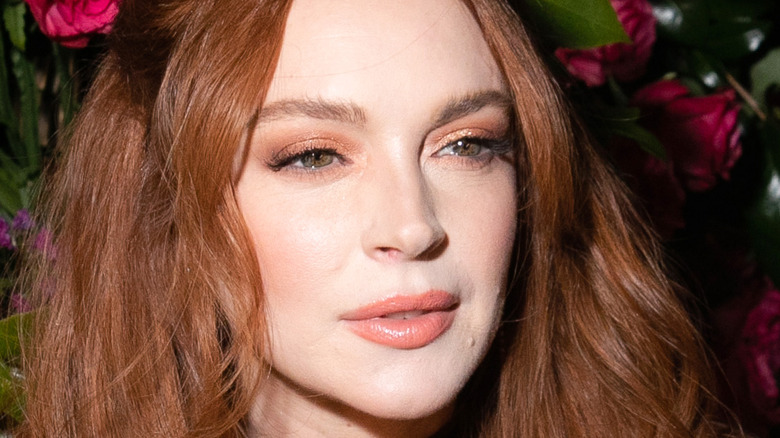 Hippolyte Petit/Getty Images
All that glitters isn't gold ... but New York Fashion Week 2023 proved that all gold certainly glitters. This year's runway models and attendees alike leaned into the industry's current affinity for gold. Forbes picked up on the presence of gold jewelry and bright, glowy make-up looks at on the spring and summer carpets, and it appears that the look is here to stay. Though the color palette remained fairly consistent, designers and makeup artists reminded us that there are endless ways to rock emerging trends. 
The longstanding history of gold in fashion also means that getting your glam on can play into many different motifs across styles and time. Taking inspiration from one of these NYFW makeup looks will show that you're up-to-date on the trends while allowing you to express your own individuality. After all, no two glamour looks this year were the same ... and some of the boldest artists moved beyond makeup to highlight headpieces, hair clips, and other one-of-a-kind accessories. 
Gold accentuates nature's beauty
Gold can often be reminiscent of industrialization and machinery, but its roots as a naturally-occurring element also make it wonderful for returns to our environment's beauty. Makeup artist Sil Bruinsma's iconic trend of "tribal punk" has sparked others to try out animal-inspired designs and bold pops of gold that highlight the skin's natural glow. 
Models leaned into the metallic glow
Though gold and bold go hand-in-hand, the hue was also used to subtlly elevate more simple, streetwear looks. Frequently paired alongside black or dark grays, a pop of gold can evoke imagery of a phoenix rising from the ashes, or gilded success following a hardship. 
Gold provides a simple shine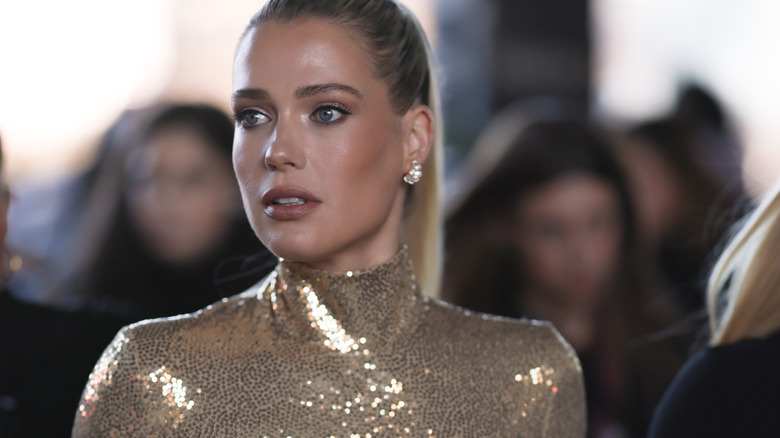 Jeremy Moeller/Getty Images
For those hoping to let their outfits or accessories shine, gold can be lightly employed in makeup to tie a piece together ... without stealing the show. NYFW saw makeup artists applying golden shades on models' eyelids and inner corners. In drawing attention to this area of the face, gold helps the models' eyes provide the real sparkle. 
Gold created futuristic fashion
The over-the-top beauty looks of NYFW can leave you feeling like you stepped into another time. MAC Cosmetics' stunning trend, Misplaced Metals, perfectly captured this idea — with gold at its heart and center. Models were decked out with futuristic makeup designs and stunning pops of color. One model even rocked golden chainmail, worn over the top of their head. 
Gold plays perfectly into celestial themes
We've seen gold represent the past, nature, and the future. With the new beauty trend celestialcore, however, we see the color taken to a whole new level. With star-centric makeup and gravity-defying headpieces, this style is designed to conjure up images of space travel, planetary discovery, and maybe even alien life. Talk about looks that are "out of this world!" 
Gold hairpieces evoke crowns
Some models opted for darker makeup looks, in order to let gold shine in other parts of their outfits. Golden hair clips, beading, and earrings situated around one's head bring to mind one of gold's most classic interpretations: royalty and wealth. Looking at all of the glamour, it's easy to imagine the model as wearing a deconstructed crown. 
Gold was found from head to toe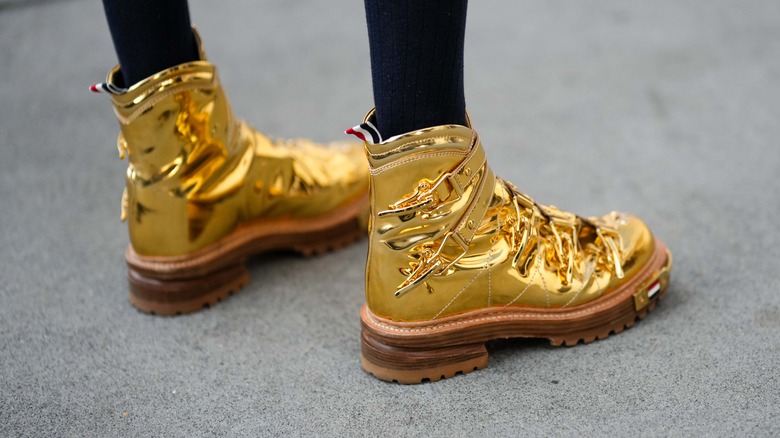 Edward Berthelot/Getty Images
For those who don't think gold is among their colors for beauty and makeup, models proved that there were plenty of ways to incorporate the latest craze into your looks. The inclusion of golden tones in statement pieces like handbags and shoes highlighted the fact that this trend is far from over ... and may continue to evolve into new pieces and iterations that we never could have predicted.