Do You Need To Wash A Bob Haircut More Often? The Answer Is, Well, Maybe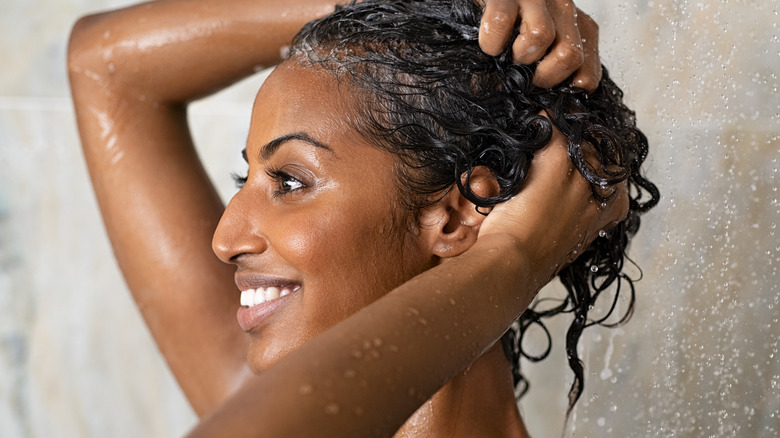 Ground Picture/Shutterstock
Whether you're interested in rocking a French bob or want to mix things up a little by opting for an Italian bob, you may be focused on how fabulous you'll look. That's totally understandable because you'll surely love the result as it's the perfect combination of a classic cut and a contemporary style. However, just like a bestie who always ensures that you're making the best choices in life, we should point out that you should also consider the maintenance and care that's required for a bob.
Although they may seem like a rather straightforward style, this cut actually takes quite a bit of specific TLC, according to Beauty Hub. That means putting away tools that rely on heat, which can damage shorter hair, as well as learning how to deal with seemingly inevitable frizz, which can be extra problematic when you have a bob. You may also want to indulge in the occasional dusting, which is when your stylist gives you a mini-trim between your regularly scheduled haircuts.
Beyond that, you need to know how often you should be washing your bob. While we can definitely fill you in on that particular piece of info, the same answer won't apply to everyone. In fact, there are a few details you need to keep in mind in order to figure out what works best for you and your bob.
Various factors will determine when to wash your bob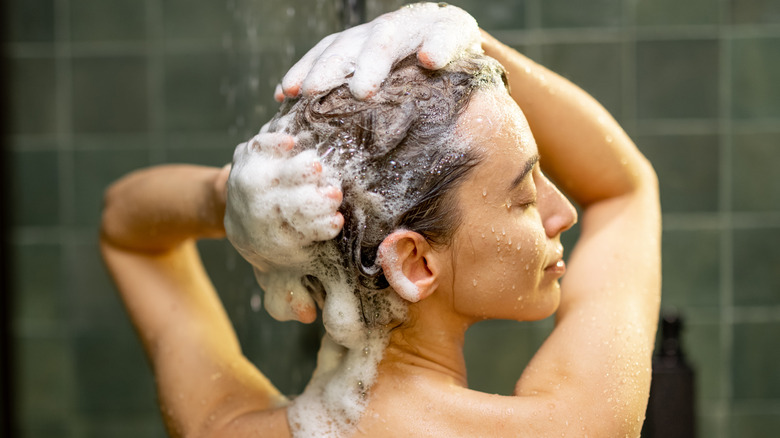 RossHelen/Shutterstock
The fact that your hair may now (or soon) be boasting a short, sleek bob means you might notice a few differences. Not only will you feel the breeze on the back of your neck, but Frédéric Fekkai, founder of Fekkai, told Glamour, "Shorter hair tends to become oilier quickly." That means knowing when to wash it.
Of course, there are various factors that can affect the exact timing. For instance, you'll want to consider your hair's texture and density. "I recommend those with fine to medium hair to shampoo hair every day, and for thicker hair, you should wash one to two times a week. If you're washing hair more regularly, try a shampoo that targets hydration," Fekkai said.
"If you're a woman with fine hair, thin hair, or hair prone to oil, you'd most likely wash your hair every day or every other day," Balmain Hair Couture session stylist Sara Tintari added. If your hair needs a little help during those in-between days, Tintari explained, "For coarse or thick hair, or dry hair that is also straight, wavy, curly, or coiled, dry shampoo will be your best friend in between shampoos. Some women like to have weekly blowouts and go four to six days between washing, depending on activities and lifestyle." However often you end up washing your bob, you also need to be sure to do so in a specific way.
You need to shampoo and condition a bob properly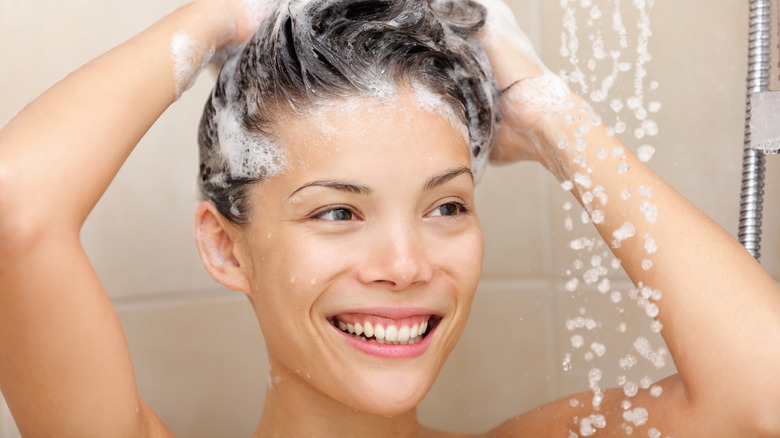 Ariwasabi/Shutterstock
It surely won't take you long to get the hang of taking care of your bob. That is, if you know how to do so properly. That includes how to wash and condition it, which can involve mixing things up for a very particular reason.
Due to the styling that you might find necessary, you may have to use additional products on your hair — think along the lines of something to help loosen your curls if you prefer a straight bob. You can also put an enhancing cream to good use if you have a natural coil. On the other hand, anyone with straight hair who wants to add a bit of a wave can try out a texture spray.
After you've applied the product, you may end up noticing that it adds extra weight to your hair. Frankly, this can be an issue when it comes to a bob that is supposed to be beautifully bouncy. Fortunately, all you need to do to address this weight-related issue is to wash your hair in a certain way. Hairstylist Jason Collier told PopSugar, "[C]ondition the hair first, then shampoo it out; that way you're getting the moisture but it's not so heavy on the hair." Although that may seem like you're doing things in the wrong order, your bob will surely appreciate it.