The TikTok Hack That Ensures Your Highlighter Makes All The Right Places Shine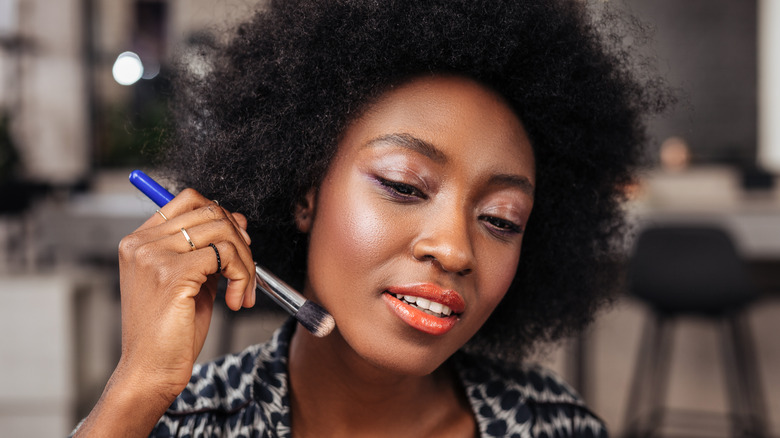 Dmytro Zinkevych/Shutterstock
Popping on a highlighter can add a special glow to your look. Of course, that's only if you know how to put it to good use. Along with opting for an ideal formula and choosing the shade that suits you best, you also want to make sure that you're applying your highlighter to the most important places in order to capture the perfect shine. Frankly, if you add this product to areas where it shouldn't be, then you not only risk wasting your efforts but you might also end up looking a little dull.
"Wearing highlighter in the wrong place can give you the opposite of a luminous effect," makeup artist Jami Svay explained to Good Housekeeping. In fact, it can apparently make you look like an animated character instead of a real life stunner. That's why Svay suggests using it in strategic spots that will give you the flattering effect that you desire. "Use it where the light naturally touches your face, like the brow bone, bridge of the nose and along the cheekbones."
While that might make it seem rather easy to figure out where to put your highlighter, the exact placement will change depending on your particular face. That's why you may want to take advantage of a fabulous TikTok hack that will ensure your highlighter ends up in just the right spots to truly make you shine.
Use your cheekbones for an ideal ombre highlighter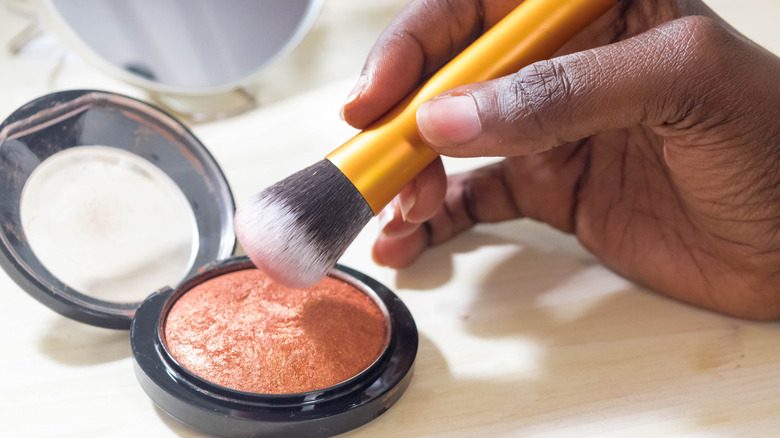 Red Confidential/Shutterstock
If you've ever ended up with less-than-flattering makeup, then you surely agree with TikTok user Sianmakeup, who told her followers, "Product placement is so important." That's why she shared some tips for figuring out exactly where to place your highlighter.
First suggesting triple-baked highlighters in order to achieve a natural glow, she then points to her cheekbone, saying, "The best place to highlight — can you see where my bone starts to dip out? I place the highlight on this area here. This more oval shape should be really concentrated and then as you move further up the cheekbone, I diffuse it ever so slightly. So the most amount of product should be [in the lower section of the cheek] and then as we move further up the cheekbone, it gets less and less and less. So it's kind of like an ombré effect."
She then explains that if you apply highlighter in a line down the bridge of your nose along with the upper section of the tip, then you can make it seem like your nose swoops up. Next, she recommends adding quite a bit of highlighter to your inner eye where you'll find your tear duct. Finally, don't forget to highlight the line above your cupid's bow and your bottom lip right where it begins to curve. If you don't quite nail it the first time around, don't worry. You can easily remove or hide the highlighter and try again.
How to remove highlighter from where it's not needed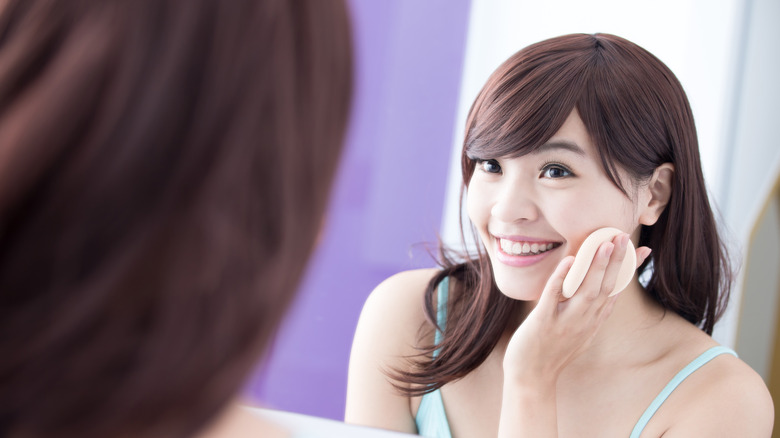 aslysun/Shutterstock
Although it's obviously important to use a highlighter in just the right places, you also need to avoid putting it in spots where it won't do anything. Or worse, will detract and distract from your look. Fortunately, if you have applied a bit — or a lot — of highlighter and need to tone it down or totally get rid of it, then you don't have to wash off all of your makeup and start all over again.
After taking a few deep breaths to get rid of any frustration over the fact that your face may be glowing a little too much, simply grab a makeup brush or sponge that is free of any product, makeup artist Atefeh Shojaie told Chatelaine. You can now gently wipe, dab, or buff off any unwanted highlighter. If you need more help, then Shojaie says that you can use a cream or liquid concealer to cover up the highlighter. You can also opt for a setting powder or a pressed powder to do the same if that's what you happen to have in your makeup kit. Shojaie explained, "Lightly go over it so it brings down the effect of the highlighter."
From there, you can either go with the look that you've carefully crafted or go back in and try to perfect your highlighter placement so that you can achieve the kind of shine that will leave you glowing inside and out.