Why TikTok Wants You To Add Setting Powder To Your Mascara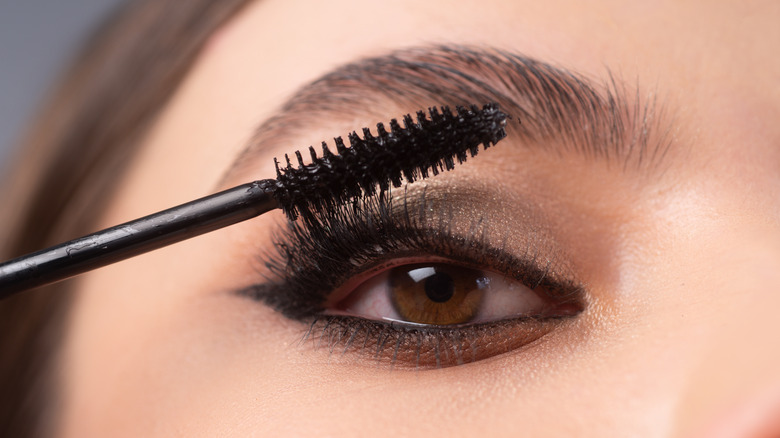 Volodymyr TVERDOKHLIB/Shutterstock
If your makeup tends to fade or smudge, then it might be time to take advantage of a good setting powder. Sarah Lucero, global executive director of creative artistry at Stila, told Self, "Setting your makeup really means keeping everything looking flawless for as long as possible. It's like using a final mist of hairspray to hold your hair in its perfect 'do."
Although there is a wide range of options when it comes to setting powders, they tend to rely on the same base. "Setting powders are loose powders that contain ingredients like talc and silica, which help keep 'wet' products (like liquid or cream foundations and concealers) in place while preventing excess oil production," makeup artist Ashleigh Ciucci explained to Self. Sounds great, doesn't it? This also might lead you to make certain assumptions regarding a particular makeup hack that's popped up on social media, which is encouraging people to add a setting powder to their mascara. Yes, that's right, setting powder.
Understandably, you might guess that the hack is meant to help extend your mascara's longevity and prevent it from ending up flaking or smearing. However, it turns out that there's another super intriguing reason why some social media users are encouraging others to add a setting powder to their mascara. Beyond that, while it might be a clever trick, it also may not be something that you want to try for a very good reason unless you're willing to make a slight change to the technique.
Setting powder can make lashes look long and fluffy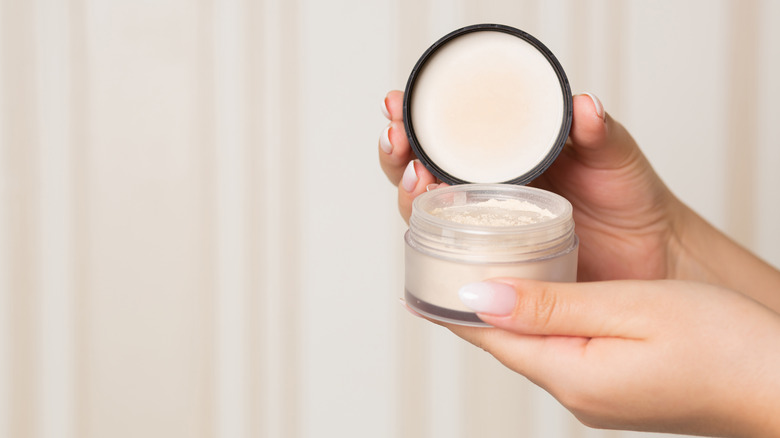 Viktoriya Pavliuk/Shutterstock
When choosing what kind of mascara you want to use, you might keep various factors in mind. For instance, on top of how the particular shade might flatter your eyes and how long the product will stick around, you're likely also interested in a mascara that will give your lashes extra volume. Although some formulas can take care of the latter aspect on their own, a hack shared by TikTok user @_angelique.terese will apparently give your mascara an added boost.
In order to nail this hack, you first need to grab both your mascara and setting powder but don't apply either yet. Instead, dip your mascara in the setting powder and make sure that it's fully coated. Then, pop the wand back into your mascara tube. Now, apply that mixture to your lashes. Voila! You're done.
Granted, if you're now furrowing your brow and thinking that this might mess up the mascara inside the tube and turn it into a gunky mess, then you're not alone. This is why some makeup artists apparently suggest another method, according to Insider. This one involves applying a coat of mascara first before following that with the setting powder and adding mascara a second time. While that might seem like a slightly better option, there's another way to use setting powder with your mascara that will give you the same result without potential problems.
There's a better way to use setting powder and mascara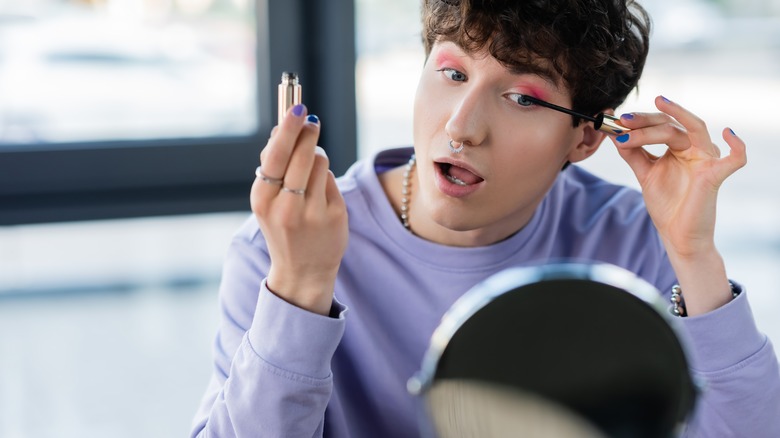 LightField Studios/Shutterstock
If you know how important it is to keep your makeup tools clean, then you may also know how crucial it is to prevent your products from becoming cross-contaminated. Unfortunately, this is something that can happen if you use the setting powder mascara hack in a way that involves dipping your wand into powder and then either putting it in your mascara tube or reusing it after you've used powder.
It will also ruin the mascara's formula, with former beauty editor, founder of Naturium skincare brand, and beauty expert Susan Yara telling Stylist, "[I]f you're dipping your mascara brush into loose powder like that and then putting it into your tube of mascara...it's just going to dry out, and then, by the following week, you won't be able to use it anymore because it's just going to be clumpy and stuck in there."
To prevent that icky situation yet still achieve the wanted result for your lashes, Yara has another technique. "Take that translucent powder and instead of dipping your actual mascara brush into it, you just need a fluffy eyeshadow brush," she explained. "You dip into [the powder], you don't need too much, then close your eye and dust your lashes. It will give a very similar effect, but it won't be too much powder and you're not going to be transferring so much powder into your actual mascara tube."