Beauty Tips That Will Help You Look Your Best In A Strapless Dress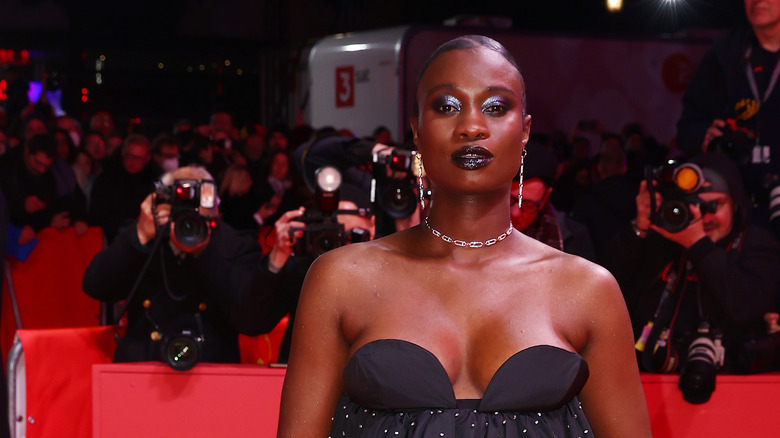 Sebastian Reuter/Getty Images
A strapless dress is a timeless look that's sure to bring a touch of subtle sultriness to your next big night out, but when you eliminate straps and sleeves, it might take a bit of extra prep to leave you looking and feeling your best. Typical necklines leave the focus on your face and hair, but strapless dresses turn your decolletage and upper back into an accessory in and of itself. Whether you're throwing on a casual summer dress or getting ready for a black tie event in a formal gown, giving a bit of TLC to this area can make all the difference in your final look.
Advertisement
It's common practice to focus on skincare and makeup for the face while we're getting ready, but there's no reason we can't extend the same love to other parts of our body. Going strapless can be a bit intimidating if you're used to higher necklines, but with these tips, you'll be ready to become the star of the show.
Focus on skin prep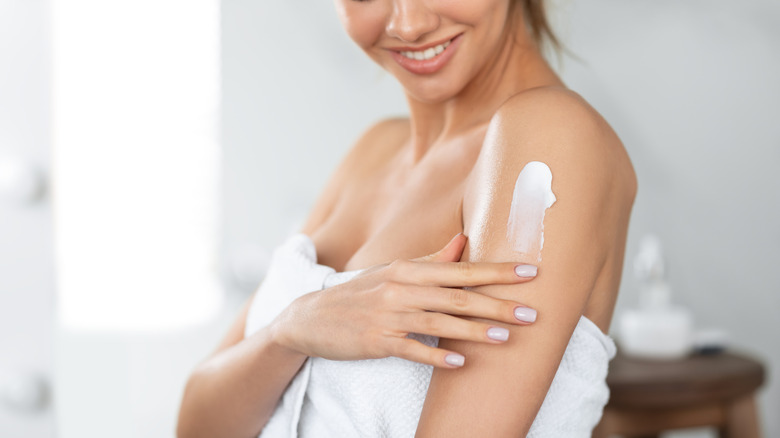 Prostock-studio/Shutterstock
Using your entire skincare regimen on your neck and chest every day is a bit of a waste of product, but for a special occasion, a little extra exfoliation, moisturization, and cleansing can go a long way. Dead skin on the body tends to slough off a bit slower, so while you're in the shower prepping for your event, try out a chemical exfoliant or physical scrub along your chest, arms, and upper back.
Advertisement
After you step out, it's time to load up on the moisture. The skin on your chest and neck is fairly thin and can be more sensitive than other parts of the body, so reach for products with gentle ingredients and little to no fragrance to avoid harsh irritants. A simple moisturizer that you use across the rest of your body can bring some life to the skin, but if you're looking to make a bigger impact, try out a body oil instead — just make sure you let it completely soak in so you don't leave any stains on your dress.
Ensure your makeup flows seamlessly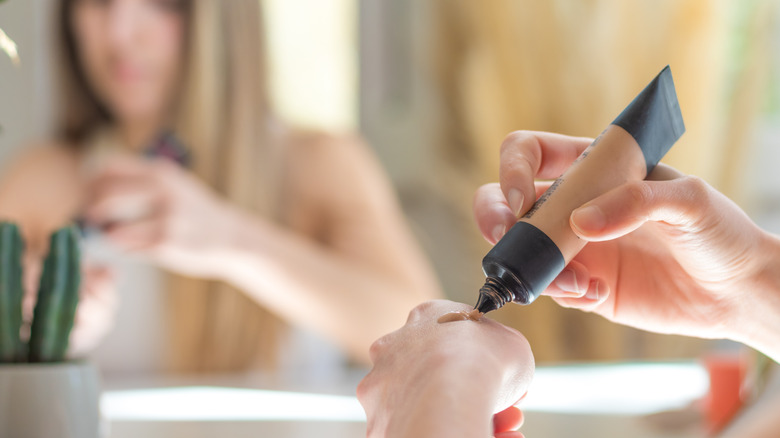 Pablo Vivaracho Hernandez/Getty Images
When it comes to your makeup, you should look for a shade that flows seamlessly with the rest of your skin, and then blend down the neck to avoid any harsh lines. This is even more important when you're working with a strapless neckline because the eye is immediately drawn to the neck and collarbones. If your foundation is a bit too light or dark, try mixing in a bit of concealer to even out the tone.
Advertisement
A solid shade match is obviously the first consideration you should make with your foundation, but if you truly want a seamless look, it's important to match the finish, too. If your arms and chest are glowy and radiant but your makeup is completely matte, it could look a little disjointed. The safest bet is to go for a foundation that gives you the most natural skin finish possible — something that toes the line between matte and ultra-glowy — then finish off with powder only where necessary and a setting spray to lock everything in.
Don't be afraid of a bit of body makeup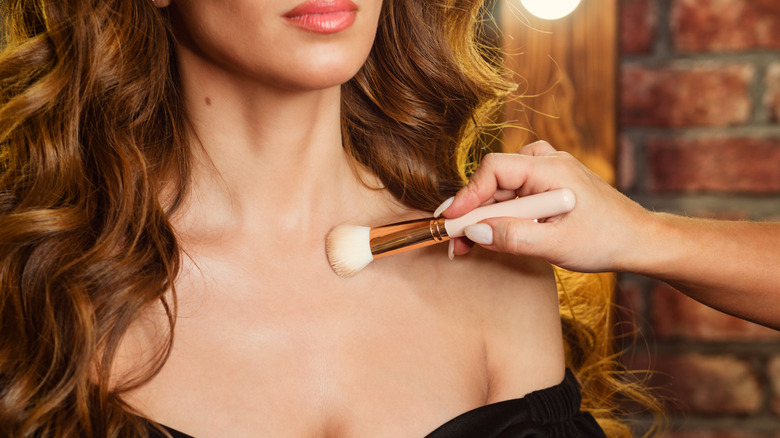 Bee Bonnet/Shutterstock
If you want to enhance your collarbones just like you enhance your cheekbones or jawline, there's no reason you can't use the same techniques. After moisturizing, apply a bit of contour above and below your collarbones to make them look sharper or more structured. Just make sure you blend well and don't use a shade that's too dark — it can look muddy or smudgy quickly because you're working with a relatively large, flat area.
Advertisement
Along with your contour, you can also bring in a bit of your favorite highlighter to add some glow to your collarbones and the tops of your shoulders. Apply as you would normally, making sure to buff everything out so it looks seamless. Set with a bit of your favorite setting spray to lock everything down and avoid any smudges on your dress, and you'll be looking glamorous and glowy all night long.
Make sure your dress or undergarments are supportive
Strapless dresses are beautiful, but they can present a bit of an issue when it comes to finding the perfect undergarments to wear. No straps means no traditional bra, so if you're looking for additional support, it's important to find a bra option that fits comfortably without cutting in or sliding around. Your bra slowly turning into a belt as the night goes on isn't a fun situation for anyone to be in.
Advertisement
It's also important to consider the weight of your dress in your undergarment choice. Strapless dresses that are heavier but don't have a lot of focus on the waist can drag your chest down, so opting for something that is either more cinched in, or wearing a supportive bra, can help prevent that look. You're sure to look your best in whatever you feel the best in, and creating a solid foundation can help you focus less on readjusting and more on having a fun night.
Consider using fashion tape
Strapless dresses don't have any additional fabric to ensure they'll stay up and in place, so it's common to feel like you're constantly having to readjust and pull up your neckline to prevent wardrobe malfunctions throughout the night. The easiest way to prevent this from happening is by buying a dress that fits properly or bringing it to a tailor for a few alterations, but in a pinch, fashion tape can give you some more security.
Advertisement
If you find that your dress is slipping or the hem along the top edge isn't laying flat, apply a bit of fashion tape to the fabric and stick it to your skin. This product is designed to attach to both skin and fabric without leaving residue or causing damage, so, after your event, all you need to do is peel it off. If it's not properly sticking to your skin, try wiping the area down with a bit of rubbing alcohol — sometimes, moisturizer and the skin's natural oils can prevent proper adhesion.