On-Trend Ribbon Bows Are Now Donning Our Jewelry Too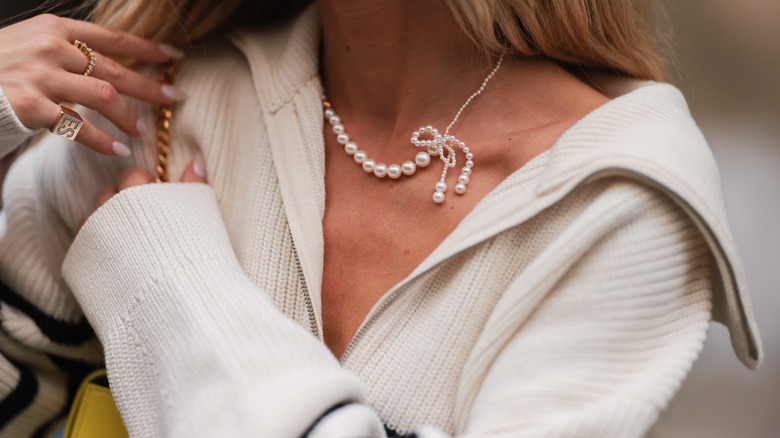 Jeremy Moeller/Getty Images
Bows are a key part of fashion history. According to The Met, hair ribbons themselves date back to at least 2600 BCE, and these have been tied into bows in multiple cultures and time periods across history. We have also seen ribbon bows traditionally used for clothing and intimates, as a delicate addition to make pieces seem more feminine. Yet, this season we are seeing ribbon bows in a whole new light as they are donning our jewelry. Not only beautiful, ribbon bows can also bring a deeper meaning to your jewelry than traditional heart motifs or other symbols. Ribbon bows have long been a symbol of love and unity, as we even often refer to marriage as "tying the knot."
Advertisement
As traditional preppy style and historical fashion rule our modern clothing choices, it is no surprise that ribbon bow jewelry has now made it to the forefront. If you are already rocking ribbon bows and bow clothing, the next step is to style your bow jewelry. We have curated the six most fashionable ways to don bows on your jewelry this season.
Colorful bow jewelry
Ribbon bow motifs don't have to be silver or gold to be trendy. Bright and colorful bows are another way to add a statement to classic jewelry pieces. Designer Susan Alexandra specializes in colorful, beaded bags and accessories. Her namesake brand shared this Instagram post featuring a classic necklace donned in colorful bow charms along with matching colorful bow drop earrings.
Advertisement
Beaded bows
Beaded bow jewelry has become a recent fan favorite. Droopy pearls and beads of all sizes take a new form when they are placed in the shape of a bow. Sophie Billie Brahe's Peggy Graduated Freshwater Pearl Necklace seems to have gotten influencers on the trend. "Be it hearts, flowers or bows, she knows how to avoid the generic connotations that come with these motifs and reimagines them in her own unique style, making it fresh and cool enough to entice us all," says Net-A-Porter jewelry buyer Edwina Hilton when speaking about what makes bow jewelry unique this season.
Advertisement
Dainty and delicate bows
For girls who love the minimalism trend, there are plenty of dainty and delicate bow jewelry options. Bows as a simple charm hanging from a necklace or as shiny stud earrings are the perfect options for the girl who wants to add some sparkle to her life without overdoing it.
Advertisement
Cute bow rings
There is no better way to say forever than a ring, except perhaps, a ring with a bow on it. A tied ribbon bow motif on a ring is a great way to add something special to your hand. Whether it is from a significant other to represent your ties to each other or a gift to yourself to remind you to stay tied to your goals, it is a great reminder every time you look at your fingers.
Advertisement
Embellished and extra bows
Not everyone is into the minimal look, and that is okay! Embellished and extra styles are not only a trend, but a lifestyle. Luckily, the bow trend allows for as much bling as you desire. Large bow necklaces are just one way to make your ribbon bow jewelry pop. Accessories brand Rada recently introduced their new bow jewelry on Instagram, featuring one of their most bejeweled necklaces yet.
Advertisement
Bow charms on a silk ribbon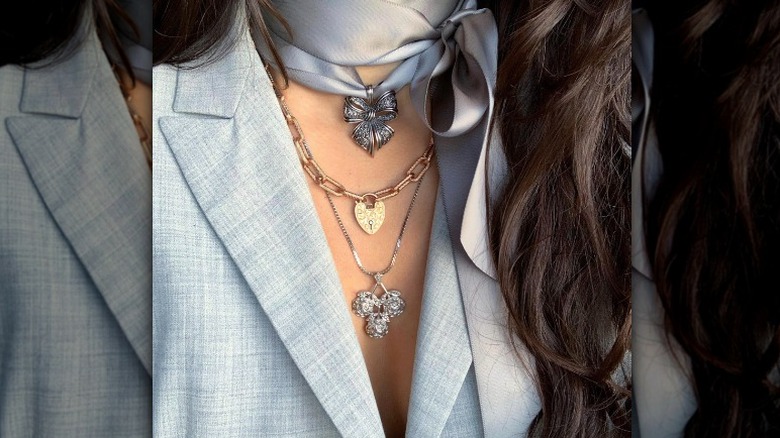 Adding a bow charm to silk ribbon as a choker is both a feminine and Y2K way to style the ribbon bow jewelry trend. It is also an easy DIY jewelry project. Simply grab a ribbon in your favorite color, measure your neck size, cut to the appropriate link, and then add your bow charm. If you are feeling extra crafty, add a clasp, but you can also simply just tie the ribbon around your neck.
Advertisement