The Best Couples Vacation To Take If You've Only Been Dating A Few Months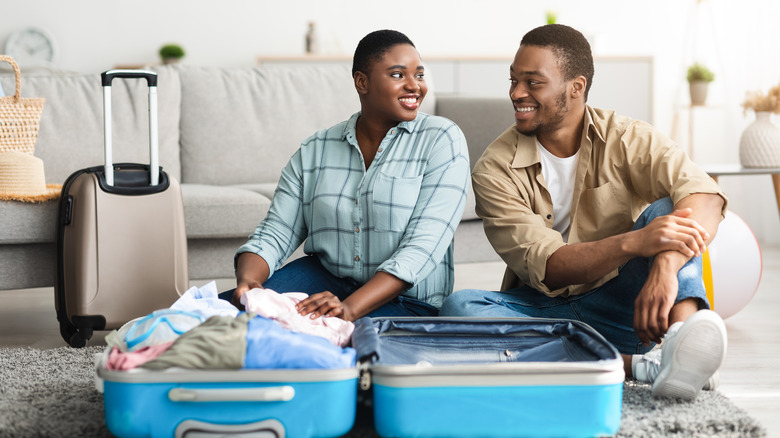 Prostock-studio/Getty Images
When you're interested in seeing someone new, then you might be eager to plan what you want to do to get to know each other, such as a fabulous first date and successful friend and family introductions. If things are going pretty darn well, then that might also lead to the perfect vacation. But what exactly might that involve? "Discovering a new city together — or, if you know the city, exploring new areas — is a really special way for couples to connect, to have someone standing next to you when you see that surprising piece of art or even a beautiful green area," Ramón Diago, General Manager of W Bogota, told Forbes.
While that may sound ideal and just how you want to spend some time with your significant other, traveling isn't always easy and can definitely put pressure on a couple. Rachel Sussman, a therapist and relationship expert who works in New York, pointed out to Vogue, "As much as people love to travel, it can be very exhausting. Delayed flights, discomfort, misinformation on hotels and vacation spots — a lot can go wrong, which produces stress. If one is under stress, they're not their optimum self."
That kind of pressure might be something you avoid during your first getaway together. That's why you may want to enjoy the same kind of holiday in a much more relaxing way that suits a duo that may have only been dating for a few months.
Plan a relatively stress-free local vacation for two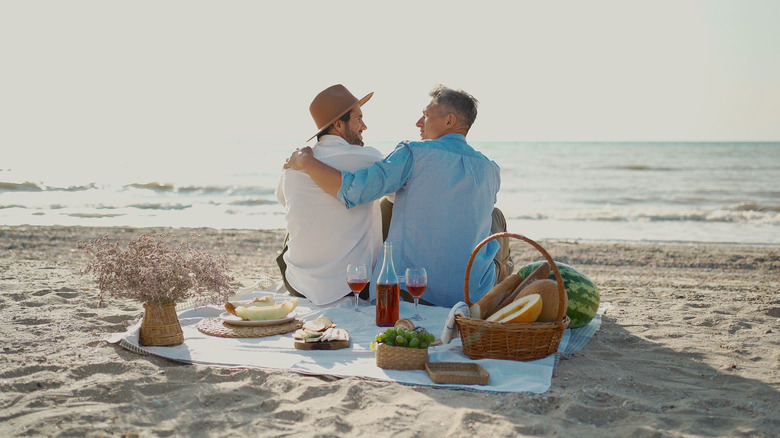 Vitalii Matokha/Shutterstock
Going on a vacation with a special someone can be relaxing, exciting, and filled with memorable experiences that bring you closer together. On the other hand, it can also be stressful, exhausting, and expensive, not to mention the fact that the process can put an unnecessary strain on your relationship. While you definitely want to be with someone who can handle the ups and downs of travel no matter where you're headed, the kind of trips that push you both to your limits can certainly wait until you've learned how to handle things as a team.
Instead, it's a better idea to choose a location that's easy to get to, relatively affordable, and won't take you out of your element in a way that's too jarring. That means that it's best to opt for a local getaway, according to PureWow. Think along the lines of renting an Airbnb for the weekend. Or, perhaps you and your partner are interested in staying at a nearby resort that offers cozy cabins and are beside a ski hill or cottages in the middle of the forest. If you'd rather be by the water, then you might want to find a beach or lake house that's not too far from home.
Granted, there are a few other things to consider if you both want to enjoy your first vacation together as a couple.
Narrow down the kind of trip you want to share together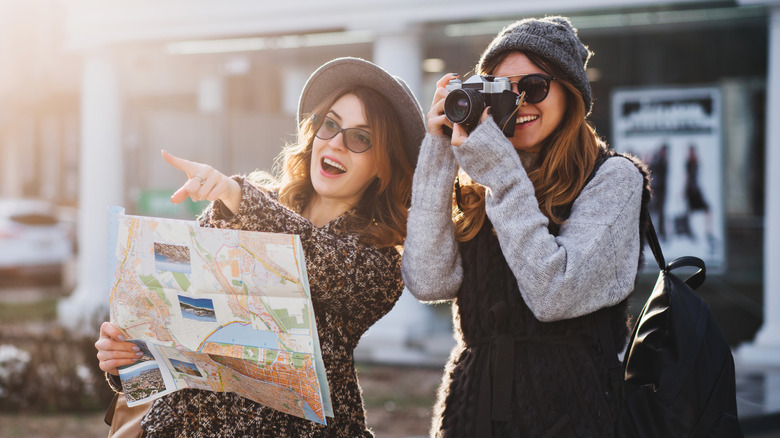 Look Studio/Shutterstock
Before you book what you assume will be the perfect getaway for you and the person you're dating, you need to keep a few things in mind. Of course, these are factors that you should share with your loved one and plan together if you want your first trip to be a success.
To start, you can each create a list of the kind of activities you want to indulge in and the type of accommodations you'd like to enjoy, according to Inside Hook. Be sure they're options you want to do as a couple. For instance, do you like swimming, bike riding, and exploring the outdoors as a pair? Or would you rather spend the entire time lounging in the sun while having deep conversations or staying in bed and watching movies together? When you're done making your lists, compare them and choose options that work for you both.
Now, you can track down nearby places to stay that will allow you to do exactly what you have in mind. In fact, try including another list with possible locations that suit the bill. You can then put each in order of preference and while you each may need to compromise when it comes to your first choice, you will hopefully be able to choose a getaway that will make you both happy while also bringing you closer together.