The Eyeshadow Tips That Will Give You The Appearance Of Bigger Eyes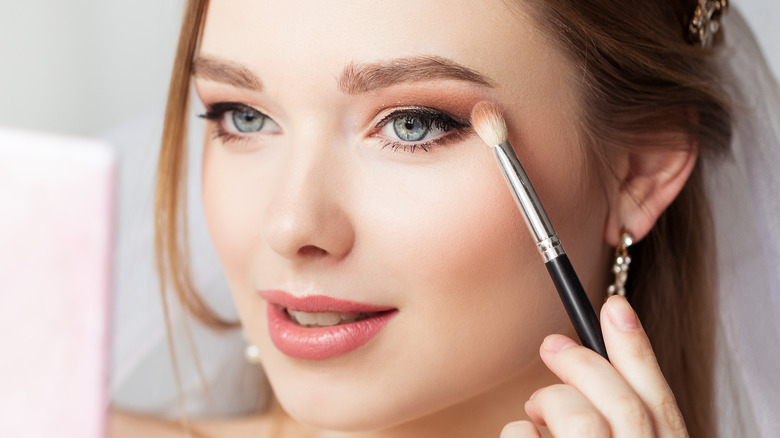 Inara Prusakova/Shutterstock
The eyes are the windows to the soul — and the most time-consuming part of most makeup processes. Any beauty guru would tell you that eye adornment is the most important part of any makeup look, whether you're going for the minimalist makeup style or the red-carpet-ready look. Since your eyes are the first thing that draws people to your face and the anchor for the beholder's gaze to rest on, painting your eyes right can pull your makeup look together and elevate your whole appearance.
As far as beautiful eye makeup goes, many people are sticklers for the doe eye trend, which is a makeup look that creates the illusion of broader, rounder eyes. It's no surprise that people are wired to be drawn to big eyes, which are generally perceived to make you look cherubic and adorable — like babies. For those who are born with big eyes, one glide of eyeliner is all it takes to make the eyes pop significantly. If you're endowed with shallow or hooded eyes, you can still make them look bigger and brighter with some eyeshadow hacks. Check out these eyeshadow tips to help you achieve huge, Twiggy-esque eyes.
Shimmery eyeshadows are the key to bigger eyes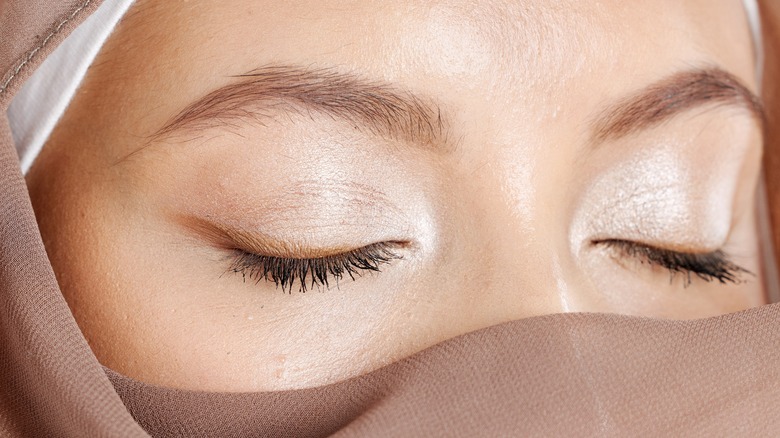 PeopleImages.com - Yuri A/Shutterstock
Popping shimmer onto your upper and lower eyelids and the inner corners not only gives your eyes a youthful glow, but it also lends your eyes extra dimension and makes them pop at a cellular level. The reason for this is that shimmer shadows reflect light and look stunning under low lighting, giving the impression that your eyes are bigger than they are, per NYX Cosmetics. If you're a fan of a dreamy, iridescent makeup look, lightly sweep your lid with a golden-bronze or light pink glitter. For a bold and beautiful look, deeply pigmented hues like rich purple, red, or emerald are a good shout.
For a start, apply primer to your eyelid to help your glitter stick to your lid and keep the eyeshadow in its tip-top shape for hours. After that, apply a matte, light-to-medium-toned eyeshadow to your eyelid as the base. Then, dust on some glitter pigment to the lower part of your lid close to your lash line, and use a blending brush to blend out the harsh lines. Applying eyeliner only to the outer part of your upper lid is also a quick and easy makeup trick to open up the eyes, especially if you already have smaller eyes naturally. If you have oily skin, oil-absorbing powder eyeshadows are a great choice. Meanwhile, cream shadows are more moisturizing and less pigmented, making them ideal for individuals with dry skin or preferring a more natural makeup appearance.
Create a cut-crease makeup look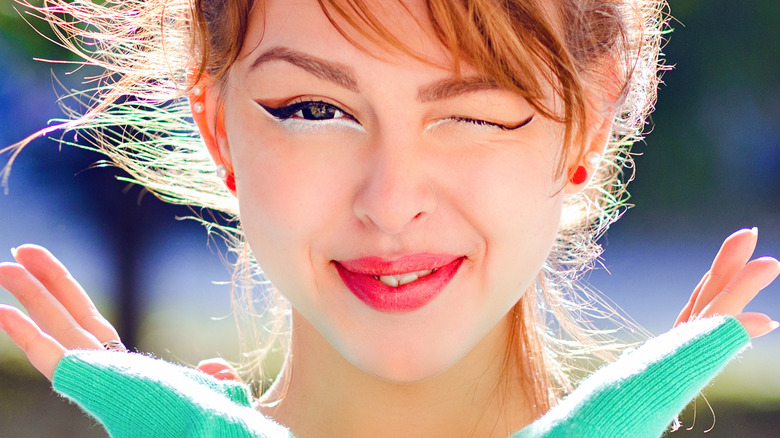 Ann Haritonenko/Shutterstock
Cut-crease eyeshadow is another go-to technique for those looking to open up their eyes. To create a cut crease across your eyelid, apply a nude eyeshadow that's closest to your skin tone as a base and dab a dark brown eyeshadow just below the brow bone. Then, add a coat of concealer that is about two shades lighter than your skin tone over your lid to soften the brown shadow. Next, wing out the concealer with an angled brush in the direction of the brow's tails. To make your crease look more pronounced, add a white or light pink shade over your concealer. 
If your eyes have no visible crease, you can make a faux crease. For a start, move upward to the area of your eye socket, which is directly behind the brow bone and slightly above the upper edge of the eye's socket, to identify your eye socket bone. Then, use an eyeshadow stick to draw an arch along the socket bone that reflects the natural curve of your eyelid. Once you're done, apply concealer to your eyelid to create a guide for your fake cut crease and follow with a layer of white shadow atop the concealer to emphasize the new eye shape. Opt for a nude eyeliner for your waterline. To make your eyes really pop, dab some bright glitter along the crease and create a graphic floating eyeliner on your lid.