You Too Can Make Mascara The Star Of Your Minimalist Makeup Show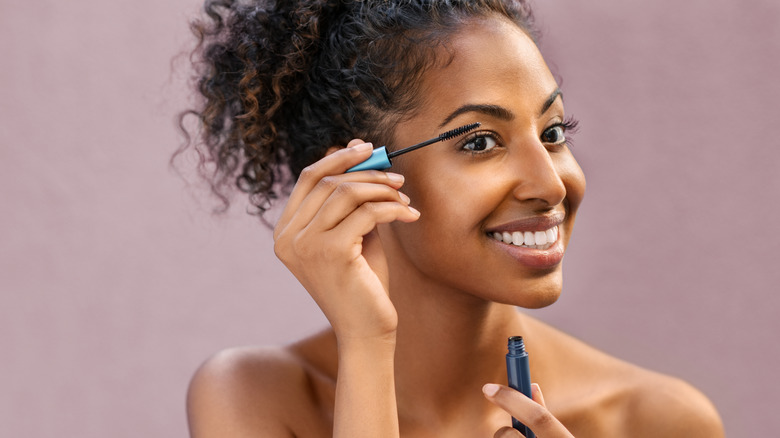 Ground Picture/Shutterstock
After years of trendy, bold makeup looks, many people are choosing to go back to basics for their everyday routines — "that girl" aesthetic, anyone? Colorful eye looks and full-coverage sculpting are beautiful, but they also take quite a bit of time and skill, not to mention the cost of dozens of high-end products. According to a 2014 survey by AOL and Today, the average woman spends almost an hour each day on her appearance, but by paring down your makeup routine to something more simple and natural, you can seriously cut back your time spent at the mirror.
Going completely bare-faced is obviously the quickest option, but if you're looking for a middle ground between full glam and au naturel that still allows you to highlight your features, this routine might be for you. This full makeup look enhances your natural beauty while placing the eyes front and center, allowing you to feel beautiful while still getting out the door in time for your morning meeting.
Start with skincare and primer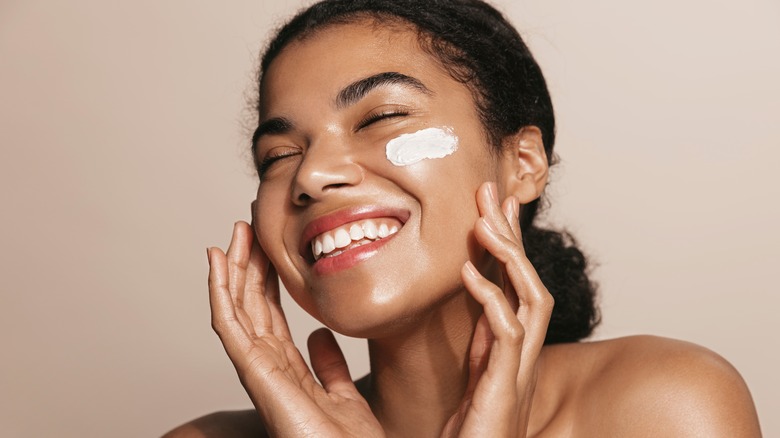 Lyubov Levitskaya/Shutterstock
Whether or not you're planning to apply makeup, you should always begin your day with a bit of skincare, even if that only means a quick wash and moisturizer. From there, you can add in serums and creams that align with your personal skincare goals. After you apply your products, wait a bit for them to soak in. Applying makeup on top of skincare too quickly can leave you with annoying pilling and blotchiness, especially if you're using sunscreen.
Next, you're going to want to reach for a primer. This will both provide more grip and staying power for your products and reduce the look of texture in your skin. If you want to create a smooth, even base, try a silicone-based blurring primer. For something that adds some glow, look for products that contain a bit of shimmer or hydrating ingredients like hyaluronic acid. On this step, you can even opt for something tinted or color-correcting if you want to reduce redness without applying foundation all over.
Spot conceal blemishes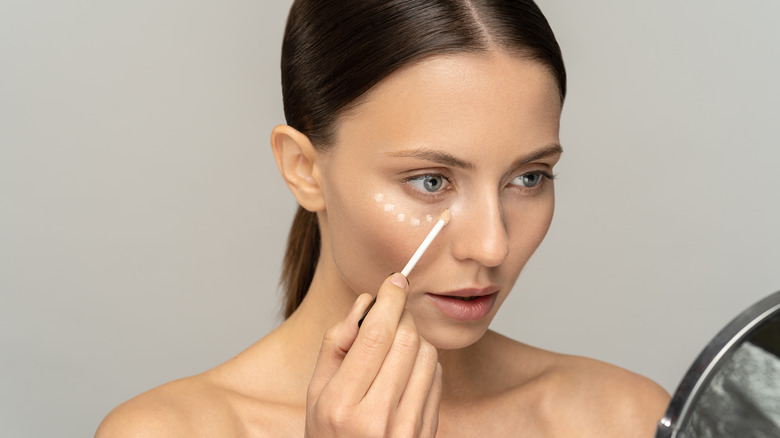 DimaBerlin/Shutterstock
Instead of applying a full coverage base, opt for just concealer if you want something a bit more natural-looking. Go in with a concealer the same shade as your skin to cover any blemishes — acne, redness, scarring — then grab a concealer that's two shades lighter than your skin tone to add in some highlights and brighten under your eyes. 
If you want your face to look more contoured without much product, apply it in the same formation as this concealer hack — inner corners of the eyes, along the edge of the eye, by the corner of the nose, and under the hollows of the cheeks. For this look, a glowy, medium-coverage concealer is your best bet. If you have oily skin, you can lightly set with a bit of powder to prevent anything from moving around and dull shine, but, because you're applying minimal product, this look should wear well throughout the day regardless.
Add cream bronzer for depth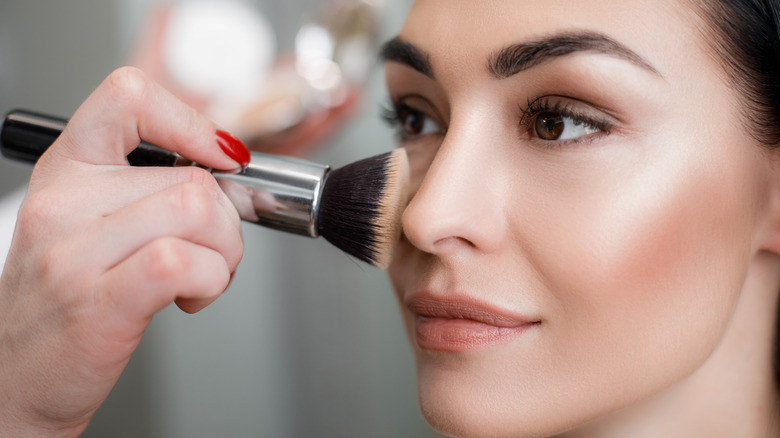 Olena Yakobchuk/Shutterstock
If you're planning to keep everything on your face minimalistic and primarily draw focus to your eyes, cream products will be your best friend. According to makeup artist Rae Morris, cream and powder formulas create a different look on the skin. "Naturally, creams have a creamier, shinier finish than powder. They give you a more youthful glow," she said in an interview with Refinery29. "Powders are usually more matte and velvety."
Because of this, cream products tend to be better at mimicking the look of natural skin, especially when it comes to bronzer. Powders can easily build up, highlighting texture. They're great if you're going for a more dramatic, glam look, but applying a cream bronzer along your cheekbones and around the edges of the face can bring some subtle warmth without drawing too much attention. They're also super easy to blend over your skin — just apply a few dots in the desired area then tap or buff with a brush, beauty sponge, or even your fingers.
Top with a glowy blush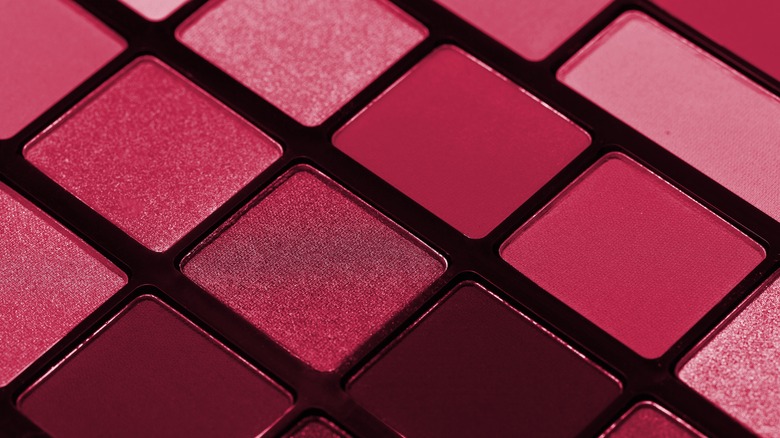 Alim Yakubov/Shutterstock
In the same vein as cream bronzer, cream and liquid blushes are great if you want to achieve a natural, glowing-from-within look. If you're not a fan of rosiness in your complexion, you can always skip this step, but blush can help to further warm up your skin without having to cake on bronzer, especially if bronzing products tend to look orange on your skin tone. Look for a blush shade that's similar to your color after an intense workout or mild sunburn for the most natural match, and add in a bit of shimmer or glowiness if you want to further the healthy, hydrated look.
Blush placement all comes down to preference, but if you want to create a more lifted look, try placing your blush high on your cheekbones, almost into the under eye area. You can even drag a bit of product on to your nose and chin to make everything look more cohesive and natural.
Bring some depth to the eyes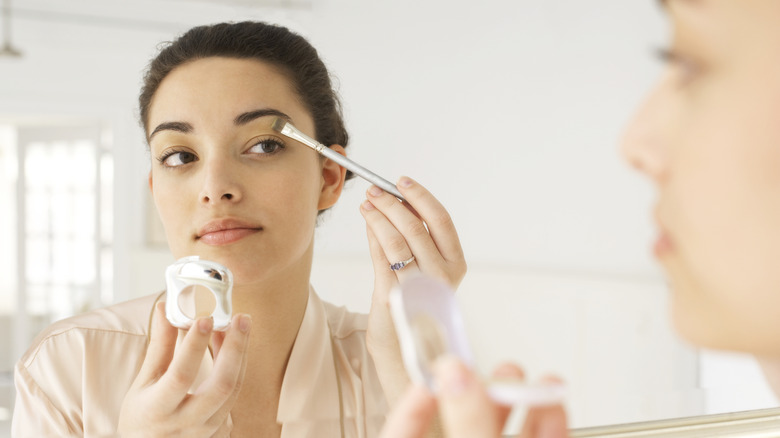 Christopher Robbins/Getty Images
Now that you've finished the base, it's time to focus on the main event — the eyes. In lieu of a more involved eyeshadow look, reach for powder bronzer or a brown eyeshadow a shade or two darker than your skin tone instead. Cream products are great for the face, but choosing a powder formula for the eyes helps prevent annoying creasing throughout the day.
Lightly buff a bit of this shade across the lid and in the crease with a fluffy blending brush, then drag under the lower lashline with a smaller brush. This is enough to add a bit of depth and make your eyes stand out without the hassle of a full look. If you want to look a bit more awake, you can also add a bit of shimmery, light-toned shadow or highlight in your inner corner — just make sure to apply with a light hand unless you want to lean into more of a glam look.
Add in your favorite mascara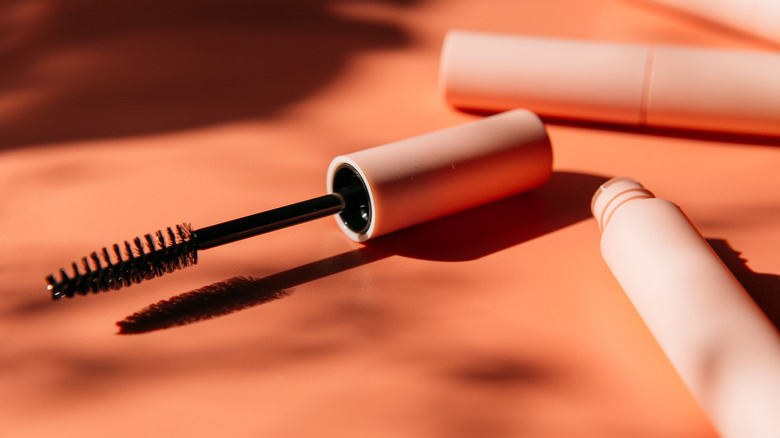 Alena Spasskaya/Shutterstock
In this look, mascara is the star of the show, so it's important to find a formula that works for you. Everyone has different preferences and goals for their products, but, across the board, it's best to opt for something that doesn't clump, creates volume, and enhances your lashes' length. If you have blonde or red hair, you can even opt for a mascara shade other than black that looks more natural with the rest of your natural color palette, like brown or auburn.
If you really want your lashes to stand out, start by curling your lashes, then apply a layer of lash primer or clear mascara. From there, go in with your product as normal, making sure to work it between each lash and wiggle your brush to work through any clumps. Pro tip: If you accidentally bump your eye with your brush and don't want to redo the entire eye look, wait for the rouge mascara splotch to dry, then gently rub with a clean spoolie to remove it without disturbing the makeup below.
Finish with a setting spray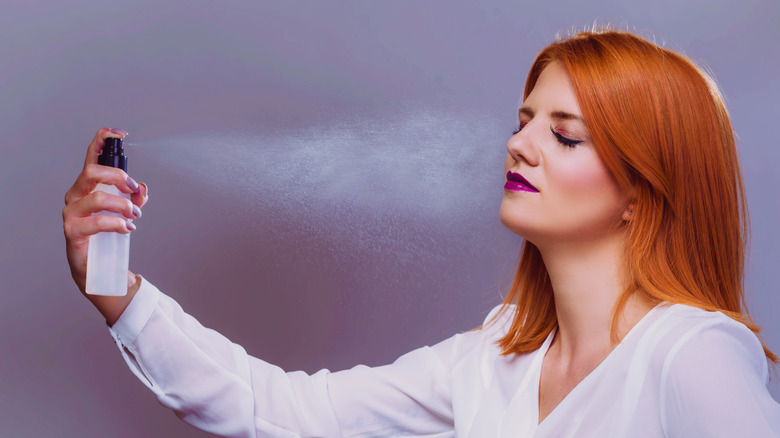 Lordn/Shutterstock
Setting spray might be a staple of your night-out makeup routine, but it's an essential component if you want a minimalistic makeup look to last all day, too. You likely won't need anything heavy-duty or mattifying, but a few spritzes of setting spray can help to lock down your makeup and prevent it from rubbing off throughout the day. Nowadays, there are even setting sprays that include skincare benefits like moisturizing ingredients and added SPF so you can boost the health of your skin with a quick spritz.
It may seem like a wealth of steps, but this makeup routine includes all neutral, simple products that don't require much precision to apply. Instead of spending an hour on a cut crease, this look can get you out the door in 10 or 15 minutes, but still leaves you with fluffy, fluttery lashes and a glowy base that's sure to have you feeling confident and ready to face your day.