Matte Lipstick May Make Your Chapped Lips Worse. Here's What To Use Instead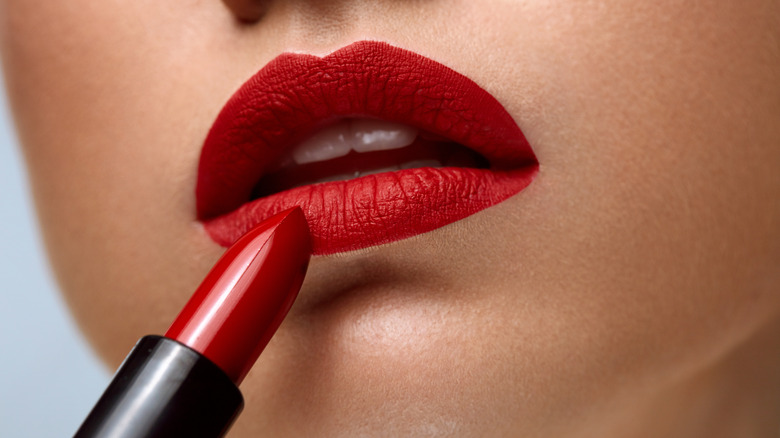 Puhhha/Getty Images
Lipsticks come in all kinds of colors and finishes; which one you choose depends on your personal preference. The most common types are cream, gloss, matte, and metallic. When selecting the perfect one for you, it's important to consider more than aesthetics. Lipsticks use the same ingredients as a base, just in different proportions. These are wax, oil, and pigment, according to Octoly Magazine.
When it comes to matte lipsticks, there is usually more wax than oil in the formula. This allows it to dry down without any shine. However, it can affect how moisturized your lips are. Since they lack the oil to keep your lips from getting chapped, matte finishes are more likely to dry them out. Once your lips are chapped, the product will settle into all the crevices, highlighting the problem. Matte may wear longer, but it may not look good if you're prone to dry, cracked lips. Luckily, there are ways you can add moisture to prepare for using matte lipstick, or you can switch to a similar style.
Matte lipstick alternatives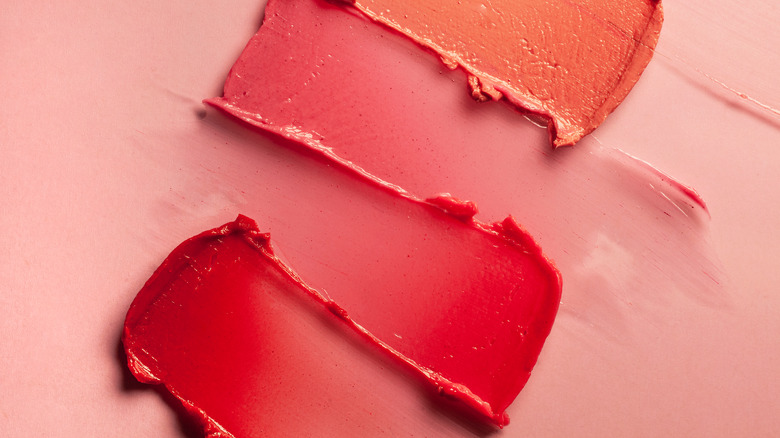 fotaro100/Shutterstock
You may adore the look of matte lipstick, but if you deal with chapped lips, this finish won't be a good choice for you. Of course, if you love it, you can do extra prep work to help it sit better on your lips. While every finish has its own appearance, they also have different textures and longevity. The closest you can get to matte is with cream or semi-matte lipstick. These options won't make your lips shine like a gloss, but they are packed with added hydration. If you want them to look almost exactly like matte lipstick, apply these alternatives and then use blotting sheets to remove the shine.
When you choose a new lipstick, pay closer attention to the ingredients. You may need to look at the manufacturer's website for this information if it's not advertised in-store or on the packaging. Look for key ingredients like vitamin E, shea butter, and avocado oil. They will put in the extra work to prevent your lips from getting chapped.
Prep your lips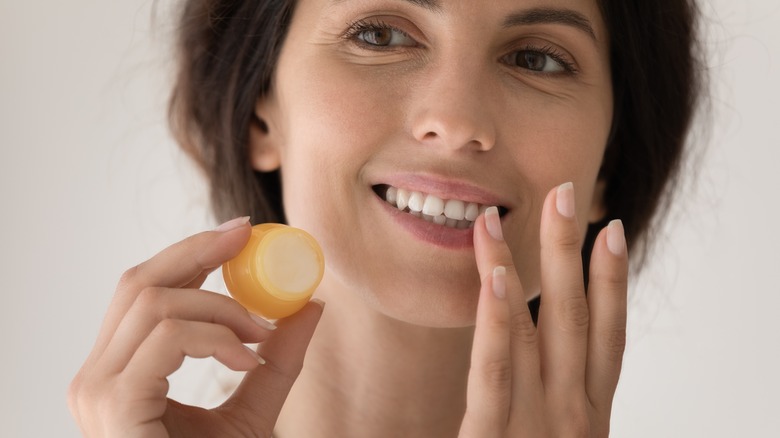 fizkes/Shutterstock
How you prep your lips can make a big difference when using a matte lipstick. Unlike cream or gloss finishes, matte lipsticks don't have extra oil to hydrate your lips after you apply them. The key to a long-lasting, perfect matte look is moisture. Dermatologist Dr. Shereene Idriss explains to Huda Beauty that you need a thick occlusive product without hyaluronic acid. She aims to apply this lip balm at the beginning of your makeup routine. By the time you're done, the product should have absorbed into your lips, making them ready for a matte lipstick.
If you want to take your preparation a step further, you should also exfoliate your lips before applying the lip balm. Doing this will take off any flakes that would have created crevices for the lipstick to settle into if they weren't removed. You'll have a smooth base for the product to sit on. Instead of using a harsh physical scrub, consider using a low dose of a chemical exfoliant, like glycolic acid.
Use a lip mask overnight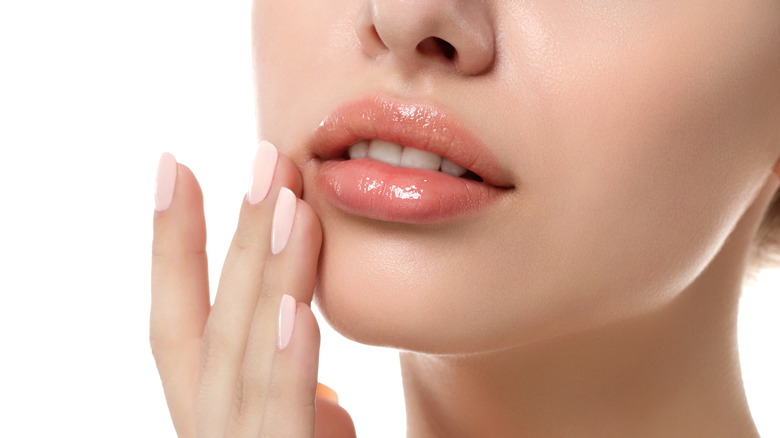 ldutko/Shutterstock
Overnight lip masks are a great way to ensure your lips are hydrated. When using a matte lipstick, you need to think about preventing chapped lips before they occur instead of treating the dryness as it's happening. You can use one the night before you know you'll apply lipstick or after you're done wearing it. A lip mask is a more intense method of adding hydration than the balm because it also revitalizes their texture.
The best time to use a lip mask is right before bed. Before applying it, ensure you've removed any remnants of that day's lipstick. Beromt stresses using a makeup remover because if you leave any residue, it can potentially damage your lips. The matte formula can cause discoloration and stain them. Dirt can also accumulate in the lines of your lips if you don't take off your makeup. After applying the mask like you would any other lip balm, you can remove any excess still there in the morning. When it comes time to do your makeup, follow the same preparation and swipe your matte lipstick over your smooth, extra moisturized lips.
Apply a thin layer of matte lipstick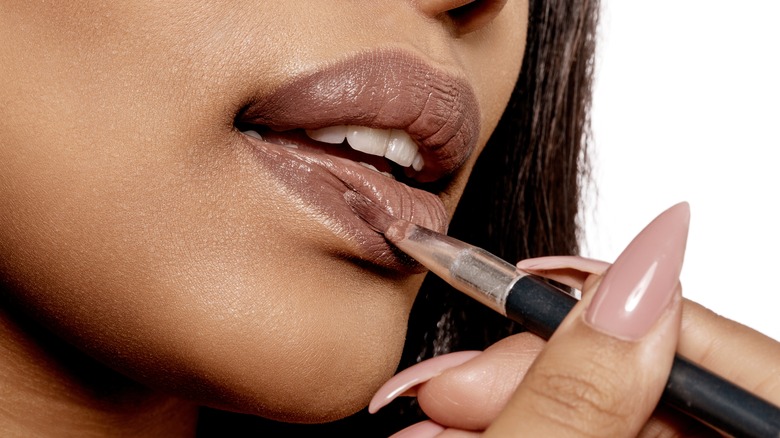 Miramiska/Shutterstock
How you apply your lipstick also matters. You'll need a lip liner and a flat makeup brush for the best application. First, choose a lip liner that goes with the color of your lipstick. Use this product to outline your lips, then fill them in to create a barrier. Placing this layer makes it easier to apply the lipstick and harder for anything to settle into any cracks.
Next, you'll want to use a thin flat brush to swipe the matte lipstick on lightly. You'll have more control this way instead of using the included doe foot applicator. L'Officiel explains that you shouldn't lay down a thick coat of the product because it will dry you out quicker. You should work with thin layers, building them up until the opacity of the color is to your liking. Once it dries, your makeup routine is done. Just try not to lick your lips too much throughout the day. Doing this will chap your lips and make the product flake off.