Steal Makeup By Mario's Lip Lift Technique For The Perfect Pout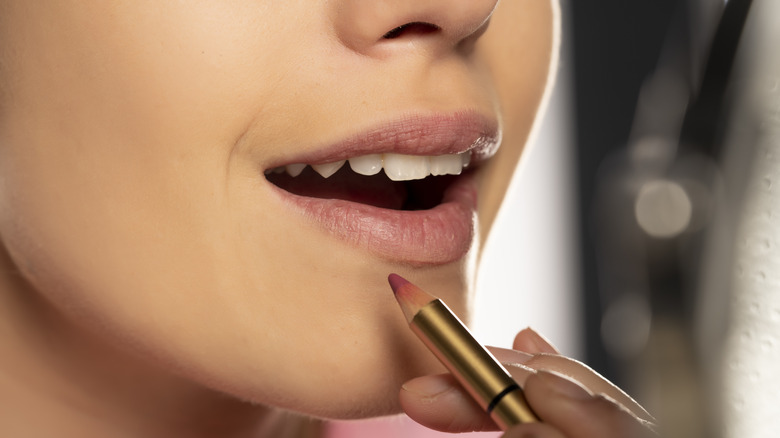 Vladimirfloyd/Getty Images
It appears we just can't get enough of Mario Dedivanovic's excellent makeup expertise. First, it was the heavy contour, a technique he popularized alongside Kim Kardashian and her now-defunct makeup line, KKW Beauty. Then, we turned to him for the soft sculpt, a contouring method much more delicate than the 2016 dark-line-on-cheek technique but still as defining. And now, we have the lip lift: another Mario technique that promises a fuller pout without the droopiness regular lip lining causes to your face.
There are many ways to achieve a luscious pout with makeup, two of them being plumping lipglosses which, according to Makeup.com, temporarily makes your lips fuller by causing tingling. Then there's overlining, which features one of our favorite lip look essentials, the lip liner. Mario's technique also features some overlining using lip liner, but with a little more emphasis on lifting your lips rather than just making them fuller, giving you an instant, non-surgical lip lift. Want to know how he does it? Here's all the tea on achieving the perfect lip-lifting pout, per pro makeup artist Mario Dedivanovic.
Here's how to lip-lift with liner
Mario's technique does two things: it lifts your lips while giving you a natural-looking, fuller pout, using a lip liner. However, with lip liner application, you always want to ensure you're doing so on prepped lips. According to Ipsy, applying your lip liner after gently exfoliating with a lip scrub and hydrating thoroughly with lip balm lets your lipliner and lipstick glide onto your lips much smoother. Then, after prepping your lips, you can proceed to line your lips.
In a TikTok clip, Dedivanovic says to start by slightly overlining your cupid's bow to achieve his famous lip lift. Now, you're probably asking, how is this different from good old overlining? Well, here's where it gets different. After overlining your cupid's bow, do not be tempted to overline the rest of your top lip. Instead, line the rest of your top lip within the lip line, not outside. This emphasizes your cupid's bow even more, giving you a luscious top half of the pout. For your bottom lip, follow the same method as the top — overline the lip line of the center of your bottom lip. However, again, do not overline the rest of your bottom lip. Only overline the center and apply the liner within the lip line of your bottom lip, connecting the sides with the corner of your top lip. 
Finish up with some lipstick and concealer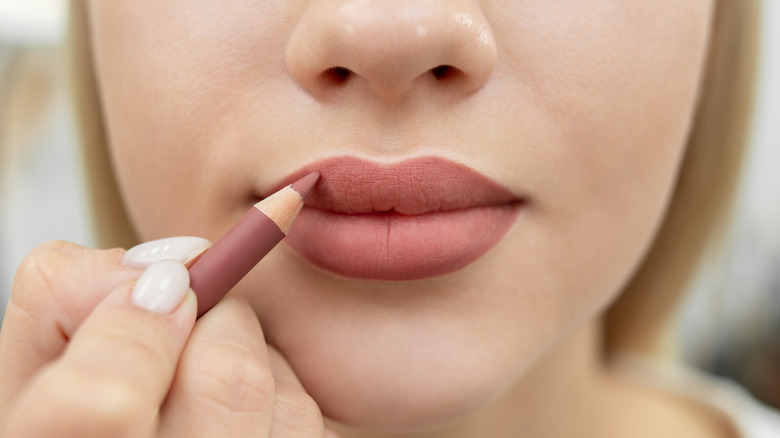 Artem Zakharov/Getty Images
While overlining your entire lip line can cause your lips to look droopy, slightly overlining the fuller parts of your lips and then lining within your lip line for the sides is how you achieve the instant lift, all while maintaining the pout you desire. After lining, you can clean up the outline of your lips using an angled brush with some foundation or concealer in the shade closest to your skin tone to give a sharper, more precise, and in turn, more lifted angle to your lips, per Dedivanovic's TikTok tutorial. Sugar Cosmetics also explains that outlining your lips with concealer adds more depth to your lips.
Using the same brush, blend out the harsh lines of your liner inside your lips to add more depth, and then go ahead with your favorite lip combo, whether by adding lipstick or gloss to the center. In the TikTok tutorial, Dedivanovic uses the Ultra Suede Sculpting Lip Pencil in the shade Travis and the Ultra Suede Lipstick in shades Fanda and Sierra, both of which are from his highly acclaimed eponymous makeup brand, Makeup by Mario. But of course, you can use any good lip liner in your stash with any shades you feel best in. Overall, the lip lift hack is a great lip liner technique, and we can't wait for you to try it.