Cheek Stain Vs. Blush: What's The Difference Between The Beauty Products?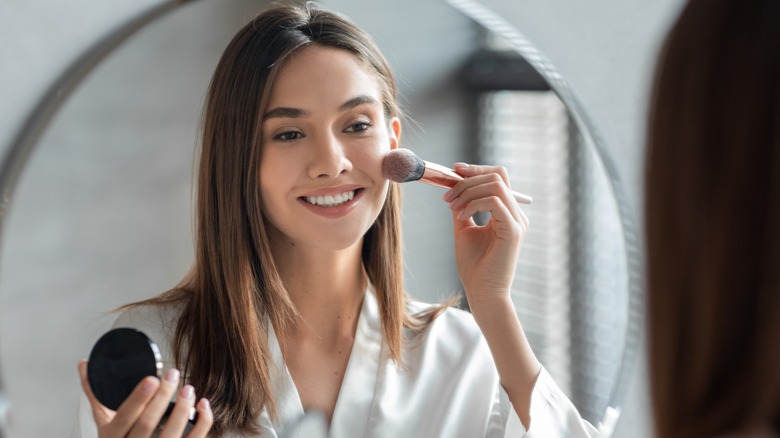 Prostock-studio/Shutterstock
Adding color to your cheeks can make a world of difference in brightening your complexion. Applying blush is a quick and easy way to make you appear fresh and vibrant and ties your makeup look together. These days, there are so many different types of products that it may be hard to choose which type of cheek color is right for you.
People usually reach for a powder blush first, as they are the most popular and easy to apply. They also come in a variety of colors and textures, making them accessible for all skin tones. However, cheek stains are also a great alternative to blushes. Many may be hesitant to try a cheek stain because they might not know how to use them. They do take a bit of practice to get just the right amount of color and blending, but they are fun to use and versatile as well. Still not sure about which type of cheek color to use? Here are the differences between blushes and cheek stains.
Cheek stains last longer than blush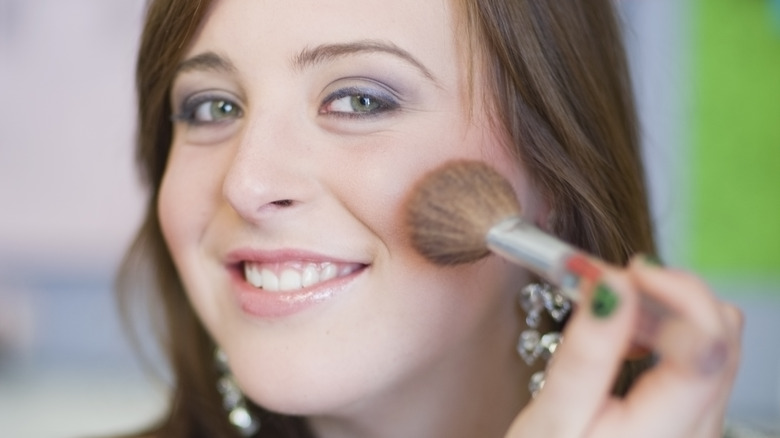 Zero Creatives/Getty Images
Cheek stains do exactly what their name describes — they stain your skin with color that stays put until you wash them off. They usually come in a liquid form, which you apply with your fingers. Some stains come in a tube, and you can apply them directly to your face. Cheek stains can be a bit tricky to apply. They dry fast, so it's important to blend the color quickly. However, the result is a soft, dewy finish that looks like a natural sun-kissed flush.
Blushes come in powders or creams and are a bit easier to use than cheek stains. Powder blushes can be matte or have a bit of shimmer, but the downside to them is that they can look cakey and unnatural because they sit on top of the skin. Those with dryer skin may want to reach for a cream blush instead. Cream blushes give a dewier look and are easy to apply. They come in a liquid form in a squeezable tube or a wand. Solid forms are either in a pot or lipstick-like tube. Cream blushes are usually sheer and don't last as long as powder blushes or cheek stains. Blushes and cheek stains have their uses, and if you know how to apply them properly, they can both be great tools to have in your makeup kit.
How to apply cheek stain and blush for a natural look
Cheek stains are great for any time of the day. If you want a flush that'll take you from morning to night, then stains are for you. Because they absorb into the skin, they have a temporary staining effect, which makes them perfect for hot summer days. Liquid cheek stains usually come with a doe foot applicator. Place a few drops directly onto your cheeks, and using circular motions, blend the stain upward towards the top of your cheekbones. The result should be a natural, flushed look with no harsh edges. If you find your cheeks looking splotchy, blend a bit of foundation over the color.
Powder blushes are applied with a soft, fluffy brush, which makes it easier to control the placement. They're great for a quick dust of color and can be layered on for more coverage. Simply swipe the brush over the product and apply the color to the apples of your cheeks. For a sun-kissed look, lightly go over the bridge of your nose and your temples with your blush. Like cheek stains, cream blushes are applied with your fingers. Because of their texture, they are easy to blend, and you won't have to worry about harsh lines. Whichever you choose, blushes and cheek stains are the perfect finish to your makeup look.