TikTok's Latest Hair Hack Promises Volume In Little Time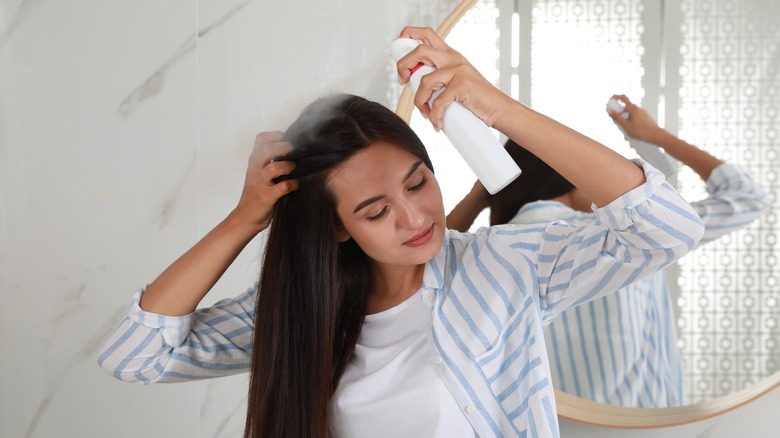 New Africa/Shutterstock
You're just about ready to go out, you look fabulous, but your hair is missing something: volume — one of hair's many challenges. If you have straight hair, and especially thin or fine hair, you may be all too familiar with your hair falling flat when you really wish it had some bouncy waves. Maybe you have thick, wavy hair, but it gets weighed down easily by excess oil or product residue. But there's an easy way to give your hair some more personality with little effort.
TikTok has yet another hair hack for you. It's much simpler than the soda can curl trick and a lot faster than the headband hack. When you don't have time for an extensive hair routine, it's always good to have some tricks up your sleeve to get the job done quickly. For this hack, all you need is a curling iron and your favorite hair spray.
The hack explained
Beauty lover Melissa Alatore (@alatorreee on TikTok) shared a hack that gives her hair extra volume after she finishes styling it. It takes her under a minute to do, making it the perfect trick to use when you're running late. 
She starts by taking two small sections of hair from the top of her head and wrapping them around her iron, curling the hair backward at the root. She emphasizes using a large barrel curling iron, between one and two inches wide. A curling iron's size will determine the kind of curl it gives your hair. 
After keeping the hair around the iron for just a few seconds, she releases it from the iron and lets it cool before hitting it with hairspray. Melissa only curls pieces at the crown of her head, adding some height and bounce. In the video, she uses a curling iron from the brand T3 along with Bumble and bumble's thickening hairspray, but you can use whichever tools work best for you. Use this method along your whole head to finish the process, and there you go! Volumized hair in record time.
Be careful with the heat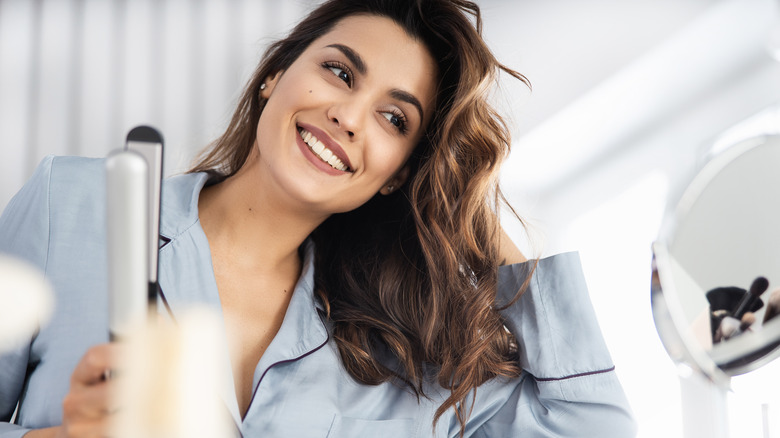 Yakobchukolena/Getty Images
Heat tools are amazing at giving your hair that extra style boost, but it's important that you aren't damaging your hair. The last thing you want when trying out a fun look is hair breakage and brittleness, so it's always good to take some precautions.
Using a heat protectant spray is a great way to give your hair some armor before going in with the heat. It acts as a barrier between the heat and your luscious locks. We recommend It's a 10 Haircare's Miracle Leave-in Product to protect against heat damage. If you're new to using heat tools, it's also a good idea to invest in a heat-resistant glove to prevent you from burning yourself while doing your hair. 
Don't let your curling iron get too hot, or else your hair can become brittle, and even worse, it can fall out. "It's a good rule of thumb to keep your tool under 400 degrees," says dermatologist Shilpi Khetarpal (via Self). Be careful not to use heat tools every single day, as they can dry out the hair and strip away its natural oils. 
Remember to use heat on dry hair only. A curling iron applies heat directly to the hair, and using it on wet hair will cause more damage. "Putting any kind of heat on wet hair is going to be much more traumatic compared to when the hair is dry because the cuticle is completely open and exposed," says Dr. Khetarpal.