The Reason You Should Avoid Setting Powder On Hot And Humid Days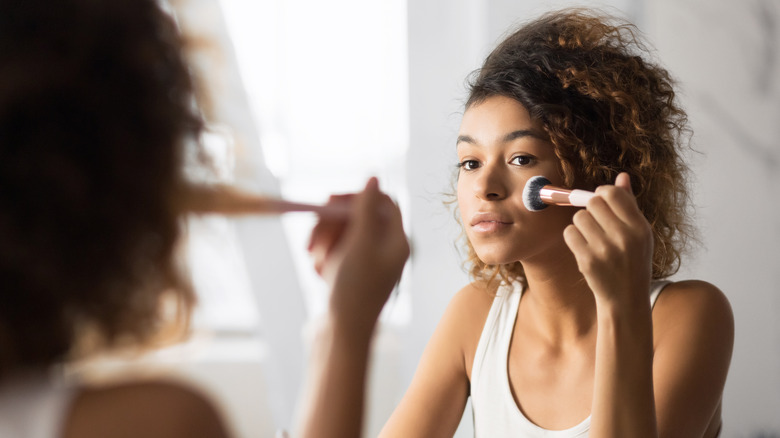 Prostock-studio/Getty Images
Setting powder has become a popular staple in many of our makeup bags and is now a go-to for locking in a perfect makeup look. In fact, it has become so popular that according to makeup brand Laura Mercier one of their loose-setting powders sells every 20 seconds — and that's just one brand alone. Add that on top of other makeup brands, and the number is likely much larger. Of course, setting powder has become famous for an excellent reason. Many use it to set their foundation or achieve a matte finish. This is why many people with naturally oily skin love the product, as it helps them dab and zap away any excess shine.
However, there are unfortunately occasions where setting powder is not the best choice — and it may even compromise your finished makeup look. One occasion where you should avoid using setting powder is on hot and humid days. If you live in a warmer climate, this advice may particularly apply to you. So, why should you avoid this much-loved product during the summer months? Let's find out.
Humid weather can alter your setting powder's color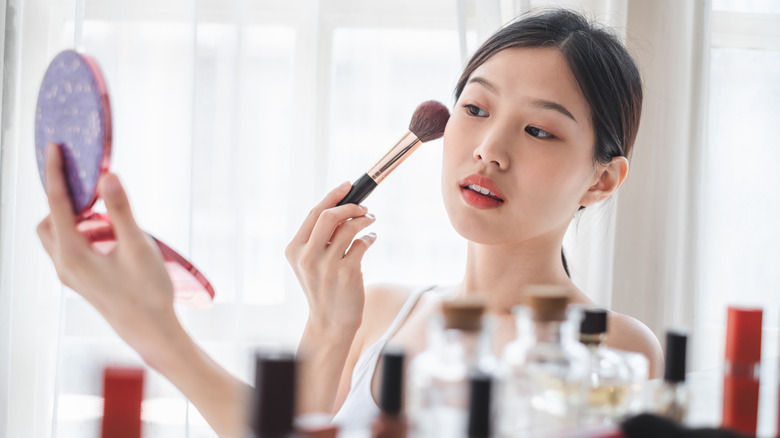 Nattakorn Maneerat/Getty Images
While setting powder comes in handy for most situations, wearing it in hot and humid weather could actually compromise your makeup look and ruin it. When setting powder is exposed to these warmer and wetter conditions, it can change its color completely, four-time Australian Makeup Artist of the Year Rae Morris explains to CNN. "I like to avoid powders, because once they get wet they can change color," she reveals. "Keeping a matte look is too hard to maintain in the heat." 
The hot weather can also cause powder products to streak, and that includes blushes, bronzers, and a whole range of other items, per The Independent. Of course, this is bad news for your makeup look, as it will likely change the color of your face and result in a not-so-flattering finish.
Aside from color altering and streaking, Morris also adds that your makeup can end up "looking cakey" if you apply it too liberally in the hot weather. While you may think applying more setting powder would counteract the dreaded "sweaty makeup" look under the sun's beaming rays, it actually has quite the opposite effect.
Beware of oxidation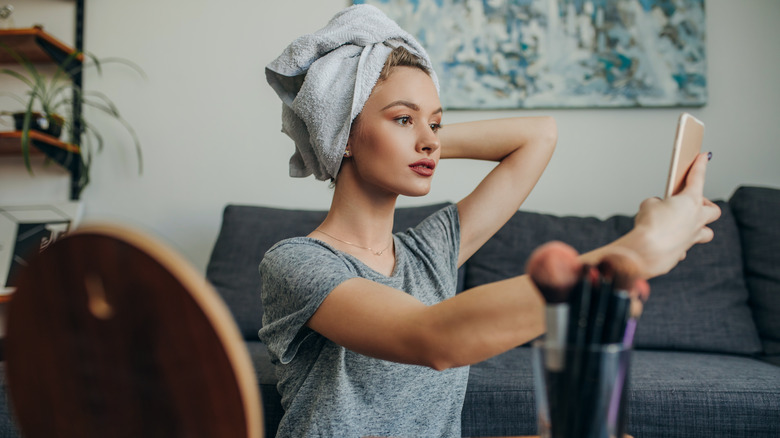 Likoper/Getty Images
So, why does your setting powder change color in the sun? Well, it turns out it all boils down to a very simple chemical process known as oxidation. This process is where molecules lose electrons (via BiologyOnline). Much like with setting powder, Elizabeth Mott explains that this chemical process also happens with foundation products and is known to make the product appear darker with orange tones.
Now you know why it's best to avoid using setting powder on hot and humid days, you'll likely want to find an alternative solution. To avoid getting yourself in a setting powder nightmare, don't use it in hot weather. Instead, makeup artist Lisa Potter-Dixon recommends some setting spray (via The Independent), as it will help to lock your look in place and make your makeup last all day. Likewise, this will help to steer clear of the "cakey" look that many of us want to avoid at all costs. You should also opt for waterproof formulas where possible, as these will resist streaking in sweaty weather.