White Eyeliner Is Way More Versatile Than You'd Expect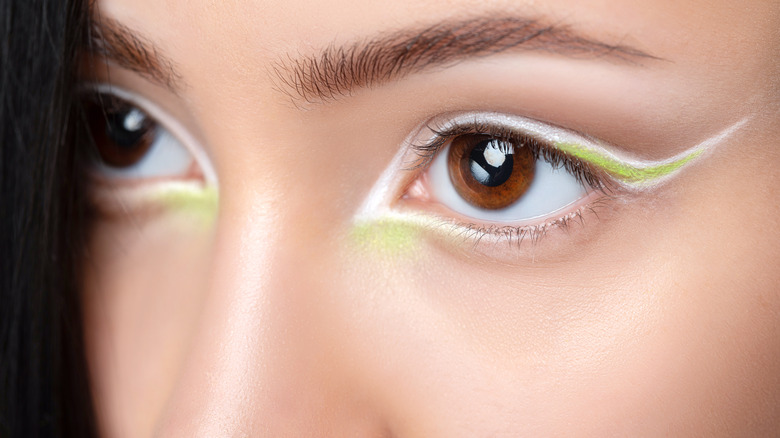 Dimid_86/Getty Images
Though white eyeliner isn't a new product, it is one that has always remained largely shrouded in mystery. Most longtime makeup wearers know that a swipe of white on their bottom waterline can make their eyes instantly appear bigger and more awake. Beyond that, most remain stumped when it comes to just how white liner is meant to be used and why it deserves a place in their makeup bag. If you've recently heard that white eyeliner is growing in popularity, know that the rumors are true.
Luckily, utilizing white liner isn't quite as difficult as it seems. No matter what your personal style is, there is a way to incorporate this trend that won't leave you pulling your hair out in frustration or cringing when you're tagged in a photo. Here are some of the most inspiring ways to use white eyeliner to keep your makeup routine fresh and on point. 
Bold white wing
The easiest way to use white eyeliner is to simply swap it out for your usual color. If you typically opt for a bold black wing, draw yourself a white wing instead. Add black tightlining and mascara, if you'd like to keep the look of fuller lashes. 
Simple graphic liner
If you're looking to go bold but not too bold, consider trying your hand at a very simple graphic liner look using white eyeliner. Just apply your usual eyeshadow, dark liner, and mascara, and then add the graphic liner as an embellishment. Opt for a liquid liner and draw a simple curved line above your top lid and one below your bottom lid, connecting in a point just beyond your eyeliner wing. 
Paired with white mascara
If you're really feeling intimidated by the idea of trying out a white eyeliner, there is an option that is completely failsafe. Line your top and bottom lash lines with a white pencil liner. Then, add a coat or two of a white mascara to both your top and bottom lashes. Pair with a frosty eyeshadow or leave your lids bare. 
Full face paint
White eyeliner isn't just for your eyes. If you find yourself attending an event where face paint is considered a plus or you're just feeling extra creative, give this look a try. Create a few blended circles across your face with blush or eyeshadow, then use a white liquid liner to draw designs over the top of them. Customize the shapes to your own interests and skill level. 
Subtle white wing
Not all wings need to be bold. Sometimes, a strategically placed tiny white wing can create even more impact than a big, loud one. Apply a smoky, diffused cat eye, then use a liquid or cream white eyeliner to place a small line directly out from your eyes' outer corners. The effect is a bit of negative space that separates the top of the cat eye from the bottom. 
Elaborate graphic liner
Feeling ready to advance to the next level of graphic liner looks? Try incorporating bright colors and dazzling highlighters that tie your white graphic eyeliner shapes into one cohesive look. The lines can remain simple, but together with the colors and highlights, they should tell a story.