TikTok's Dental Floss Lipstick Hack Can Save Your Makeup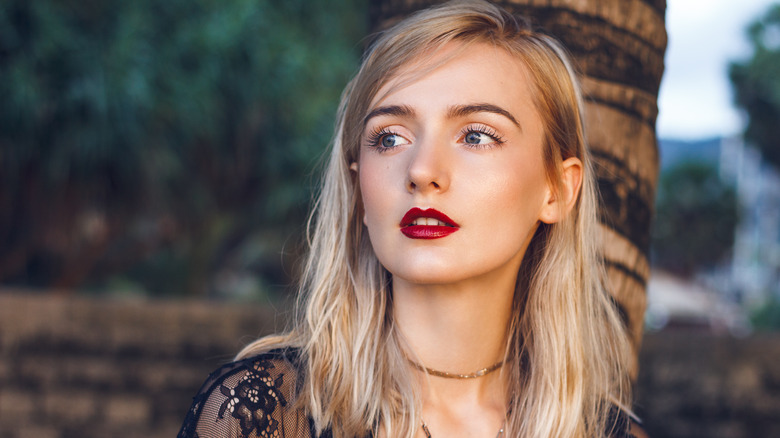 Andry5/Getty Images
TikTok — land of the trendy beauty hack — is at it once again. This time, creators like @Kimmakeup.1 and @Meredithduxbury have posted tutorials on how to apply lipstick precisely while achieving a blurred-edge effect using dental floss and a couple of other common household items. Tens of millions of views later, the hack has blown up into a full-fledged viral beauty trend taking the platform by storm.
If you're wondering if this hack is worth trying or is just another thinly veiled ploy for likes, shares, and follows, you're certainly not alone. After all, this is the same app that brought us other "genius" TikTok beauty hacks like using intimate lubricant lube as a face primer and injecting lip filler at home using a hyaluronic acid pen. Here is a guide to everything you need to know about the new dental floss lipstick application hack, so you can decide for yourself if it's worth trying out. 
What you'll need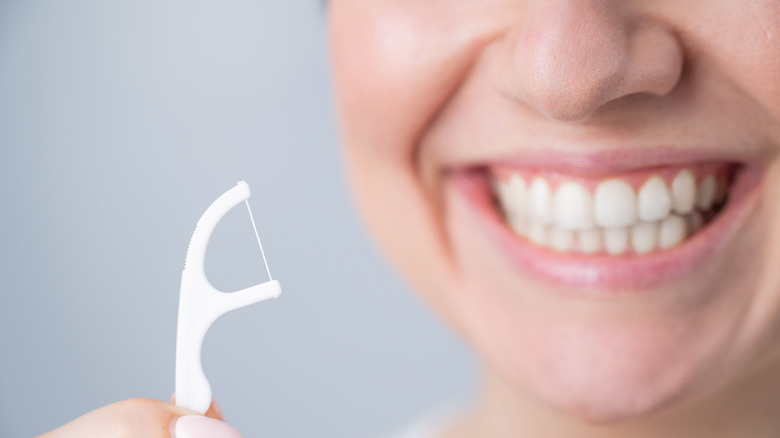 Reshetnikov_art/Shutterstock
The supplies you'll need to try out TikTok's trending dental floss lipstick hack are simple. Gather a disposable floss pick, a cotton swab, a lip gloss or oil, a matte foundation or concealer, and your favorite tube of lipstick. Nearly every tutorial and reaction video involving this hack uses red lipstick, so if you're a purist, make sure yours is red too.
Due to the potential for messiness with this application technique, you'll want to stick with products that utilize a dryer formula, with the exception of the lip gloss or oil. Skip the oily foundations and concealers along with liquid lipstick formulas. Products with a higher moisture content are more likely to slide around during application, which is a recipe for staining when you're using red lipstick. Even if you manage to nail the application with wet or oily products, they're likely to move around your face throughout the day. 
The application process
Once you've gathered your supplies, it's time to put this lipstick application hack into motion. First, prime your lips by patting on a foundation or concealer with a matte finish. This will increase the grip of your lips and help them hold onto your lipstick all day long. Next, it's time to take your flosser and rub it against the lipstick of your choice to load it up with product. If you're concerned about damaging your lipstick, be sure to use very gentle pressure and move the floss around on the stick rather than rubbing it in just one spot.
When the floss is fully covered in lipstick, carefully use it to stamp a border of lipstick around the edges of your lips, starting at the bottom. Once you've reached your cupid's bow, use the floss to stamp an 'X' shape to create the perfect pout. Now, fill in the rest of your lips with lipstick and then smudge the edges using the cotton swab. Finally, add a layer of lip gloss or oil and you're ready to roll.