Major Volume And Curls Are In, And Your Hair Can Soar With This Inspo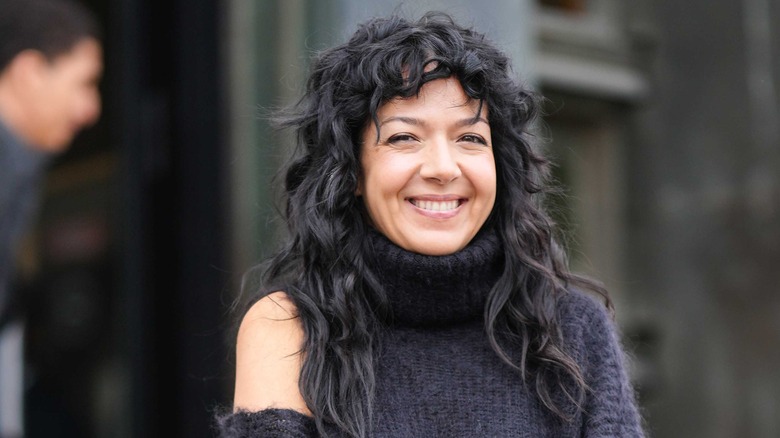 Edward Berthelot/Getty Images
Hair trends are constantly changing. Just a few years ago, it seemed like everyone was obsessed with stick-straight hair and determined to get their hair as slick as possible. Cue the flat iron! This season, we are looking for the absolute opposite effect. When it comes to our hair — the bigger, the better. If there's one hair trend that literally stands high above the rest this season, it's major volume with bouncy and tight curls.
Advertisement
Luckily, you no longer need natural curls or volume to get on the trend. You can get big hair and bouncy curls no matter your hair length, type, or preferences; it is just dependent on the method you use. If you are looking for inspiration on how to get high volume and tight curls with your go-to hairstyle or cut, you are not alone. We have curated seven unique ways to style the trending look, so you can decide the option that is best for you.
Curly short-cuts
Who says you need long locks to get a gorgeous curly look? There are plenty of reasons why women choose to go for the chop. Some women choose to cut their hair to cut off reminders of the past, whereas others are just looking to add an edge to their look. Tight curls are a great way to add dimension and volume to your short cut.
Advertisement
Side parts are back
Middle parts have been getting all the love lately, but when it comes to this look, side parts are a great way to go. Having a deep side part when you wear tight curls can bring much more added volume to the look. Hairstylist and founder of The Beachwaver Co. Sarah Potempa tells Glamour that women should "play around with flipping the bangs or the part for even more volume for a very extra disco curl look."
Advertisement
Half-up, half-down
A curly half-up, half-down style can be the perfect way to keep stray hairs out of your face while also adding more volume towards the back of the head. This can be completed in a variety of ways. Perhaps the most popular is a half-up, half-down ponytail, sleeking half the hair up into a tight ponytail and then wrapping a strand around the ponytail holder to prevent it from showing.
Advertisement
Cute hair accessories add extra glam
You can never go wrong with adding hair accessories to your curly look. Small clips towards the front of the face are a great way to keep stray tendrils out of your eyes. Headbands are also a great way to add "oomph" to your curly hair look. Hair artist Yoana Mironova shared a photo on Instagram, showcasing how a simple bow headband completely changed her client's disco curls look. This is also perfect for those with finer hair who want the illusion of fuller hair on their head!
Advertisement
Bangs are a huge yes
Bangs don't have to be straight. In fact, curly bangs add a retro vibe to your overall curly look. "Curly bangs are definitely a popular and flattering way to wear curls and explore a new style," Biolage curl specialist and celebrity stylist Cynthia Alvarez tells Harper's Bazaar. Curly bangs can add more volume and face-framing tendrils to the front of your head.
Advertisement
Curly layers
"Layering hair not only removes weight but can also help to create shape, give volume, movement and texture," senior director at Trevor Sorbie's Covent Garden salon Ryan Forsythe tells Glamour UK. With tight curls growing in popularity, many curly girls are choosing a layered look. For those with thicker locks, this helps their head feel not as weighed down by their curls, while also giving them the volume they need starting at the root.
Advertisement
Dimensional hair color spices things up
Multi-dimensional hair color spices up any look, but it seems to add even more to a curly style. While plain curls alone are far from boring, curly hair that has been highlighted seems to give off even more of a "cool-girl" appearance. Shakira is just one of many women with curly hair that is perfectly highlighted to add extra dimension to her look.
Advertisement