Powder Vs. Cream Blush: Which Rouge Has More Staying Power?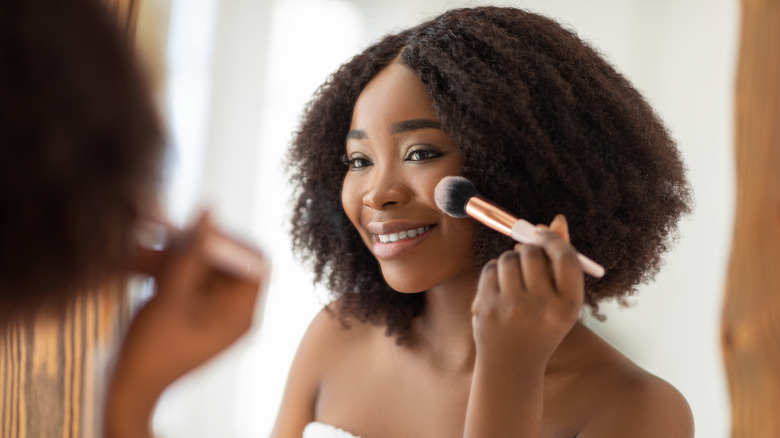 Prostock-studio/Getty Images
A pop of color to your cheeks elevates any look by breathing life back into the skin, and blush has an undeniable powder to complete any makeup routine. Without that signature sweep of color, your makeup can fall flat, but a well-applied rouge can utterly transform a look. There are endless products to choose from, with powder and cream formulations battling at the forefront for the top pick. And while most makeup experts have experimented with different formulations at one point or another, everyone has their go-to blush that they always crawl back to after their passionate fling with another rouge has, inevitably, ended.
Sometimes, however, it can be difficult to choose between powder and cream, as they produce vastly different effects and can make or break a look. Deciding between powder and cream — matte or dewy — is, thus, often a matter of preference. If you've been searching for a flattering rouge that will last throughout the night, however, the difference in staying power may just influence your choice. Here's what to know about the long-lasting properties of powder blush compared to cream blush.
Powder blush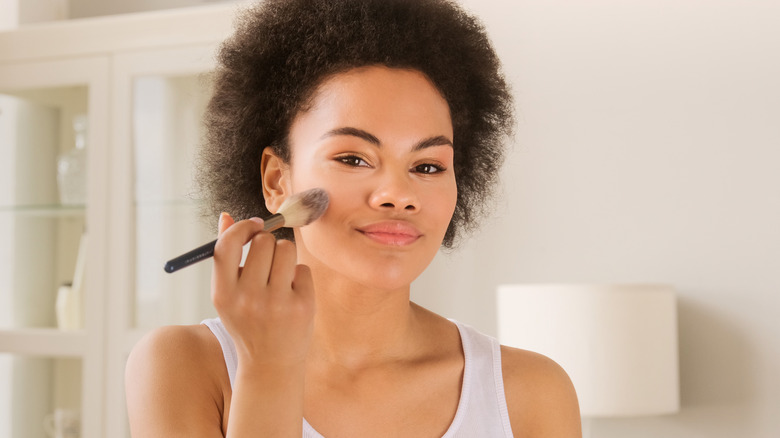 AliceCam/Shutterstock
Powder blush is a classic beauty item that can be traced back to the ancient Egyptians — and for good reason (via Business Insider). In terms of staying power, powder blush takes the cake, according to Glo Skin Beauty. If you're using a high-quality product, you can rely on powder blush to last you from morning to night. One of the reasons for the stronger staying powder is due to the matte finish. Products with a matte finish tend to last longer than products with a dewy or sheer finish, and that applies both to your skin and the shelf.
There are exceptions to this rule, however, as powder blush is not impervious to external influence. If you have oily skin, your blush may not last very long as oil weakens the pigment found in blush, per 25thHive. To counteract this issue, use a setting powder after you apply foundation but before you apply your blush. Setting powder can mattify your foundation and control excess oil production. On the other hand, if you have dry skin and you apply setting powder, your skin may flake, which also reduces the wear of your blush. In this case, a hydrating setting spray can balance out any dryness.
Cream blush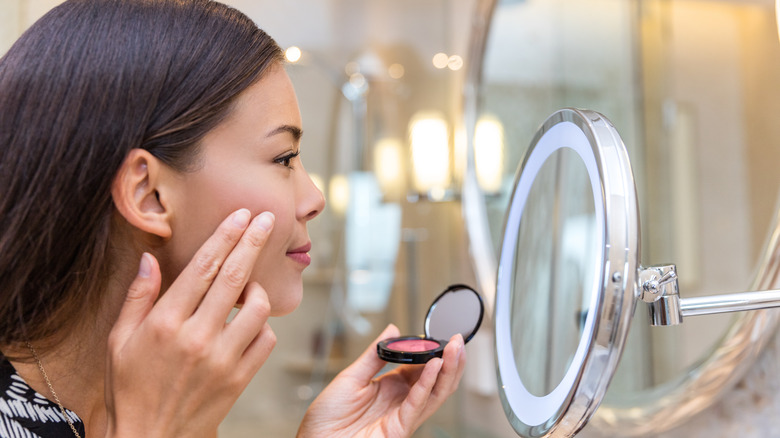 Maridav/Shutterstock
Cream blush is all the rage right now thanks to the clean girl aesthetic and natural no-makeup look trends. Dewy skin and glossy lips are taking over the beauty world, which means cream blush has become an essential item to possess in your beauty arsenal. While this dewy formulation certainly creates an ethereal glow when applied to sheer foundation, cream blush misses the mark for staying power. Unfortunately, cream blush is not usually as long-lasting as powder blush.
Skin type and climate also play a part, as oily or combination skin types can weaken the pigment much faster than dryer skin types. Cream formulations also contain hydrating ingredients that can increase oil production. To keep the oil at bay, use a setting powder under your blush. Keep in mind, though, a setting powder will mattify your foundation and alter your makeup which may be counterintuitive if you're aiming for a dewy look. Consider using blotting papers and reapplying your blush every few hours to increase wear.
There are benefits and drawbacks to both types of blush, especially when you take your individual skin type into account, but when it comes down to staying powder, powder blush prevails as the most reliable rouge.