The Combing Trick That Makes Thick Brows Look Uniform And Clean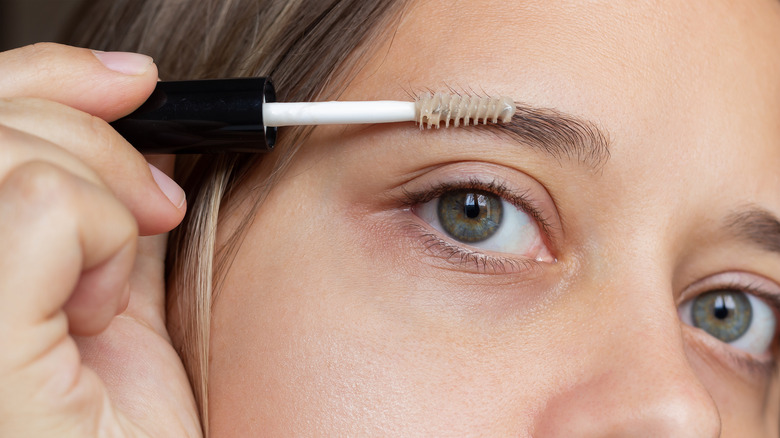 Marina Demeshko/Shutterstock
We may receive a commission on purchases made from links.
You use your eyebrows a lot more than you would think. Surprised? Confused? Well if you are, you probably used your eyebrows just now. Other than helping you express yourself, eyebrows also set the ambiance to your entire face. Make your eyebrows too thin and too arched and you have got yourself a permanently surprised look. Make them too thick and now it's impossible for you to achieve that clean, put-together makeup look.
So, yes, your eyebrows will, at the end of the day, define your entire look. And if you are blessed with thick brows that refuse to be tamed for you to rock that "clean girl" makeup look, we got you covered. It's a very simple process and Charlotte Tilbury lays it out in three simple steps that are "easy as fill, feather, fix!" The eyebrows of your dreams are the 3Fs away, so let's get to it!
Start by combing your brows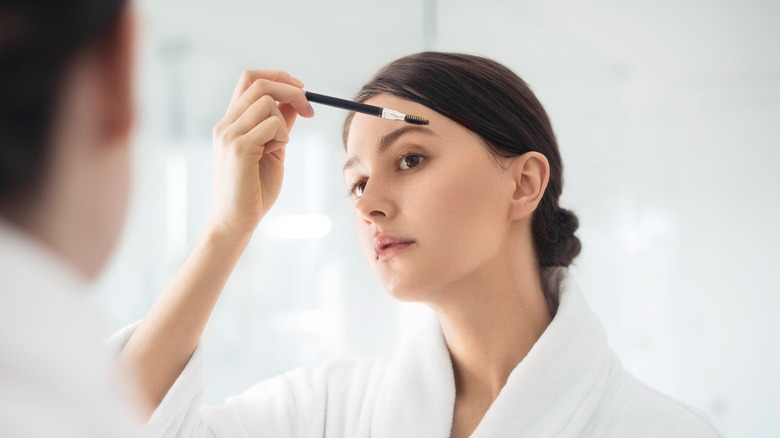 Alina Fomenko/Getty Images
Start by combing your eyebrow upwards (you can use a spoolie for this). According to Charlotte Tilbury, brushing the hair upwards will reveal your brow shape and will help highlight the sparse areas.
Now for everyone's favorite part — plucking! Once you have combed your eyebrows upwards, get your tweezers and follow brow expert, Azi Sacks' advice which she revealed to Coveteur: "When hairs are brushed up, this section of the brow actually sets the tone [for a natural-looking brow]. Tweeze [stray hairs] only on the brow bone and below it. I wouldn't recommend going any higher."
Now that you have groomed your eyebrows, you can move on to the next step which involves filling in the gaps. Use an eyebrow pencil and the keyword to remember is "Feather." The eyebrow pencil should be held lightly in between your fingers, and now, with it, make strokes to draw in those hairs for an even and uniform look.
End by combing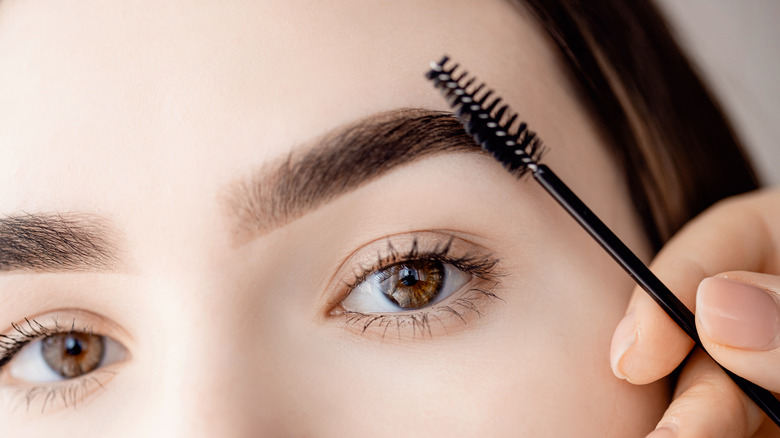 Parilov/Shutterstock
Finally for your thick brows to look clean and uniform, and to give you that elevated look, use a brow gel. The brow gel should be applied using an eyebrow comb or even a spoolie should do.
Now, for the combing trick, when combing your eyebrows for the final time with the eyebrow gel follow the natural shape of your brows, comb upwards at the inner corner of your brow and as you move along the brow to the arch height, start combing sideways and finally, the tail of the brow should be combed downwards.
This will accentuate the uniformity of your eyebrows giving you that chic, natural look. However, celebrity makeup artist Shayna Gold reveals to Coveteur that her favorite trick for an already full brow is to "comb the brows down towards the eye and only softly fill the spots visibly missing in the upper line of the brow, then comb back up into place."
If you want your eyebrows to transform from being bushy and messy to clean and uniform, keep in mind to sandwich the plucking with the combing. Now in your arsenal is a trick that guarantees the perfect eyebrows every time.