Embrace Your Bushy Brows And Learn The Best Ways To Keep Them Tidy And Styled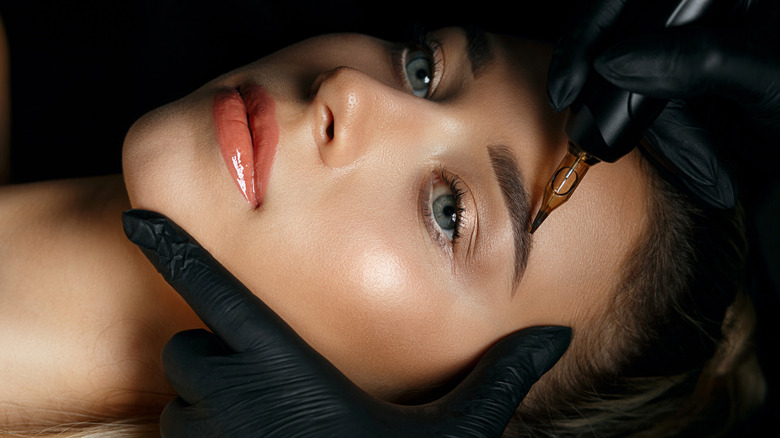 Viktoriya Pavliuk/Shutterstock
We may receive a commission on purchases made from links.
While eyebrow trends come and go like wildfire, if you've been gifted with full, bushy brows, many will be quick to remind you that you've truly won the brow lottery. Full, fluffy brows allow for a lot of versatility when it comes to styling and keeping up with the shifting trends — simply because there's a lot more to work with compared to thinner brows. Remember that people are paying good money for brow lamination and other services that recreate the bushy brows you may or may not have a love-hate relationship with. "I think that we're all coming out of the thin-eyebrow phase, and so many people want to fix their brows from their over-plucked stages from the past," aesthetician Jasmine Winsett told The New York Times.
However, keeping your naturally full brows in the chic and desirable lane without veering into wild and out of control territory might be another story. Here's how to embrace your bushy brows and learn the best ways to keep them tidy and styled.
Find your arch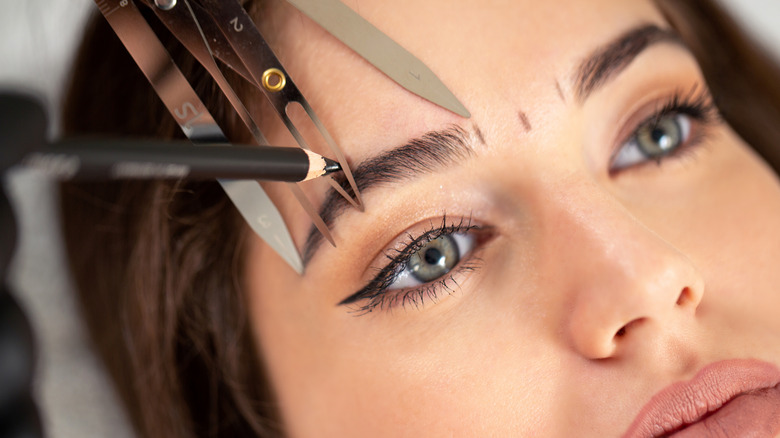 didesign021/Shutterstock
Even naturally full and beautiful brows need a bit of manipulation. Keep in mind that the natural shape of your brow will compliment your features best. To find and accentuate the arch of your brow, take a pencil and place it at the edge of your nostril. Next, tilt the pencil diagonally and line it up across the center of your pupil. This spot is your natural arch! If you don't have much of a visible arch here, you may want to clean up the area just slightly to draw more attention to the spot.
Rather than mimicking a brow shape you love on someone else, it's key to work with your natural shape. "Your brows are totally unique to you — just like your fingerprint — so your ideal shape depends on your individual features, including your eyes and nose,"Jared Bailey, global brow expert for Benefit Cosmetics, told PureWow. "Before you do any tweezing or filling in, you'll want to know exactly where your brows should start, arch and end."
Tweeze conservatively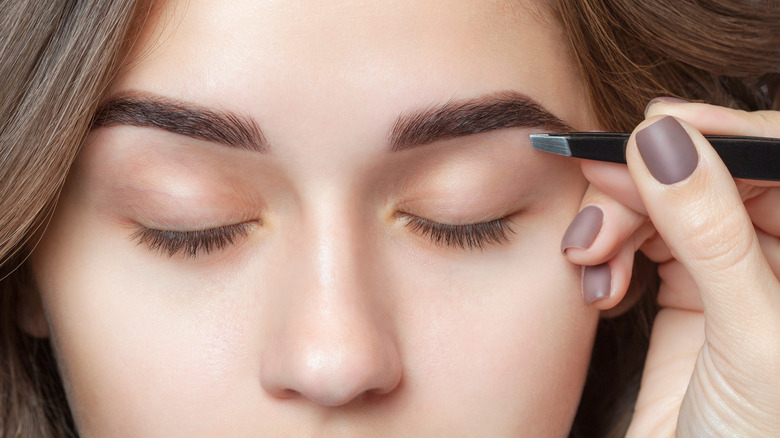 dimid_86/Shutterstock
It can be tempting to nip every stray hair once you have a pair of tweezers in your hand, but resist the urge the best you can. Tidy and styled doesn't necessarily translate to perfect – and certainly not to overplucked. For starters, step back and examine your natural shape in the mirror. Any hairs that are obviously out of place and distract from your natural brow can likely go. The trouble with playing detective and getting too close in the mirror is that you lose sight of the full effect, so to speak. Hairs that might look stray when magnified could actually be a key component to your natural shape.
If you come across stubborn hairs that just won't budge, try steaming your face or using a warm compress beforehand to open up your pores and be sure to moisturize and nourish your skin after plucking your brows to keep your skin hydrated and happy.
Comb and trim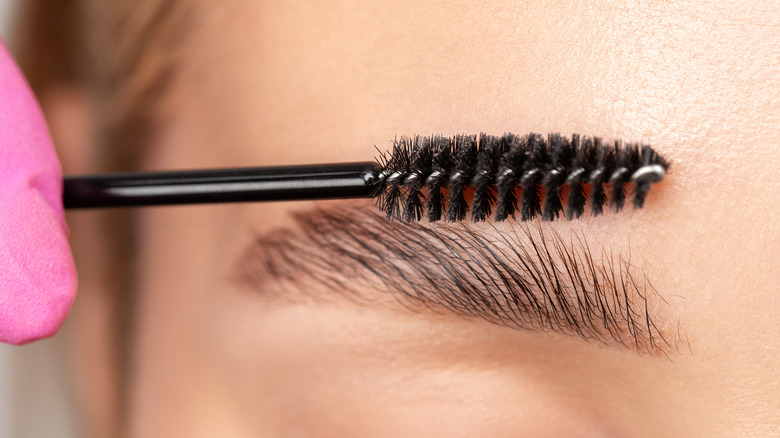 dimid_86/Shutterstock
Investing in a quality brow brush could save you a headache or two when it comes time for brow grooming. Before you attempt the art of a brow trim, start by brushing your brows in the direction they grow. Work with your arch and use an upward motion to define the shape you're after. Once your brows are brushed, you'll be able to identify the uneven hairs that are in need of a trim.
Longer hairs tend to be the culprit when it comes to an undone look. If you don't feel confident trimming your own brows, schedule an appointment with a brow professional who can show you the ropes. And if you do decide to dive in with the scissors, remember to go slow and lean on the side of caution. The areas of your brow line that are bulkier than the rest should be only slightly thinner than they naturally occur.
Use a brow gel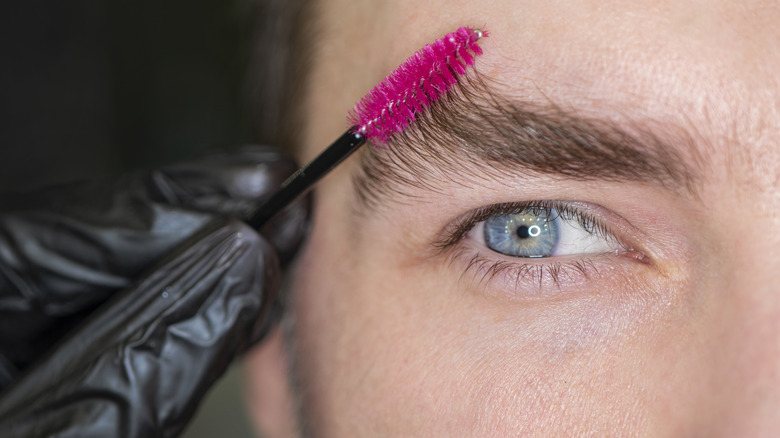 Diy13/Getty Images
You may find that even your trimmed brows aren't quite laying the way you had hoped — one of the few woes of naturally full brows. If so, try using a clear or tinted brow gel to hold the hairs in place. Chances are you have no need to fill in your brows if they're bushy, but if you do, the brow gel is to be used in addition to the brow powder and not in place of it. The aim here is to keep the brows looking soft and smooth – not plastered, sticky, or greasy.
"The best brow gels will keep the hairs separated and [looking] natural," New York City-based makeup artist Tobi Henney told Allure. There should be some medium hold to the gel so that the hairs aren't roughed-up in normal daily movements, but not so strong that it prevents expression. E.L.F. Brow Lift is a great, affordable option for all-day hold.
Embrace your fullness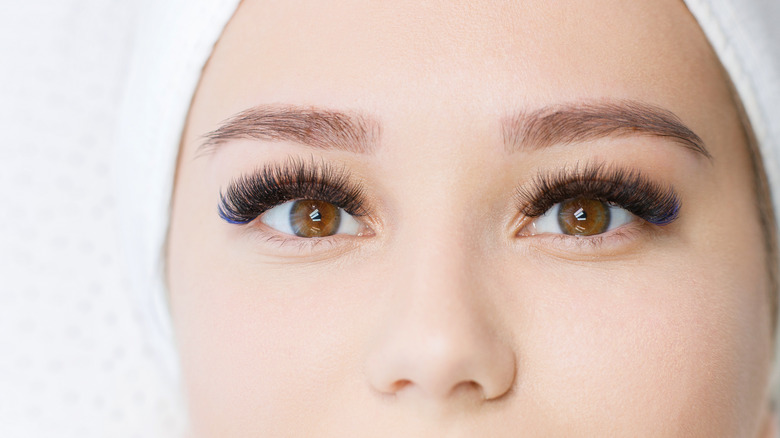 KDdesignphoto/Shutterstock
If you've tidied, styled, groomed, and trimmed your bushy brows and are overjoyed with the results — celebrate! This is no easy feat. If you still find yourself occasionally yearning for the thinner, lighter brows that come in and out of style, take a moment to pause and embrace the unique beauty of your bushy brows.
Remember your favorite celebrities who don full brows just like yours, and stay focused on the benefits of bushy brows which can be low maintenance if you allow them to be. You may also find yourself going through seasons of styling them and then letting them grow wild — which is a beautiful, rhythmic way to live. Let your bushy brows take reign during certain parts of the year, like summertime when you're in and out of the water anyhow and there isn't much use in applying brow gel. Embrace the full, enviable brows you've been naturally gifted with.