Tapping On Your Blush Is The Ultimate Way To Get Even Coverage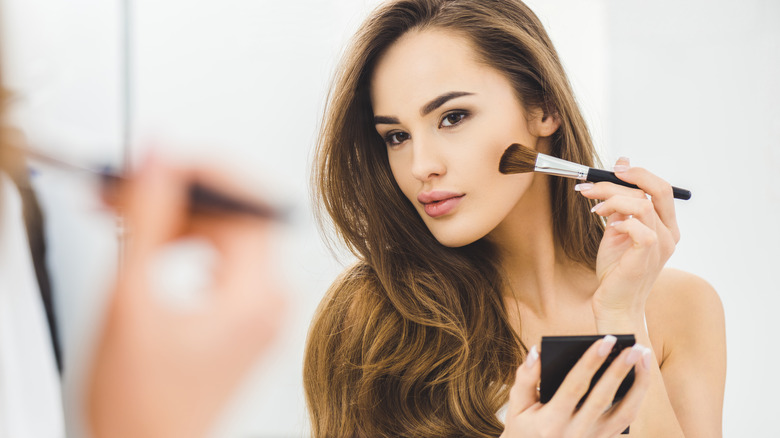 LightField Studios/Shutterstock
Along with lipstick, eyeshadow, and mascara, you would surely agree that blush is a classic part of a basic and seemingly timeless makeup routine. However, if you like to add a little rosy touch to your cheeks, it's highly unlikely that you do so in the same way that your mom or grandmother might have in the past. For instance, we now have a handy TikTok tip for the perfect blush placement and a snazzy method for making the extra color look natural while also staying in place on oily skin.
Advertisement
On top of that, while countless people still opt to include blush in their everyday looks, it's now used for much more than just leaving you with a touch of color on your face. Instead, it's often put into action in minimal and subtle ways that may not even result in the kind of flush effect that you might expect. That includes helping you to achieve more definition in your face while giving you a healthy sheen and highlighting certain areas. It can also be used alone or with other products like your favorite contouring stick, a beautiful bronzer, and either a setting powder or spray.
That's not to mention the fact that makeup lovers have refined their techniques for applying their cosmetics in just the right way. That includes blush, and a certain tapping method, which happens to be the ultimate approach to getting enviably even coverage.
Advertisement
Tapping can help you avoid icky streaky blush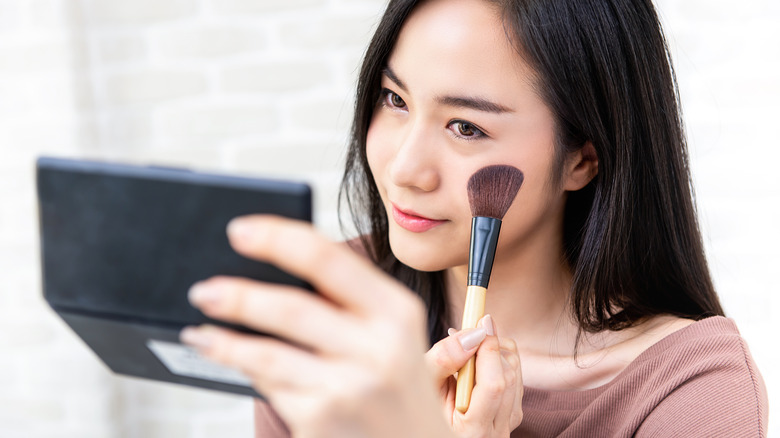 Atstock Productions/Shutterstock
Although the perfect shade of blush can give your face an eye-catching shape, desirable definition, and a lovely luminescence, it's also a product that looks awkward if it's not put on properly. For instance, if you tend to end up with blush that won't blend in well or is noticeably patchy, then you definitely need to adopt a new — and undeniably better — technique. Instead of swiping blush on your face, tap it. 
Advertisement
The tappy-tappy technique helps keep things natural by allowing you to create an even base in more than a single spot. That's as opposed to starting in one area and dragging the product in lines over the section of your face you want it to cover. Makeup artist Coleen Campbell-Olwell uses this method and explains why while talking to Glamour, saying, "[It] doesn't streak and gives a more smooth appearance."
Although this works for all kinds of blush, you should especially try it if you use a cream formula because it tends to stay where you've put it once it's been placed on your skin. Frankly, you should do things in various ways depending on the exact kind of blush you choose to use.
The best way to tap on different blush formulas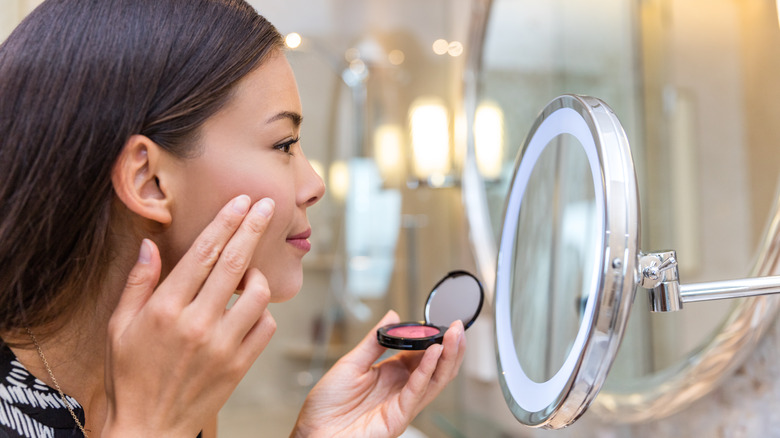 Maridav/Shutterstock
Tapping on your blush may seem straightforward. However, you need to do it a little differently if you opt for a cream, liquid, or powder blush. For instance, makeup artist Puneet B Saini told Vogue India, "If it's a powder blush, you have to find the right brush for your end goal. A simple flushed look needs a brush that can pick up less product, so a fluffy brush that'll glide [or tap] on works best." Conversely, a "coarser, tighter brush" is best for a more intense application.  
Advertisement
"If you're choosing a cream formula, you can use your fingers, a sponge, or a fluffy brush [to apply it]," Saini adds. Of course, you can't just slap it on haphazardly. Instead, Saini says, "Make sure your hands are clean and that you can dab it all in — start at the apples of your cheeks, work it upwards towards your temples just a little bit, and smooth [a tiny amount] on your nose."
As for liquid blush, you may want to use a brush instead of your fingers, as the latter can cause concentrated stains if you leave the product in one place for too long. Specifically, grab yourself a stippling brush so that you're able to move the blush around more quickly and achieve even (or even sheer) coverage. 
Advertisement