The Key To Looking Bougie On A Budget Is All In The Polishing Of Your Look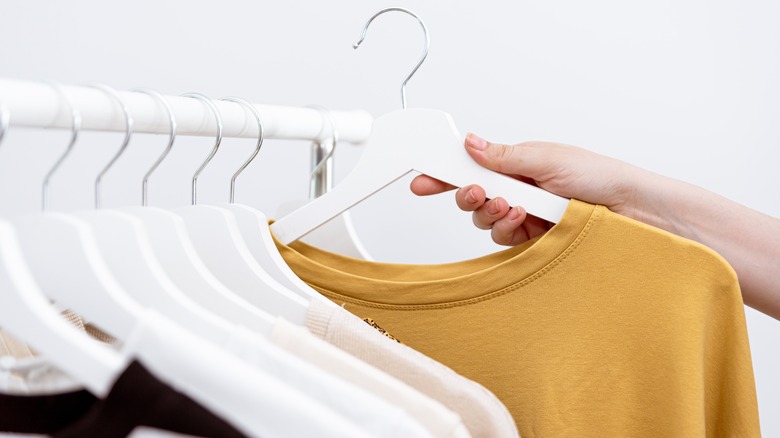 Damian Lugowski/Shutterstock
Scrolling through social media and seeing all the cute outfits can influence you — right to your favorite online shops so you can add a few things to your cart. But when it comes to checking out, you're at war with yourself over whether you should hit 'place order.' It might be out of your budget for the month, or you don't need any new clothes right now, but thinking about all the outfits you could wear makes you want to splurge. However, if you can't afford to buy a few new items, consider what you already have in your closet and how to make new outfits.
You don't necessarily have to buy things just because you see them on social media. There are different ways to create a new look with what you have. For example, if you usually wear your go-to corset top with jeans, change the look with a chic skirt or comfy trousers. In addition, styling the right accessories can help enhance your fit. On the other hand, there's been talk about the benefits of recycling outfits, since it helps our environment. So repeating outfits isn't looked down upon anymore; it's encouraged. The best way to make your outfits look brand new is by giving them a polished look. Here's how to do it.
Steam or press your clothes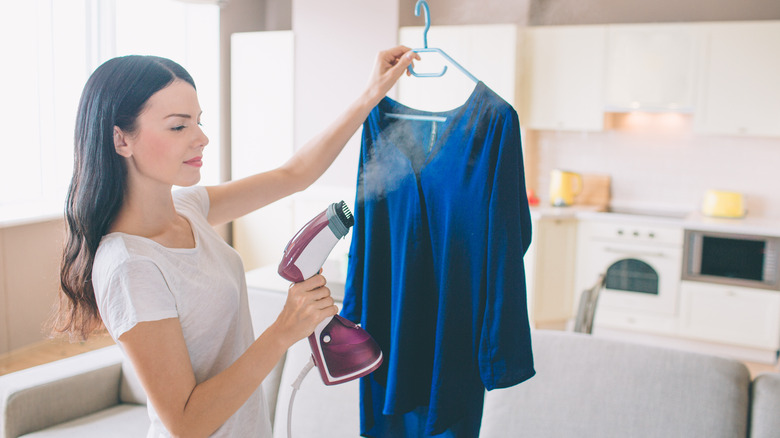 Estradaanton/Getty Images
We're all guilty of making a mess when deciding what to wear. You take out every item in your closet and drawers, trying to put pieces together, but they all end up in a pile on your bed or chair. Once you've finally found what you'll wear, you're running late, so you decide to put away your clothes the next day. But, the next day turns into a week of not putting your clothes back on hangers. Your clothes become wrinkled after a few days. When a shirt you want to wear gets pulled from the pile, you throw it on as is. However, wearing wrinkled clothes can make your outfit look messy.
The easiest way to make your outfit look brand new and bougie is by steaming or pressing your clothes before wearing them out. They're just as good as using irons; it only takes 10 minutes to make them wrinkle-free. You can buy different types of steamers, but portable steamers are perfect for taking anywhere you go. If you don't want to invest in a steamer, hanging your outfit in the bathroom while you're showering can also help remove a few wrinkles from the natural steam. Any kind of steam can help polish your outfit and make it look better than wearing it straight from your drawer (or pile of clothes on your chair).
Lint rollers and depillers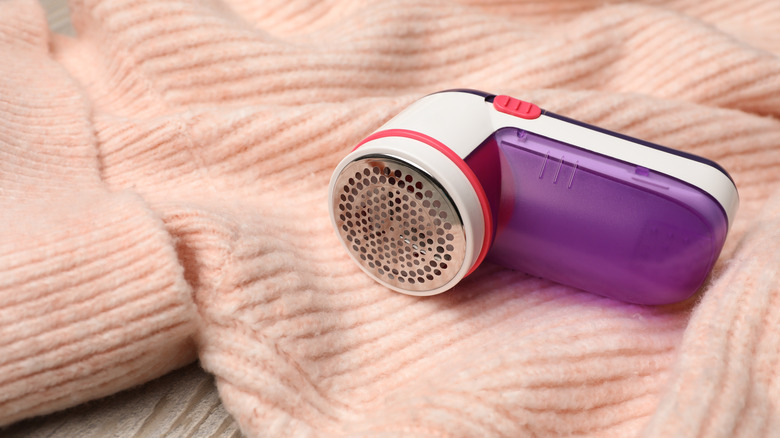 Liudmila Chernetska/Getty Images
If you're a master at ironing or pressing your clothes before leaving out the door, you're on the right path. Another excellent way to give your outfit a polished look is by removing any lint or pilling on your shirts or pants. Pilling can be sneaky but can pile up quickly if you leave it alone. It's prone to appear more on cotton fabric, like sweaters, and if your thighs tend to rub, pilling can show up on the inner part of your pants. Pilling is easily removable with a depiller that can also be taken on the go. In addition, lint can be a pain to remove by hand, so carrying a lint roller with you can help keep your outfit looking fresh every hour of the day.
The little things can greatly differ in how your outfit looks. Don't underestimate the power a few tools can do on your clothes. Crisp edges and clean, lint-free clothes will elevate your appearance — even if they're clothes you've worn multiple times.