Tips For Preparing Your Lips For Matte Lipstick (Hint: You Should Always Exfoliate)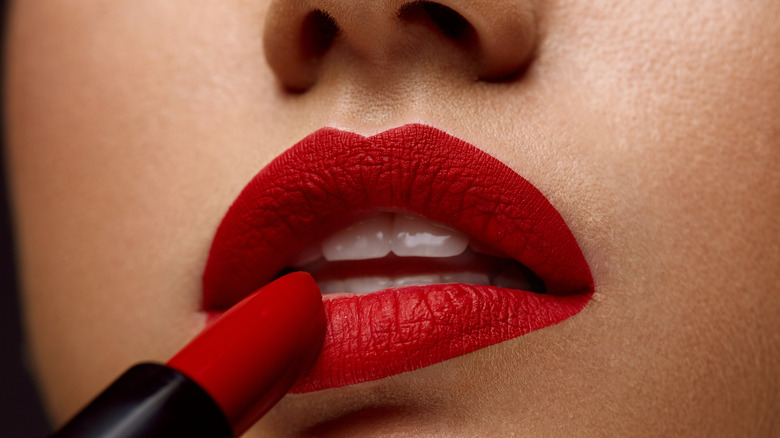 Puhhha/Getty Images
From her talented backup dancers clad in white to her unexpected pregnancy reveal, is it any surprise that we have repeatedly re-watched Rihanna's 2023 Super Bowl Halftime Show? Asides from the godly run of her biggest hits and the suspended-in-air performance that had our hearts at our throats, we also couldn't take our eyes off Rihanna's gorgeous matte red lipstick — and we're sure you couldn't either. Of course, if you're anything like us, you probably already ordered a few matte lippies. But if you need help with how to apply them without any of the cracking and drying matte lipsticks are known for, we got you.
Unlike glossy and regular lipsticks, matte lipsticks have a non-shiny, velvety finish as they contain more pigment and wax than regular formulas, as well as less oil. Unfortunately, Matte lipsticks are also notorious for being tricky to work with. Whether it is your lips drying out and forming undesirable cracks to your lipstick peeling off halfway through the day, it's understandable why mattes are not always the first option for makeup beginners. But not to worry, with our six tested and trusted tips you're on your way to a perfect matte pout. Take a look.
Cleanse and exfoliate your lips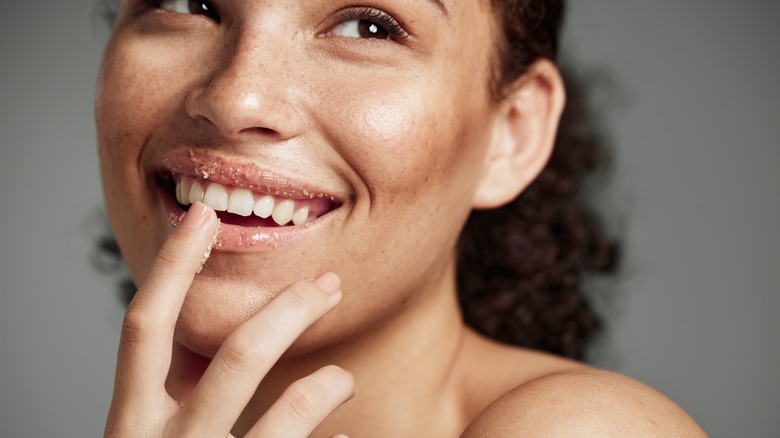 PeopleImages.com - Yuri A/Shutterstock
Okay, so you've probably heard this a thousand times, but we'll say it once again: makeup does not belong on dirty or greasy skin, and yes, that includes your lips. So, before applying any form of makeup, matte lipstick included, cleanse your skin and lips, and of course, exfoliate.
Exfoliation is the process of gently removing dead skin cells from your skin, whether by physical means like scrubs or chemical means like exfoliating lotions. If you've ever worn matte lipstick, you'll know a major turnoff is the potential balling up of the product and how it can become clumpy or flaky on the lips. This usually happens because your matte lipstick clings to the dead skin cells on your lips, and to remove them, you need to exfoliate. To do so, you can buy a gentle lip scrub like the highly-rated Fresh Sugar Lip Polish Exfoliator or make your own. For a simple homemade formula, just mix a teaspoon of honey and two teaspoons of sugar, gently rub the mix around your lips and wipe off. Next up, moisturize.
Moisturize your lips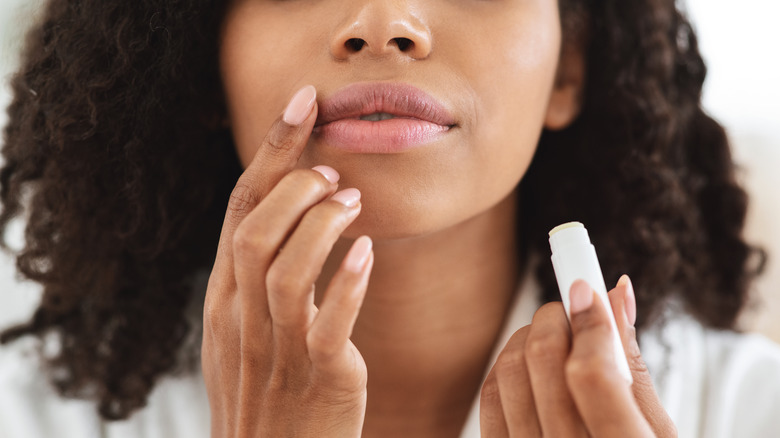 Prostock-studio/Getty Images
Remember what we said about matte lipsticks clinging to dead skin cells on your lips? Well, it turns out it gets even clingier on dry lips. As matte lipstick formulas contain more pigment for that opaque, 100%-color finish but contain much less oil than other forms of lipstick, this causes your matte lipsticks to dry the skin out, creating that cakey look everyone hates. To prevent this, moisturize your lips using a deeply hydrating lip balm like the Aquaphor Lip Protectant SPF 30 or a lip mask like the cult-favorite Laneige Lip Sleeping Mask.
Essentially, moisturizing your lips before applying matte lipstick creates a smooth canvas for your lipstick to glide on easily. In addition, as your lips will be moisturized and plump, your lipstick won't have many cracks to settle into, providing a perfect, hydrated, and seamless pout for you to pop some matte color onto. 
Go in with your primer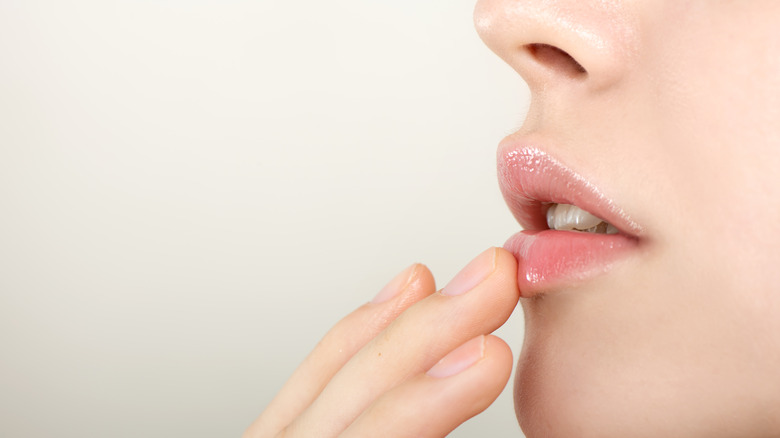 Juta/Shutterstock
Face primer is a popular makeup essential, but lip primer is an often underrated makeup must-have. This lesser-known beauty product can be used as a base for your lips before applying the actual lipstick or lip gloss. From keeping your lip look in place to providing more hydration, a lip primer helps your matte lipstick stay non-cakey and smudge-free for extended periods. Applying a lip primer also makes the color of your lips uniform, meaning you'll have more color payoff than if you had used it on your bare lips.
To apply, take some of the primer on the pad of your fingertips and rub it on your lips. For a better application of your matte lipstick, delicately pat some primer a little above your lip line, before softly massaging it into the area. Then, let it dry for a few seconds before advancing with your makeup regime.
Line your lips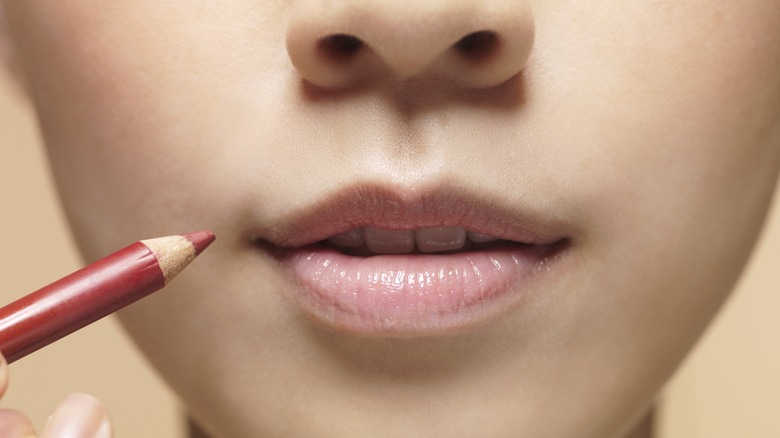 Image Source/Getty Images
Our next tested and trusted tip for a perfect matte pout is to always take advantage of your lip liner. Whether liquid matte or traditional lipstick, it is tempting to go straight in and apply your lipstick without lining, but lining your lips does have some pretty awesome benefits. For one, it helps to create any shape you want there, whether a full overlined pout or an instant lip lift. Also, applying a lip liner first helps your lipstick glide on much smoother and gives a crisp finish around the edges. 
Lastly and perhaps more importantly, lining your lips gives you an outline, so you only need to fill the inside, ensuring your matte lipstick does not bleed or move past those boundaries. Lip liners are the game changer for matte looks. When it comes to lining techniques, it's entirely up to you. If you prefer a fuller pout, try overlining your lips by outlining slightly above your lip line. If you prefer a more lifted pout, overline your cupid's bow only and line the rest of your lip within your lip line.
Apply your lipstick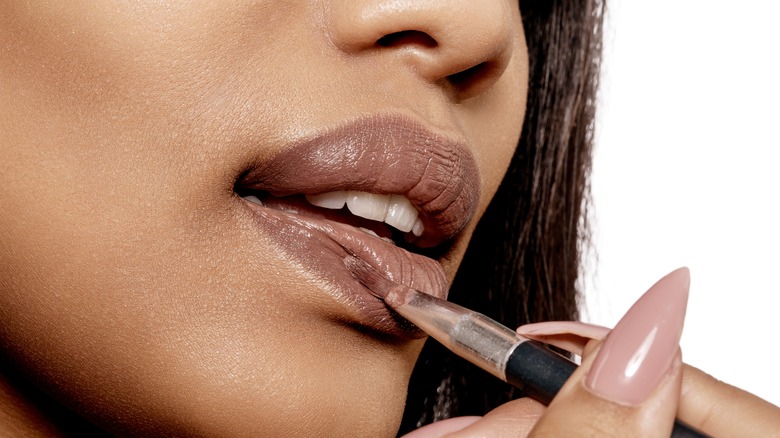 Miramiska/Shutterstock
And now for the fun part: applying your lipstick. After creating a clear outline by lining your lips, you can apply your lipstick in layers or with one clean swipe. Spreading the formula in layers is the right way to go, as it allows you to build up the color until you get to the intensity you desire. 
If you're new to applying mattes — whether liquid or bullet — use a lip brush instead to take some color from your matte lipstick, and apply using the tool. This will give you more control and precision over the color's intensity and where the lipstick goes on your lips. However, if you're confident in your skills, you can go in with your bullet lipstick or the wand of your liquid lipstick and apply it, while remaining mindful of your cupid's bow and lip line. For bullet lipsticks, use the pointy edge of the slanted top on your cupid's bow for more precision. For liquid lipstick, apply by drawing an x on your cupid's bow with the wand first.
For a blurred matte look, apply some of your lipstick to the center of your lips only and then use your finger to smudge it to the edges, creating more intensity in the middle of your lips and less color on the sides. But, of course, it all depends on how you like your matte and the look you want to achieve.
Set and clean it up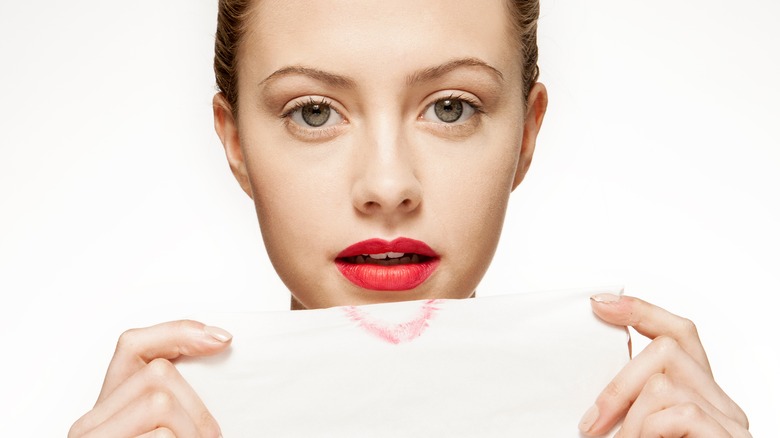 KOTOIMAGES/Shutterstock
Once you're done applying your lipstick, whether in layers for a full-color option or only on the center of your lips for that blurred effect, it's time to clean up. Precision is critical when applying lipstick, but chances are you missed a spot or some lipstick smudged outside your lip line. To fix this, blot it out by gently dabbing on the lipstick spot using a cotton bud or your beauty blender. Then, grab your lip brush and a full-coverage concealer in your correct shade and outline your lip line. This will give it a more crisp finish.
Next up is setting your lips. You want your matte look to last you through the day, and we have the right tip for that. Using a thin piece of tissue paper, blot your lipstick gently to set the color. Then, hold the tissue to your lips for extra staying power and an even more luscious velvety finish, and dust some translucent powder over it using a fluffy powder brush. The results are a lip look that stays put and velvety throughout the day.