The 'X' Method For Applying Lipstick And Lip Liner To Your Cupid's Bow Explained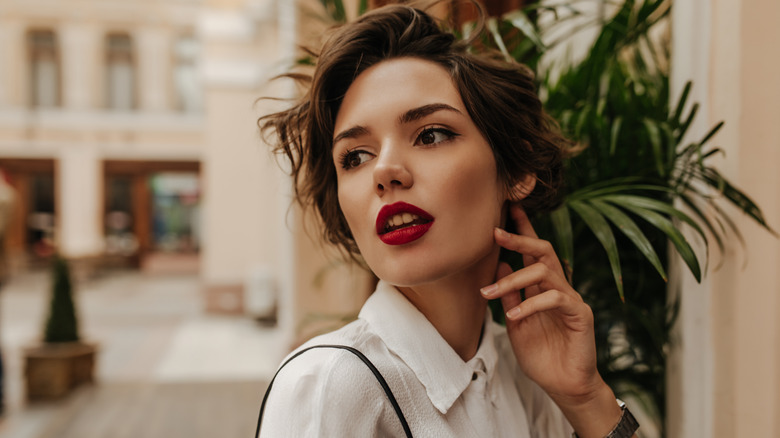 Look Studio/Shutterstock
Makeup, like fashion, is constantly evolving, and beauty gurus always share their best tips with their audience on achieving a flawless makeup look. Whether it's a specific eyeshadow technique, the best way to apply contour, or perfecting your base, makeup artists know every trick in the book. However, if you've recently started trying out lip liners and lipsticks, you know they're not as easy to apply as the way beauty gurus do it. Lip liners are perfect for shaping and defining your lips since they have a finer and firmer tip, making it easier to outline your lips with control. Yet, one wrong swipe and the product could end up too far outside the shape of your lips, especially if you're working with a darker shade.
You can outline your lips with lipstick, but it's not an easy process since the shape of the lipstick is meant to be swiped over your entire lip. If you're careful enough to use the lipstick tip to create an outline, you can use it like a lip liner. Either way, both products can be tricky to apply. That's why the makeup hack everyone has loved lately is the "X" method for applying product to your cupid's bow easily. Here's what you need to know.
Use the best products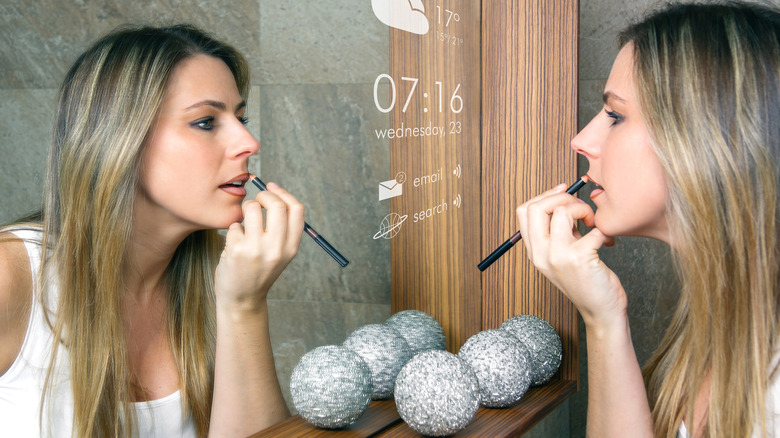 David Pereiras/Shutterstock
Before going into the method, you have to have the right products. You want lip liners and lipsticks that are sharp and precise, but creamy enough to outline your lips easily. You can find quality lip liners and lipsticks at your local drugstore if you don't want to spend your savings at Sephora. You can use different types of lip liners, lip pencils, and lipsticks, so it'll take some trial and error before you find one that's your favorite.
Popular makeup brands, like Charlotte Tilbury and Urban Decay, have dupes that are more affordable and work the same, such as NYX and Milani brands. For example, the Charlotte Tilbury lip liner in the shade "Pillow Talk" is a nude-pink color that retails for $25. The Milani lip liner in the shade "Desert Rose" is similar in color for a more affordable price of $8.99 at Ulta. Dupes are perfect for achieving any makeup look that uses high-end brand products at a low cost that work just as superbly. The great thing is there are dupes for almost everything.
How to do the X method
When applying lip liner or lipstick, the "X" method gives you the perfect cupid's bow and an even application every time you use it. Everyone's cupid bow is shaped differently. Some people have theirs more pronounced than others, so outlining the cupid's bow with your lip liner can give you an ideal lip shape.
Starting at the highest point of your lip, draw a line from the tip to the side of your upper lip and repeat the line on the opposite side. You'll first have a "V" outline, then draw a diagonal line from the tip of your cupid's bow to the bottom of your upper lip. Repeat the diagonal line on the opposite side, crossing over and creating an "X" on your top lip. If you enjoy a fuller, pouty look, outline just above the cupid's bow rather than directly on top of it.
Next, define the rest of your lips by drawing a small line on the bottom lip directly below the "X" you created. This will allow the rest of your lips to be outlined evenly. After defining your bottom lip, outline the sides of your lips by drawing a sideways "V" on each side to keep your lipstick in place. Finally, connect all the lines by gliding your lip liner along your lip, holding it vertically and flat. Finish off the whole look with your favorite lipstick and lipgloss, ensuring to stay within the lines.