The Hair Benefits Of Onion Oil Are Surreal (& Don't Make You Stink)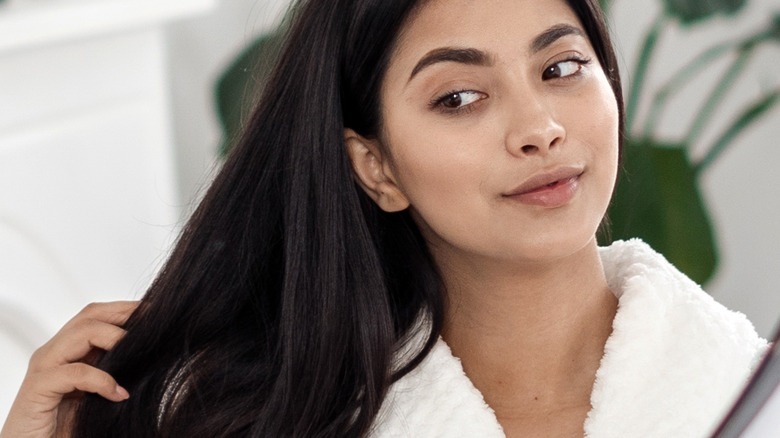 brizmaker/Shutterstock
Hair oiling — a beauty routine that involves spreading natural oils rich in moisture-supplying nutrients across your tresses and massaging your scalp — has numerous benefits for hair health. Discussing the benefits of hair oiling, Dr. Rohini Wadhwani, medical director of Skin Essentials, tells Vogue, "It helps by increasing the tensile strength of the hair, reducing the frizziness, and preventing breakage." This beauty practice has its origins in ancient India's Ayurvedic medicinal practices about 5,000 years ago. It's a tradition in Indian households where women, both young and old, gather together at least once per week to bond over hair oiling.
Advertisement
As far as hair oiling goes, coconut, jojoba, olive, and grapeseed oils count among the most popular hair oils that are safe to use on the hair and skin. Not only do they contain ingredients that moisturize the scalp and enrich hair growth, but they also smell fresh and clean. Unbeknownst to many, onion oil — which is made from crushed onions — also boasts wonderful benefits for the hair. The reason why onion oil is not as popular as other natural oils is probably onion carries connotations of a pungent smell that repels people. The idea of entering a lift or embracing your spouse with smelly hair can be frightening, as if getting rid of bad breath after downing an onion pizza is not enough of a struggle. If that's your primary concern, fear not. Here's how to tap into the benefits of onion oil without stinking.
Advertisement
How onion oils profit the hair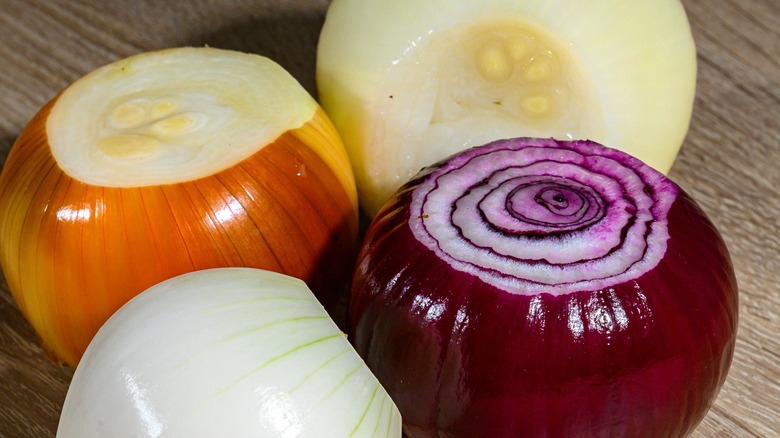 Javier Peribanez/Shutterstock
What makes onion effective in reducing hair breakage, split ends, and hair thinning is that it contains a high content of sulfur, a mineral that makes you shed tears when you cut onion. The muscles, skin, and hair contain the majority of the body's overall sulfur content. Therefore, supplying hair with sulfur is understandably helpful in enhancing overall hair health, making your tresses thick and strong. Joe Cincotta, chief chemist at Color Wow, tells Byrdie: "The sulfur in the hair is part of a very special amino acid found in hair called cystine. Cystine is the predominant amino acid found in both the cortex and cuticle of the hair. It is the major structural component of keratin protein. It makes the surface of hair (cuticle) tough and resistant."
Advertisement
Onion is also rich in potassium, a vital mineral that helps to maintain the pH of the scalp, promote rapid cell renewal, curtail premature greying, and stimulate hair growth. The antibacterial and antifungal properties in onions can also help to protect the scalp against common fungal infections like dandruff and ringworms. Conditioning your scalp with onion oil once a week keeps hair strands moisturized, prevents extreme brittleness, and boosts hair vibrancy. Although onion oil might give you healthier hair growth, it's not a decisively proven cure for long-term hair loss issues like alopecia or pattern baldness. If you're suffering from a chronic hair-loss-related disease, it's best to consult a dermatologist.
Advertisement
How to DIY onion oils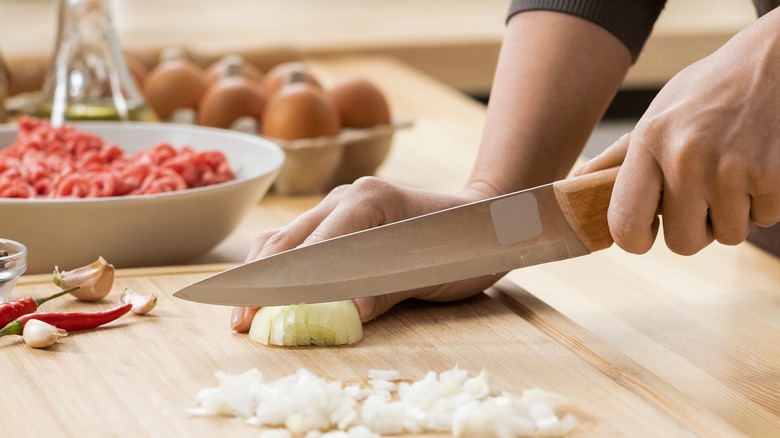 Pressmaster/Shutterstock
You can get a store-bought onion oil commercially formulated for hair care, or you can extract it at home. Depending on the amount of oil you plan to use on your hair, gather two or three peeled onions and cut them into chunky quarters. The key to preventing onion's tear-causing enzyme from escaping into the air and making you teary is to chill the onions in a freezer for about 10 to 15 minutes before you slice them. Once you're done cutting, put the onions into a blender to extract the juice and keep pressing the pulse setting until you're satisfied with the texture. 
Advertisement
For the next step, add about one tablespoon of coconut oil into a pan and heat it over low flame, or you can put the oil in a bowl and microwave it for half a minute. Now, pour both the onion juice and the heated paste into a non-stick pan, mix everything together, turn on the heat, and bring the mixture to a boil. Then, take the pan off the flame. Once the mixture has cooled down, use a fine mesh strainer to extract the oil and store it in an air-tight glass or metal container in a cool and dry place. 
How to use onion oils on your hair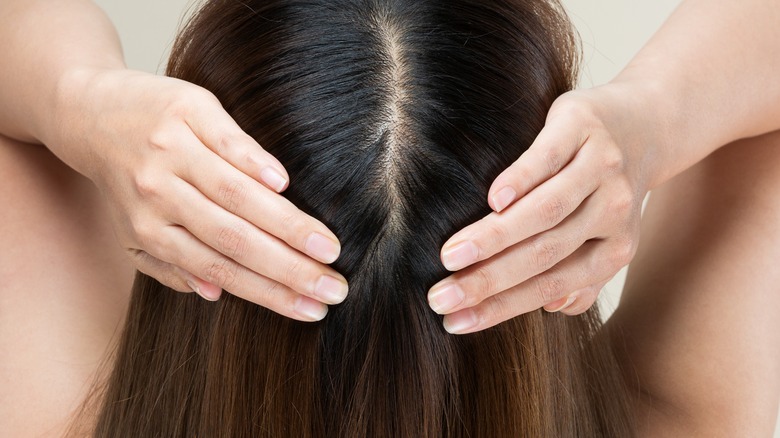 kei907/Shutterstock
To use onion oil on your hair, apply two or three pumps of oil into your palm and rub them together to warm the formula up, as a warm temperature helps it penetrate deeper into your hair follicles. Then, gently work the oil into a dry and clean scalp, spread it lightly and evenly throughout your hair, and massage your scalp for about five minutes in a circular motion. Not only does massaging your scalp help with distributing the product evenly across your hair roots, but it also helps to promote blood circulation and soothe your nerves. Take as much time as you can with scalp massaging because this is when you can truly let your hair down and completely relax. 
Advertisement
After massaging, pull your hair back into a bun and wrap a towel around it to allow for deeper penetration of the oils into your scalp and hair follicles. Although onion oil works great as a leave-in conditioner, you might not want to let the product sit on your hair for too long because of its distinctively unpleasant smell. After leaving the oil on your scalp for about 30 minutes, wash it off with a mild shampoo and follow through with a hydrating conditioner. Any vegetable oil, such as soybean, coconut, or olive oil, can be combined with onion oil to maximize the benefits of hair oiling.
How to get rid of onion smell on the hair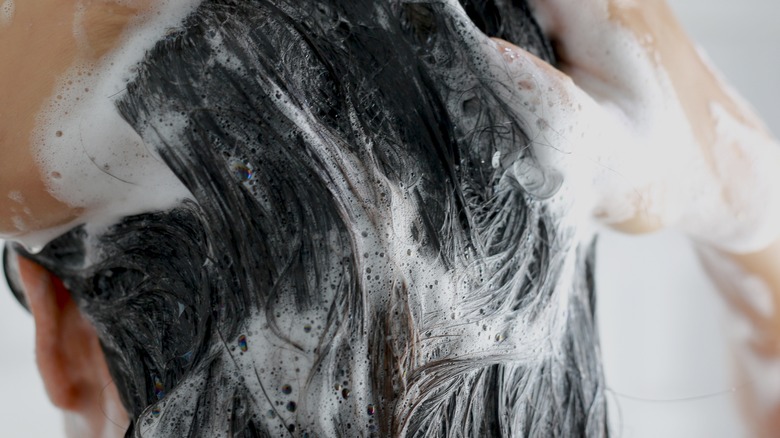 fongbeerredhot/Shutterstock
Here comes the answer to the million-dollar question: How we can massage our hair with onion oil without smelling like onion? For a start, the best time to do hair oiling is in the evening, so that you're not pressured to go out with onion-smelling hair and your hair also has more time to soak in the nutrients of the oil. If you wake up the next day with your hair still smelling pungent, you can wash it with a shampoo that contains menthol, a compound that is effective in leaving your hair smelling peppermint fresh while keeping your scalp clean.
Advertisement
To avoid dryness and boost the nice smell, follow with a menthol-based conditioner. Any citrus-based shampoo or diluted lemon juice, both of which contain low-acidic compounds that are extremely helpful in masking unwanted aromas, can make your hair smell much less bitter. Or, you can wash your hair with a clarifying shampoo — a powerful antidote for a smelly scalp — and follow with a few drops of citrus essential oil or tea tree oil to keep your hair hydrated and sweet-smelling. You can also try to make your hair less smelly by coating it with apple cider vinegar or baking soda. A dry shampoo or a scented hairspray is also effective for managing smelly hair and keeping your hair looking fresh and hydrated all day.  
Advertisement