Silent Weddings: The Simple, Unconventional Tradition That Could Be Right For You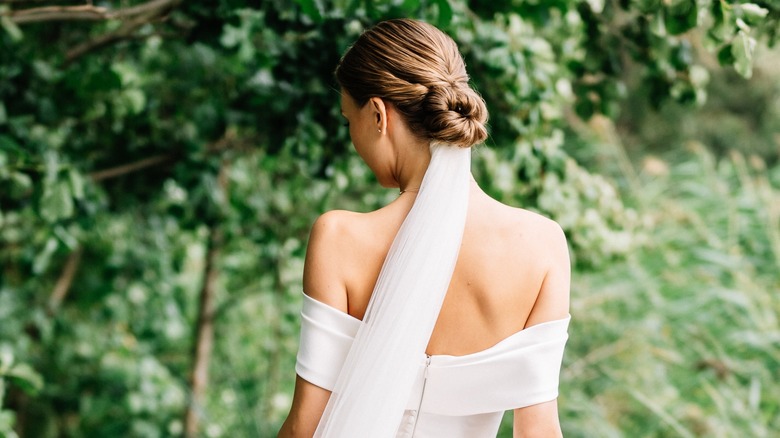 dfrolovXIII/Shutterstock
Nothing screams extravagance like the word "wedding." The mere mention of this word alone calls to mind Haute Joaillerie, Disney-quality wedding dresses, live bands, lavish meals for "foodstagramming" crowds, and flower-loaded reception halls looking like the Hanging Gardens of Babylon. A wedding is where love meets grandeur, and it costs a bomb to see it take place. According to a survey by The Knot, the average amount couples spent on their wedding ceremony and reception in 2022 was $30,000. 
Wedding customs might vary from country to country, but one thing is constant: They are not simple and they are not cheap for those who want to go down the conventional routes. But is it a must that we all have to empty our savings and endure all the fuss just to say "I do"? Besides, the stress of having to entertain so many people in attendance can also make your big day more hectic and take away from the sacredness of the matrimony. 
Fortunately, that doesn't always have to be the case. If you're an introvert who prefers a small and peaceful gathering over boisterous crowds, you might like the idea of having a silent wedding — commonly known as a Quaker wedding. 
Quaker wedding traditions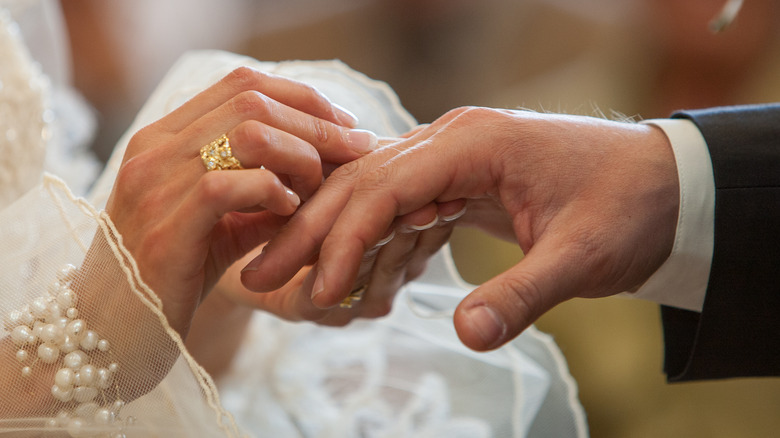 Bjorn Beheydt/Shutterstock
Albeit scaled-down, Quaker wedding rituals are steeped in meaningful traditions and spiritual significance. According to the History Channel, an English Dissenter called George Fox established the Religious Society of Friends, or the Quaker Movement, in England in the 1800s. Quakers have Christian roots, but many of them don't identify themselves as Christians.
For Quakers, marriage is a covenant made between God and two people involved in holy matrimony, which explains why there's no church official to officiate the wedding. The wedding, held in the form of a Worship Meeting, begins as family and guests come together at a Quaker Meeting House and sit down in quiet prayer, according to Quakers in Britain. Then, the couple enters the House and sits down with their family and Meeting members in a circle. Everyone continues to worship in quietness until the couple rise to exchange vows, promising to be loving and faithful to each other. There is no music blasting in the background inside the House, no over-the-top decorations, and no photography during the Worship, per Weddings Online. The emphasis is on silent worship and communion with God and those present.
A marriage certificate will then be read aloud, and the couple and a witness proceed to sign the document. The self-uniting ceremony continues in silent Worship, during which guests can offer words of encouragement to the couple. The Meeting usually ends with those in attendance signing the certificate as witnesses to the matrimony. 
Benefits of a silent wedding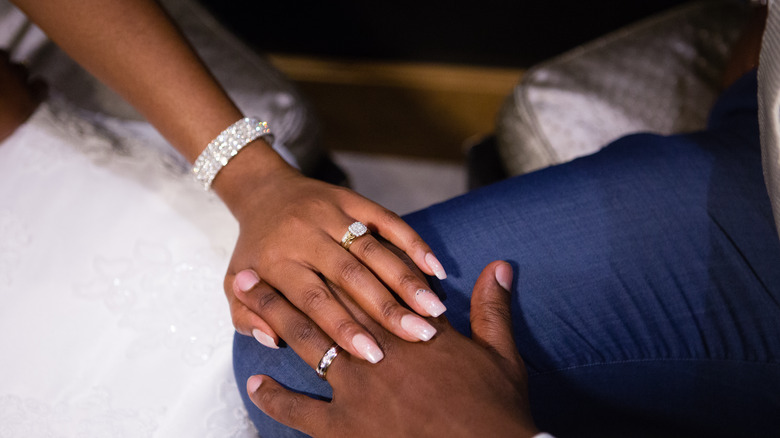 Julie Photo Art/Shutterstock
A Quaker wedding is the ideal alternative for those who desire to marry in a muted, intimate setting free of pomp and vanity. Despite having never attended a Quaker wedding, a colleague of Church Government Advisor Michael Booth said she was impressed by how they function after hearing how Booth described it (via Quakers in Britain).
"I struggle with wedding traditions where the speeches come from the father of the bride and the best man, and the ceremony is conducted by a (usually male) religious official," explained Suki Ferguson, the colleague mentioned in Booth's article. "I've been to weddings where the women of the family do not speak, and the loving perspectives of friends and family members go unheard. The Quaker approach sounds wonderfully open and equal, and much more personal somehow."  
Quakers do not place restrictions on marriage based on divorce or gender. In fact, British Quakers consented to perform marriage ceremonies for same-sex couples in 2009, and they have been working for a change in the legislation to allow same-sex couples to marry in a Quaker Meeting (via UK Parliament). To have a Quaker marriage, the couple must show their connection to the Quaker Family, apply for a marriage license, and register to marry in a Quaker Meeting House. 
However, if the idea of a silent wedding appeals to you, you can plan your own ceremony inspired by Quaker practices. After all, it's your day; you and your partner get to decide what traditions to include.