When Choosing Highlighter Shades, Please Double-Check Your Skin Tone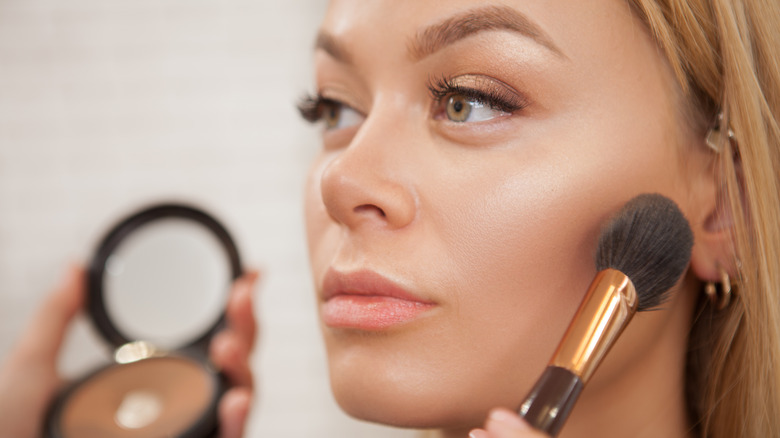 Oleksandra Polishchuk/Getty Images
Who doesn't love extra shine and glam in their everyday life? For anyone who loves all things beauty, highlighters are a must-have, regardless of your style. They are a vital tool for creating a flawless makeup look that accentuates your best features and adds a natural glow to your skin. Whether you're going for a subtle daytime look or a dramatic nighttime look, a highlighter can help you achieve the perfect finish. Adding a touch of highlighter to your cheekbones, your brow bone, and the tip of your nose can create a dewy, luminous look that enhances your natural beauty.
The benefits of using highlighters extend beyond just adding a radiant glow to your skin. Highlighters can also help you contour and sculpt your face, creating the illusion of higher cheekbones and a more defined jawline. Moreover, a highlighter can brighten your eyes and make them appear larger and more awake. By using highlighter strategically, you can transform your face and create a polished, flawless makeup look that will leave you feeling confident and beautiful. 
However, highlighter isn't just about where you place the product; it's also about choosing the right shade. Like foundation and concealer, highlighters come in various tones and shades that suit some skin tones better than others. Before grabbing your next highlighter, look at what shade would complement your skin tone and help create a flawless look.
Choosing the right highlighter shade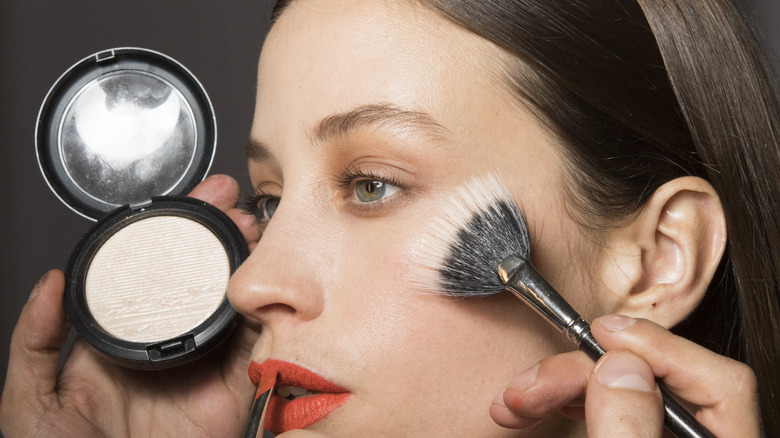 Rosdiana Ciaravolo/Getty Images
If you want a natural and radiant glow, choose the right highlighter shade for your skin tone. Before choosing your highlighter, you should know what undertone your skin has. De'lanci explains that those who have cool undertones should opt for a highlighter with a silver or pink base. For those with warmer undertones, a highlighter with a gold or bronze base will work best. If your undertone is more neutral, you can wear just about any highlighter and still have it look natural. By selecting a highlighter shade that matches your undertones, you can ensure that your makeup look will appear cohesive and harmonious.
After determining your undertone, you have to also examine your skin tone to find the best color for your highlight. If you have fair skin, a champagne or pearl shade will work best, while medium skin tones look great with rose gold or peachy tones. For those with deeper skin tones, a bronze or gold highlighter will provide a beautiful, warm glow. A shade that complements your skin tone will blend into your skin seamlessly and give you that glow-from-within look. If you want to have your highlighter give you a glow, reach for a shade that is one to two shades lighter than your skin tone. A lighter shade will help brighten up the area and give you more definition.
The best way to apply highlighter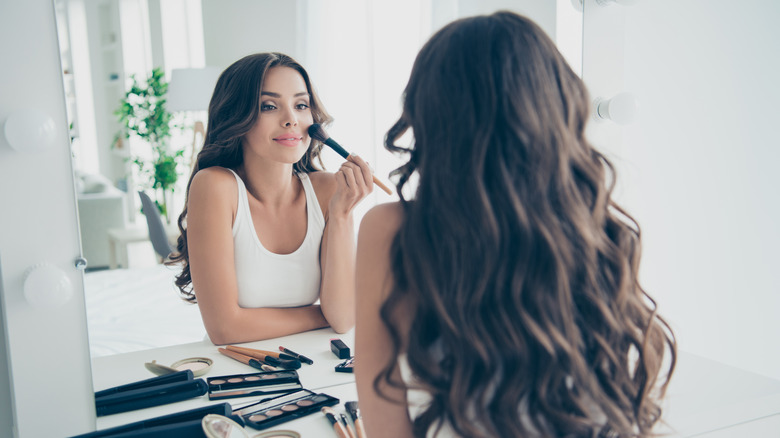 Deagreez/Getty Images
Applying a highlighter to the skin can be a game changer in your makeup routine, but it's important to apply it correctly for a flawless finish. The key to applying a highlighter is to start with a light hand and build up the product gradually. Start by applying a small amount to the high points of your face, such as the cheekbones, cupid's bow, brow bone, and tip of your nose. Use a fluffy brush to blend the product seamlessly into your skin. 
MasterClass also recommends using your fingers or a fan brush to apply the product, depending on the type of intensity you want. Using a fan brush will give you a dusted glow, while blending in with your fingers will give you a targeted shine. Remember, less is more when it comes to highlighter. You can always add more of the product if you want a more intense shine.
You also want to consider your skin type when applying a highlighter. If you have oily skin, it's best to use a powder highlighter to avoid a greasy, shiny appearance. Those with dry skin can opt for a liquid or cream highlighter to add extra hydration to their skin. For a more intense glow, you can even layer a powder highlighter over a cream or liquid formula. By using the right products and techniques, you can achieve a flawless, natural-looking highlight that enhances your features and elevates your makeup look to the next level.