The TikTok Hack That Quickly Transforms Your Cross-Body Bag Into A Backpack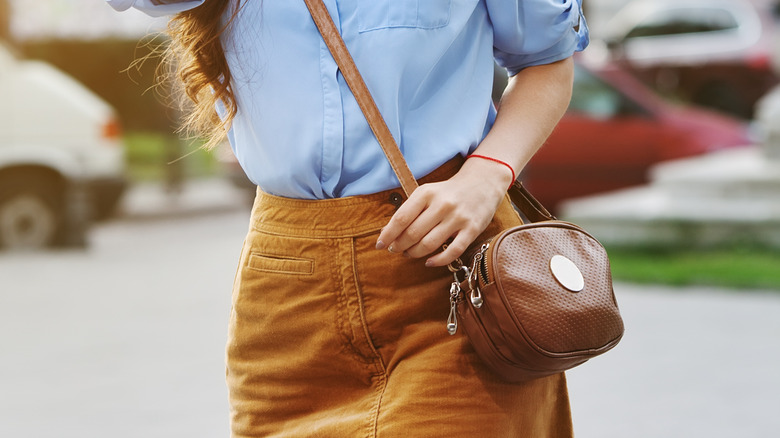 Victoria_fox/Getty Images
We may receive a commission on purchases made from links.
There's no denying that backpacks are beneficial for people of all ages. Most of us started using backpacks as young children, as these items were required to carry around our school supplies, but many people don't stop using backpacks after their school years. Backpacks are super helpful for holding our items when we travel on trains, buses, and airplanes, so even middle-aged and senior adults use these products. Plus, it's fun to express our styles by wearing backpacks that mix function with fashion.
On the other hand, cross-body bags are ideal for carrying around items at stylish events or nights out, as these items won't get in the way or feel uncomfortable while they keep your belongings in place when you show off your dance moves or chat with a cutie. So a cross-body bag is something you'll want to carry with you everywhere if you frequently travel or party.
Both backpacks and cross-body bags have their perks, but what if we said you don't have to choose between one or the other? Thanks to TikTok, now we know how to get the best of both worlds.
Flip the bag behind your back
Are you going on a trip where you plan on going out on Thursday night and attending a group tour or work meeting on Friday afternoon but don't want to pack a backpack and a cross-body bag? Believe it or not, a cross-body bag can transform into a backpack if you know how to wear it in various ways. On TikTok, @themouselets posted a video, starting with a little girl showing how to turn her bag into a backpack by first moving the bag in front of her body, positioning the strap behind her arms, and finally flipping the bag behind her head to turn it into a backpack. Impressed by the child's advice, a woman follows the same steps in the next part of the video, also turning her cross-body purse into a backpack! Many viewers were blown away by this strategy, commenting, "[S]he really just revolutionized the game for all of us" and "Very clever."
A TikToker with the username @rarajem also posted a video where she shared the cross-body bag-to-backpack hack with viewers. First, she emphasized turning the bag so the normally outward-facing side of the bag is pressed against the front of your body before the flip — so the bag won't appear backward when it's in backpack mode. Then, she followed the same steps as the other TikTok, putting the strap behind her arms and flipping the bag behind her.
Try the hack with these stylish cross-body bags
Before you master this convenient TikTok hack, you'll need a cute cross-body bag if you don't already have one. Ultra-eager to try this hack, we just had to research some stylish cross-body bag options online. One versatile cross-body bag that will look excellent as a purse and a backpack and will look great with various outfits for many settings is the Tory Burch Mercer Pebbled Zip Crossbody Bag, available at Nordstrom for around $230. The sleek leather bag is a worthwhile investment piece with 4.5 out of five stars with over 150 ratings at the time of writing. If you're looking for a super practical option, the MINTEGRA Women Shoulder Handbag Roomy Multiple Pockets Bag sells for less than $35 on Amazon at the time of writing. The waterproof Amazon's Choice product will help you carry many belongings as a purse or backpack and has 4.4 stars with more than 14,000 ratings.
Moreover, anyone looking for a bold designer item should consider the Calvin Klein Fay Large Crossbody, selling for about $70 at Macy's at the time of writing. This stylish red bag can add a fun pop of color to any outfit, helping you elevate various ensembles, and it has 4.5 stars. One happy reviewer wrote, "Love this bag! Good material and big enough to have all my stuff."