The Reason You Need To Have An Angled Eyeshadow Brush In Your Collection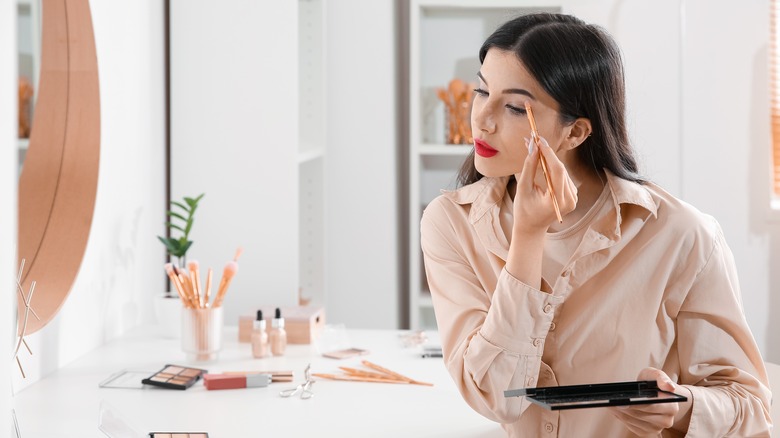 Pixel-Shot/Shutterstock
You may not think twice about your makeup brushes and tend to stick to your trusty regulars – or maybe you're overwhelmed by the many choices out there and simply opt for whatever brush gets the job done. It seems like there's constantly a new, innovative makeup tool out there promising to deliver the aesthetic of our dreams, and sometimes, that is the case. You may also find that a simple, classic brush is what is missing from your toolkit. With a little bit of investigation, you may realize you aren't using the ideal tools to achieve the look you're after.
One commonly overlooked but game-changing tool is the angled eyeshadow brush. Even if you typically aim for a fairly minimalistic makeup vibe, this brush can still help you achieve what you're after. Let's take a closer look at the reason your collection, whether big or small, needs an angled eyeshadow brush.
An angled brush adds depth to the crease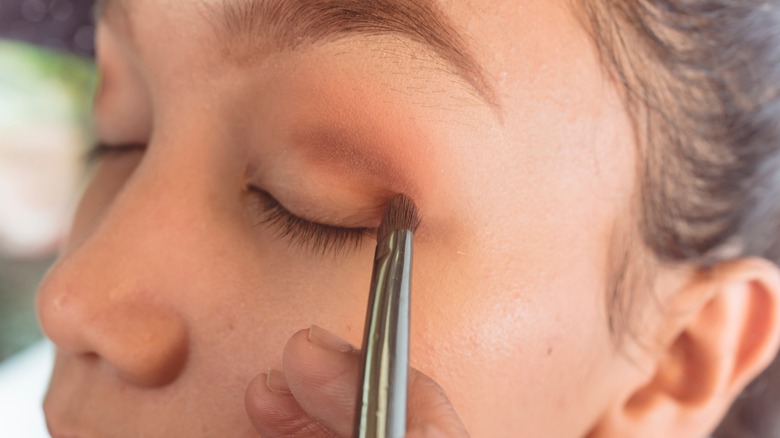 MDV Edwards/Shutterstock
A thick, angled eyeshadow brush serves a different purpose than a puffy all-over eyeshadow brush. While you may use the latter for your base, when it comes to the crease of your eyelid, the angled brush is your best friend. Since it is far firmer than other shadow brushes, it allows you to create definition in the crease or at your brow bone. "Angled eye shadow brushes [are] typically more dense," Shawn Fisher, Japonesque's National Makeup Artist, tells SELF. "This allows the brush to apply more color, intensify the outer corner of the eye, or add depth to the crease."
This tool really allows you to get into the eye socket, and with swift motions, you'll have a beautifully blended crease. Be sure not to confuse this brush with an angled eyeliner brush, which is smaller and even firmer than the angled eyeshadow brush. Use of this tool will draw attention to the outer edges of your eyes, and the difference will be highly noticeable. It'll no doubt be your new go-to for smudging and contouring the eye.
The best angled eyeshadow brushes out there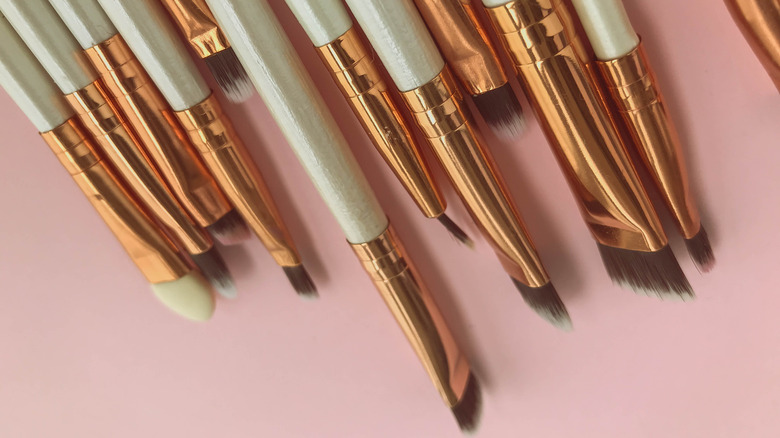 Bolbik/Shutterstock
If there's a gaping hole in your makeup brush collection where an angled eyeshadow brush should be, don't fret. You should be able to find the perfect one for your purposes — and in a wide price range, too. The key is to find a quality brush that is easy to clean and won't lose its shape too rapidly. With proper care and storage, your makeup brushes should last you a while.
BK Beauty offers the 205 Contoured Shader for $18, and it has an impressive 5-star rating. If you're looking for something with a slightly lower price tag, e.l.f. saves the day. Their Eye Contour Brush is available for $5 and is perfect if you want to try out the tool before investing in something a little more expensive. If you already know this brush is a must-have, Bobbi Brown offers a beautiful Angle Eye Shadow Brush for $37, ideal for shaping and smudging.