Here's What To Ask For At The Salon To Try Hailey Bieber's Buttercup Manicure
We may receive a commission on purchases made from links.
Regardless of where you stand on the Hailey/Selena drama, there's no denying that Hailey Bieber is one of the trendiest "it girls" on the internet. She is constantly on top of the latest beauty trends, with her nail choices — particularly the now-famous "glazed donut nails" — becoming the main inspiration for manicures in 2022. Her glazed donut look originally went viral in a pink chrome color, but Bieber recreated the nail style in a chocolate brown that got over one million likes when she posted the manicure on TikTok.
Advertisement
It seems Bieber is once again on her nail trendsetting grind, as she recently posted several photos to Instagram of herself wearing buttercup yellow nails, which we can only assume will be the nail trend of the season. If you, like us, are now scrambling to book a nail appointment to get the look for yourself, here's what to ask your nail tech.
The perfect spring look
Hailey Bieber knows how to show out with her nails, always giving us perfect inspo for the season. Sunny and pastel is the theme for spring, so many of Bieber's followers are heading to the salon to get the nail look for themselves. Sometimes, however, showing a nail tech Bieber's selfie may not be enough to explain the nail look you are going for. Instead, start by picking a buttery yellow polish, such as OPI's Me, Myself, and I nail lacquer in the shade "Blinded by the Ring Light." To get the full Hailey Bieber effect, you may choose to add almond-shaped acrylics to the mix, as she always sports the nail shape. After a couple of coats of butter yellow polish, we recommend "glazing" the nails.
Advertisement
Bieber's finished nails are a shiny pastel shade, most likely created by a top coat and nail powder like her donut nails. To get the shimmering pastel effect, ask your nail tech to use chrome powder on top of your nails before adding a shiny top coat to make sure your manicure lasts as long as possible.
Other trendy spring nail colors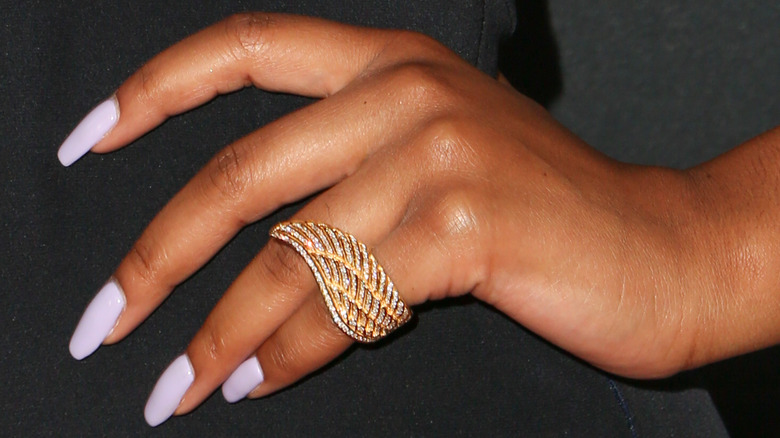 Chelsea Lauren/Getty Images
If butter-yellow nails are not your style, there are plenty of other trending nail colors this spring season. "Soft girl spring" is a trending aesthetic at the moment, playing off all your favorite pastel colors. Favorite muted shades of lemon, lime, lilac, and pink are what it's all about. "Think the inside of a lemon, lime, and orange rather than the vibrant outside peel," editorial nail artist and CEO of Nailing Hollywood Mazz Hanna told The Zoe Report about 2023's biggest nail trends.
Advertisement
Though pastel nails always become more popular as the weather gets warmer, there seems to be something extra special about the shades trending this season. Rather than traditional pastels such as robin's egg blue and ballerina pink, we are seeing non-traditional nail colors take flight. The butter-yellow nails Hailey Bieber sported are not a common manicure color, but that may be the point. We are all looking to break the norm this year.