Liquid Vs. Traditional Lipstick: Which Is Right For You?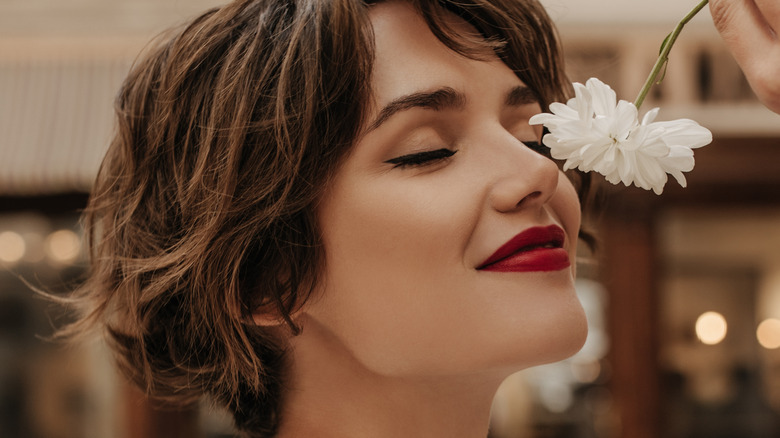 Look Studio/Shutterstock
Few things can instantly perk your face up like lipstick. Whether you're doing a no-makeup makeup look or going for a red carpet-ready look, lipstick is a must-have handbag staple. Lipsticks are available in many formulas, but they are mainly made up of two forms: solid and liquid. Solid lipsticks — or traditional lipsticks — were first introduced in the late 19th century by French cosmetic company Guerlain and were originally made from beeswax, castor oil, and deer tallow.
In the 1980s, the shimmery, glossy liquid versions of lipsticks were launched into the market and have been reigning the lip game ever since. Although liquid lipsticks are ultra popular, they are far from trumping traditional lipsticks — which are still all the rage with creamy lippies. Actually, both liquid and traditional lipsticks have their unique pros and cons. If you want the best of both worlds, you can use both. But if you only have enough budget for one lipstick, here's how to know which one is right for you.
Liquid lipsticks are available in numerous finishes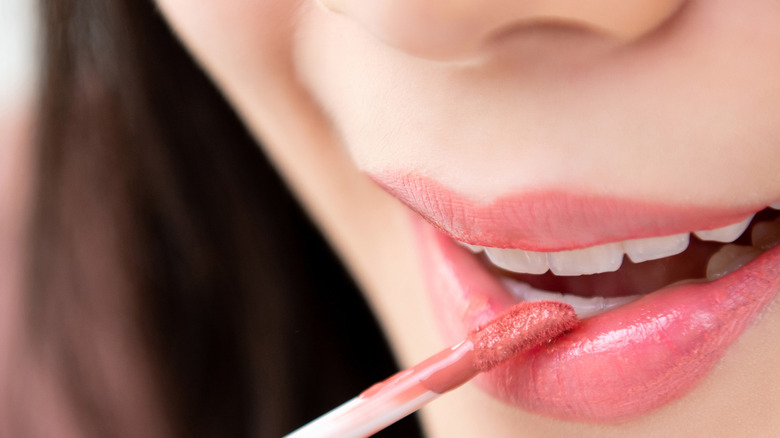 Atstock Productions/Shutterstock
Finish-wise, you'll find many options in liquid lipsticks. The formulas of liquid lipsticks range from creamy, satin, glossy, to matte. The options are endless. Since liquid lipsticks come with wands that are easy to maneuver, they can give your lips a well-defined look without having to use a lip liner, which saves you more time than using a traditional lipstick. Plus, they contain a high degree of pigmentation and have strong staying power. They are also less likely to bleed compared to solid lipsticks, so you won't have to worry about finding lipstick on your front teeth or touching up your lips every hour.
Another thing we love about liquid lipsticks is how they are packaged. Packaging is but icing on the cake, but those who use traditional lipsticks know how easy it is to break the top of a lipstick or how frustrating it feels when your lipstick cannot be twisted up or down the tube. You have to scoop a lumpy mess out of the tube to salvage every ounce usable. With liquid lipstick, you won't have that problem to worry about.
Liquid lipsticks can be really drying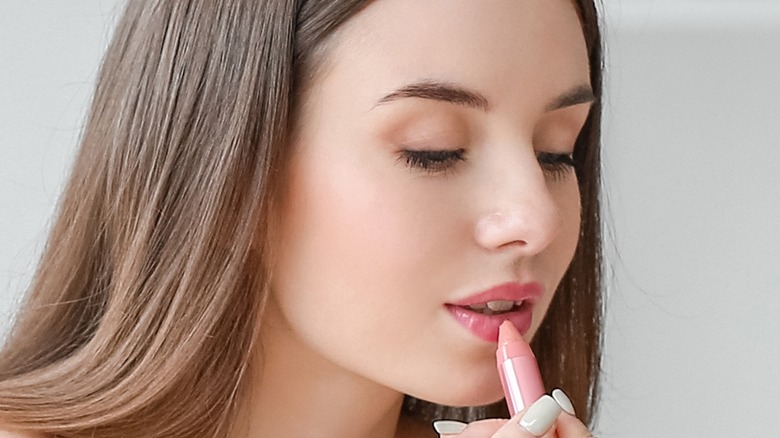 Pixel-Shot/Shutterstock
Liquid lipsticks can dry your lips out quickly, contributing to chapped lips and flaky skin. It's not uncommon to find your lips as rough and patchy as a rock one hour after putting on liquid lipstick. To keep your lips soft and kissable, you might want to exfoliate them with a lip scrub first and moisturize with lip balm before lining your pout with liquid lipstick. 
If you're a lipstick fan, you've probably heard about this overlining hack that people use to make their lips look fuller. The bad news is you can't use that trick with liquid lipstick. Since liquid lipstick has a fluid texture and heavy pigment, it can look pretty shabby and unsightly when drawn outside the line. To make your lips look fuller and more defined, you might need to draw out the lines with a lip pencil first before using your liquid lipstick to fill the color in. 
Plus, a matte liquid lipstick can be hard to take off, as its pigment can adhere strongly to the lip skin. If you always have to put in more elbow grease when wiping away liquid lippie leftovers, Viviane Woodard recommends rubbing some coconut oil or olive oil on your lips to allow for easier removal of pigment. 
Traditional lipsticks feel softer on the lips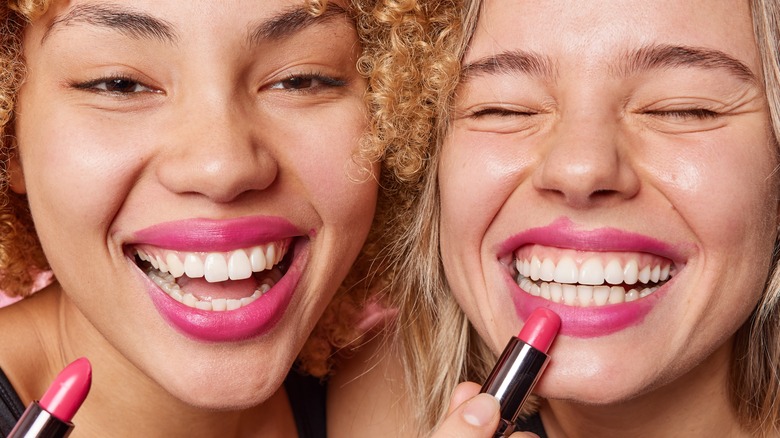 Cast Of Thousands/Shutterstock
Unlike liquid lipsticks, most traditional lipsticks boast cream or sheer finishes, which make them more hydrating to the lips. With a solid lipstick, you won't have to worry about dry lips or flaky skin. If you coat your lips with a moisturizing lip balm before and after lining your pout with solid lipstick, your lips will stay softer, smoother, and bouncier throughout the day. Since solid lipsticks are less likely to give you chapped and cracked lips, they make a more hydrating and nourishing choice during colder months.
Besides, traditional lipsticks are less pigmented compared to liquid lipsticks, meaning they are more lightweight, and there's more room for buildable coverage. Also, solid lipsticks are easier to apply and remove than liquid lipstick, so you don't need a steady hand or take extra caution to make sure that you're not drawing outside the lines or making any mistake. If you're a newbie in the game of lippies, solid lipsticks make a more convenient, low-risk option.
Traditional lipsticks are not long lasting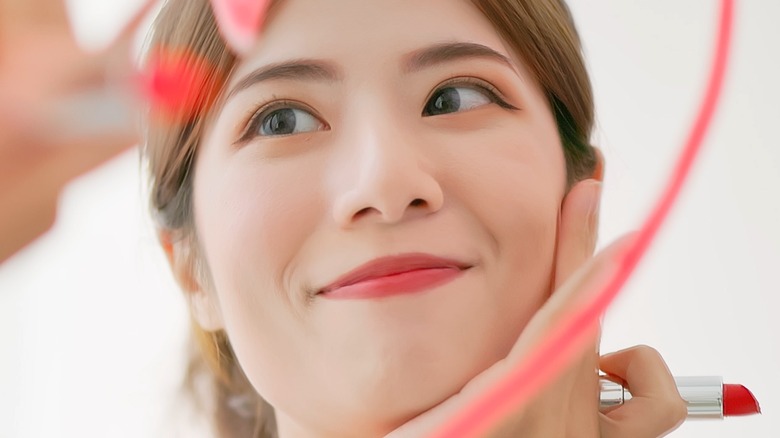 aslysun/Shutterstock
Traditional lipsticks don't set in as fast and stay put as long as liquid lipsticks, per Recode Studios. That means: they are much easier to bleed, smudge, and transfer to your mask, your front teeth, or your food. You'll have to touch up regularly to fix smudges and ensure your lips still have a decent wash of color. Therefore, if you want a lipstick that can last you a long time, traditional lipsticks are not the most cost-efficient option.
As far as finishes go, you won't find many options with traditional lipsticks, as most of them offer a satin, creamy, or sheer finish. If you want more on-trend options like matte, high-shine, or metallic, you might have to visit the liquid lipstick aisle.
Besides, the structure of a traditional lipstick predisposes it to all sorts of accidents. For instance, it's easy to forget to screw the lipstick in first before putting the cap on. When that happens, you end up with a messy lump of expensive lipstick stuck inside the cap and the tip of your lipstick is as good as ruined. For lipsticks that have been used for quite some time, their twisting and turning function can get easily faulty, and you'll have to use a lip brush to scoop the formula out and put them on your lips.