Cherry Cola Lips: How To Get In On The Timeless-Looking Trend
From the diamond lips trend to popsicle lips, you can always find inspiration for lip looks on TikTok. Recently, TikTokers have been trying out a variation on the classic lip liner and gloss combination and adding a bold red to it. It's known as "cherry cola lips," and all you need is brown lip liner and red lip gloss. It may seem like an unlikely color combination, but red and brown complement each other and look amazing on any skin tone.
Before diving into the look, it's important to give credit where credit is due. The timeless liner and gloss aesthetic became popular in the '90s and early 2000s thanks to Black and Latina women. During that time, beauty brands were a lot less inclusive, and women of color often used eyeliner and eyebrow pencils to line their lips since there weren't many lip products made with darker skin tones in mind. Decades later, the liner and gloss aesthetic is still inspiring new looks, like cherry cola lips.
Start with brown liner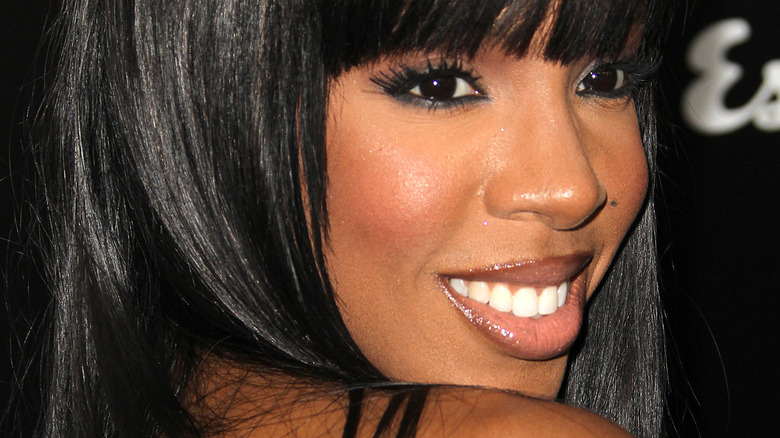 Frederick M. Brown/Getty Images
The first step to the cherry cola look is lining your lips with a dark brown lip liner. Then, fill in your lips all the way with the liner. For a bold contrast between the brown and red, go for a darker brown. This will lay the foundation for the next step. 
Bring on the red gloss
Once you've filled in your lips with a brown color, take out your favorite red lip gloss and apply it all over for a glossy finish. In her video demonstration, TikTok user @blendsbypouja uses NYX Professional Makeup Butter Lip Gloss in the color Red Velvet. The blend of brown and red makes for a stunning cherry cola color. 
Tip: intensify with lipstick
If you find that your lips are still missing the "cherry" part of cherry cola, you can mix a bright red lipstick in with your lip gloss in the second step. This will ensure that the red truly pops, so you're not left with a muddy look. 
Too glossy? Use Vaseline instead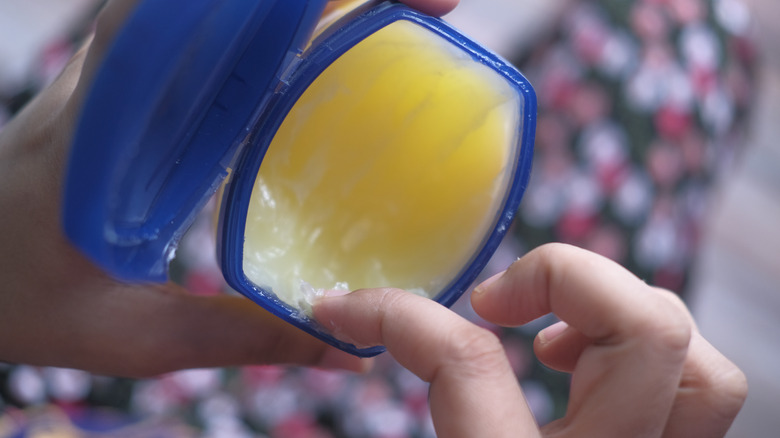 Towfiqu ahamed barbhuiya/Shutterstock
Cherry cola lips are undoubtedly gorgeous, but not everyone is a fan of the glossiness. Rather than using a red lip gloss, you can opt for a red lipstick and Vaseline on top. This will give you a touch of shine without worrying about the gloss slipping off. Plus, your lips will receive some added moisture. 
Try using an eyeliner pencil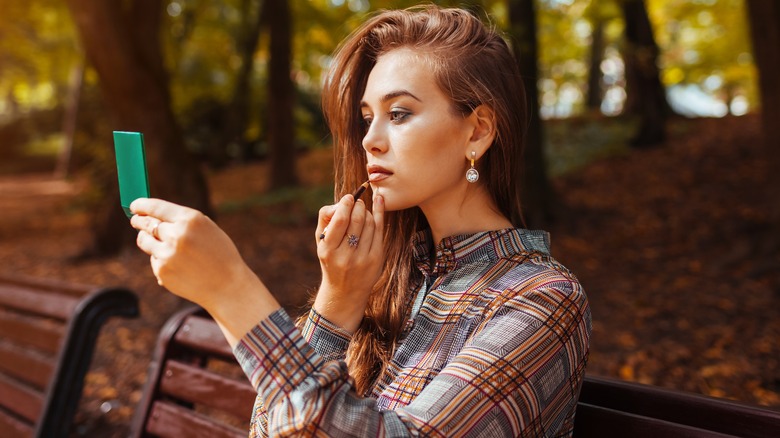 Mariia Boiko/Shutterstock
If you're out of lip liner or it's just not your thing, you can use an eyeliner pencil to line and fill in your lips. For an ombré effect, you can blend the colors with a lip brush. This look is simple, fun, and you can use whichever products work for you.