Can You Wear Fashionable Sneakers To An Event With A Cocktail Attire Dress Code?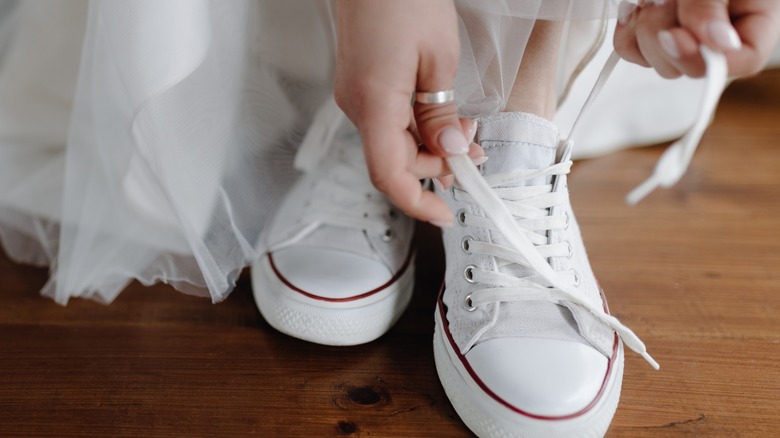 Maksym Chub/Shutterstock
Those who have to stand in high heels a lot know what a relief it is to step into sneakers in their off-duty moments. Albeit designed for physical activities, sneakers are widely loved and used for day-to-day casual wear. Not only do sneakers make you look athletic and modern, they lend your feet all the support and comfort they need to operate at maximum capacity. You can run, exercise, and go about your everyday activities in sneakers for long hours without placing extra pressure on your feet and feeling pain. 
Sneakers are quite versatile. You can style them with any outfit, from jeans to minidresses to suits, for an elevated laid-back look. Although there's no limit to how you can style a pair of kicks, there are certain venues where casual footwear like sneakers might not be the best choice. Sure, you might end up in them at the end of the night when your feet are killing you, but should you wear them from the beginning? It's time to find out just how appropriate sneakers are at a cocktail event, whether or not they look fabulous. 
You can't wear sneakers when the setting is formal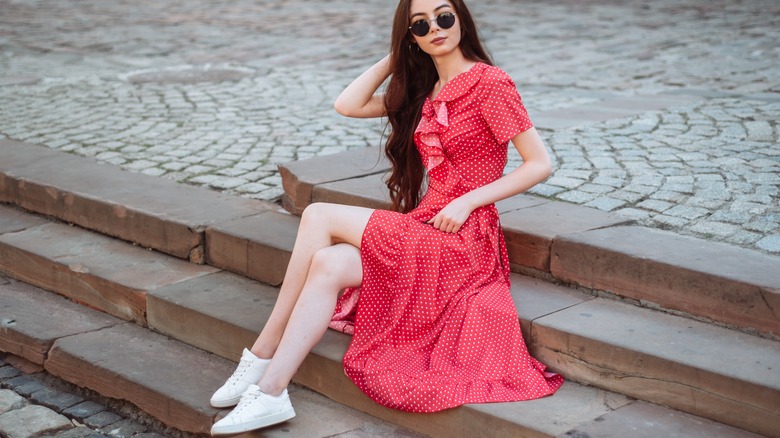 Ihor Khomych/Shutterstock
Let's dial back to the basics. What is a cocktail event? "Cocktail attire is meant to bridge the gap between day and night," bridal consultant LauraLee Baird tells Brides. "It is still an occasion to dress up, but a full-length gown is not necessary. This merges the silhouette of a garden party dress (shorter) with the fabric and embellishments of a formal gown." 
So, does a pair of sneakers strike the balance between casual and formal? The textbook answer is no. According to Aquila Shoes, sneakers (along with jeans) are considered casual wear, so they are a no-go at a cocktail event. It's not in good taste because you'll be dressing down your outfit as well as the vibe of the party. 
However, if you're going to a more casual cocktail party, a pair of white leather sneakers might still work as long as they're in impeccable condition and don't make a statement. Or, you can ask the host in advance if you can wear sneakers to their event. After all, the point of complying with a dress code is to show respect for the host as well as the people in attendance. 
How to dress for a cocktail event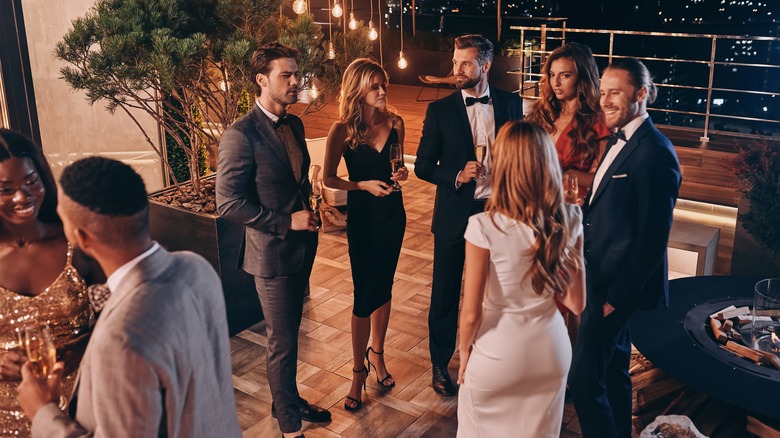 G-Stock Studio/Shutterstock
You should take into account the setting — outdoor or indoor, day or night — when picking out cocktail attire. For a formal event like a wedding reception or awards ceremony, consider wearing something modest and elegant. If the party is scheduled outdoors in a more intimate and casual setting, you can wear something more comfortable so you can move around with ease.
The general rule of thumb, per Lands' End, is not to wear dresses that are too short and revealing. The ideal length of the dress should be between mini length and midi length. You can wear a maxi dress to a formal cocktail party if you style it appropriately, but a floor-length evening gown is too much. Instead of a plunging neckline, opt for a draped neckline to keep the modest vibe, advises Dress for a Night. For instance, a little black dress would be the perfect choice for a cocktail party. Jumpsuits, blazers, blouses, and tailored pants in solid colors and fine fabrics are also appropriate and fashionable choices for a cocktail attire dress code.
Shoe-wise, you should opt for something that matches your polished look. That leaves out old sneakers, boots, flat sandals, gladiators, and flip-flops. Instead, put on a dressy pair of lace-up heels, ballet pumps, or pointed shoes. As far as accessorizing goes, go for a subtle look with dainty jewelry and a simple clutch.