Pleated Skirts Are The Latest Preppy Look Making A Comeback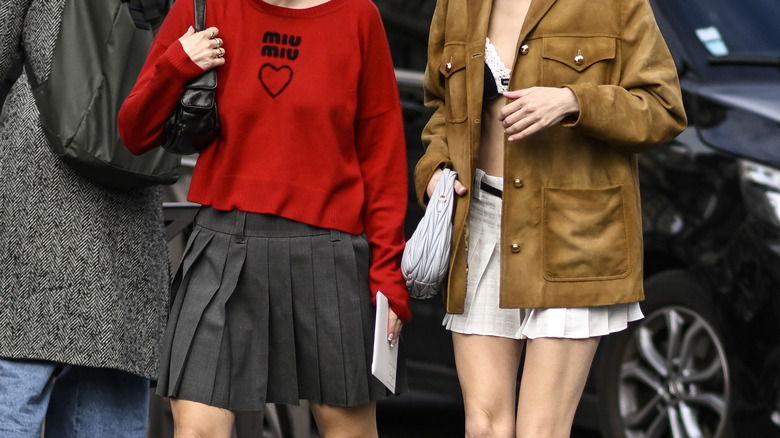 Daniel Zuchnik/Getty Images
Pleated skirts are a fashion classic that brings to mind school uniforms and timeless preppy style as seen on campuses, cheerleaders, tennis courts, and golf courses. Pleating in couture dates back to the ancient Egyptians, who considered pleated garments to be a symbol of luxury. Pleats also allow space for bodies to move, which is why they are popular in athletic garments, as well. 
Advertisement
In the spring of 1994, designer Issey Miyake deputed his Pleats Please collection, which still exists, calling attention to the utility and flattering drape of the timeless pleat. It remains a perennial favorite today and had made a particular comeback recently, as evidenced by the number of pleated skirts seen on the street during Paris Fashion Week in early March 2023.  The look is flexible and versatile and can be styled in all sorts of ways, making a pleated skirt a true wardrobe workhorse. See how pleated skirts can fit in with your style. 
Pleated skirts are perfect for transitional weather
Springtime is a season of layering for most of us, and long pleated skirts provide an ideal backdrop. The length also allows for tights or leggings when it's cooler and bare legs when it's warmer. Start out with an oversized sweater and swap it out later for a blouse or t-shirt. Matching shoes and a handbag keep the outfit's flowy look tied together — use neutrals as shown here or brights for something a little more modern. 
Advertisement
Try color blocking around a long pleated skirt
Try some easy and striking color blocking with a pleated midi skirt in one color and a matching top and shoes in another. Use a color wheel for extra inspiration; color blocking works especially well with complementary colors (colors that lie across from each other on the wheel). You can use a pleated skirt of any length; a mini or maxi would also work and look very cool. 
Advertisement
White and blue are always a winning combo
Channel spring with a crisp, white pleated maxi skirt, a tied-off classic striped shirt in blue, and pristine white sneakers. Accessorize with a small camel leather cross body or belt bag and subtle silver jewelry to keep that preppy look on point. This sort of outfit is great to have on hand because it works in so many places — it's appropriate for the office but also looks cute, cool, and confident for a day date or an afternoon party. 
Advertisement
Use a traditional school uniform as inspiration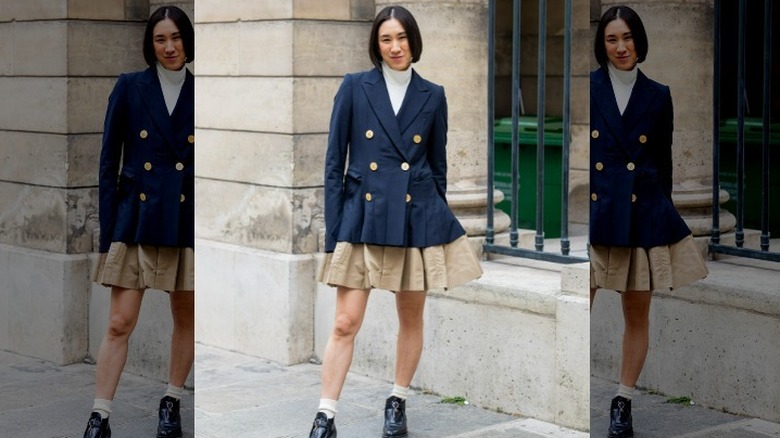 Christian Vierig/Getty Images
Take the typical school uniform look and make it grown up with a short pleated skirt worn with a navy double-breasted blazer and socks with chunky loafers as seen on Eva Chen during Paris Fashion Week in March 2023. This kind of academia-chic outfit can also be put together using a button-up cardigan, and adding a cross-body satchel would be an especially cute accessory. 
Advertisement
Make it monochrome and keep it classy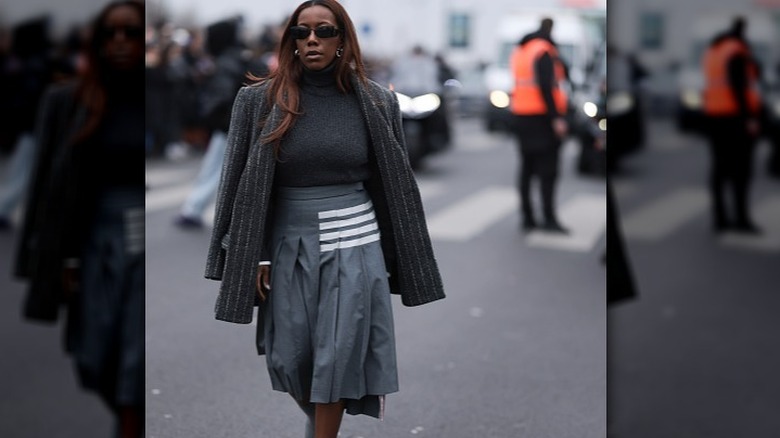 Jeremy Moeller/Getty Images
Monochrome looks are always fashionable and all gray is slightly fresher than all black, particularly with sporty white details like the stripes seen here. A high-waisted pleated skirt and a turtleneck look amazing together, and wearing a jacket as a cape is an easy way to make any outfit a little cooler. This outfit would work with any length skirt; the pleating is what makes it especially crisp and poised. 
Advertisement
Pants under a skirt — it's back and better than ever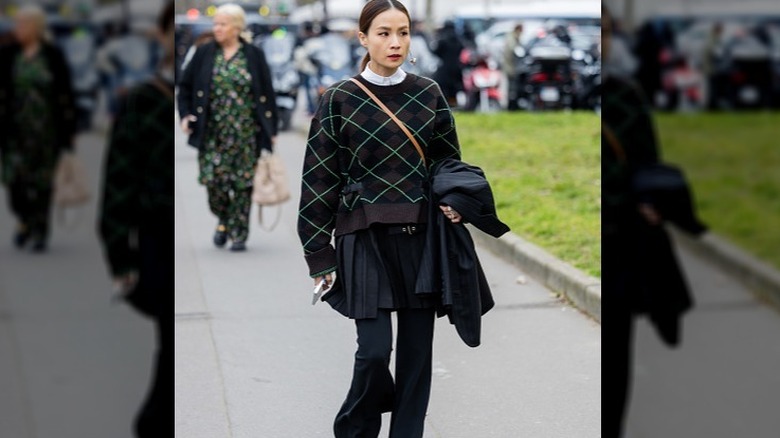 Christian Vierig/Getty Images
A short pleated skirt with a plaid sweater is a timeless look. Add a pair of flared black trousers, as seen on the street at Paris Fashion Week 2023, under the skirt to make the look a real head-turner. If the pants are too much, plaid and pleats are always a sure thing; a button-down in plaid would be another amazing option. 
Advertisement
Biker chic meets preppy classic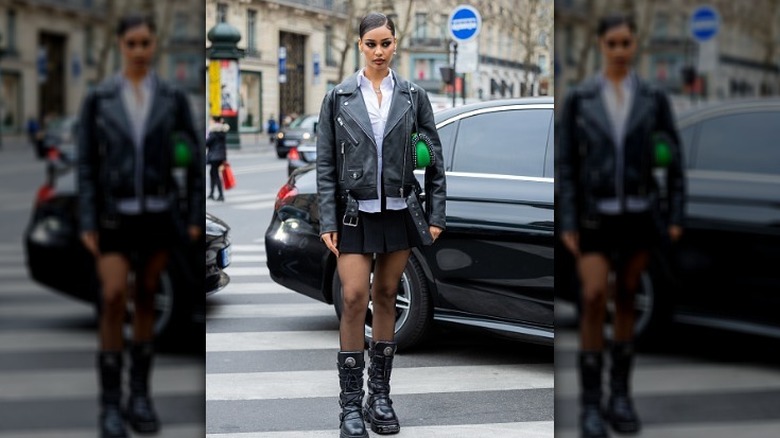 Christian Vierig/Getty Images
Jamilla Strand instantly toughens up the classic white button-down and short, pleated black skirt look with a black leather jacket, black hose, and big stompy black boots — and you can too. The all-neutral look is nicely set off by her bright handbag; other accessories like a dad cap or an oversized scarf in a standout color would add style, too.
Advertisement
A sporty tennis skirt can be street wear, too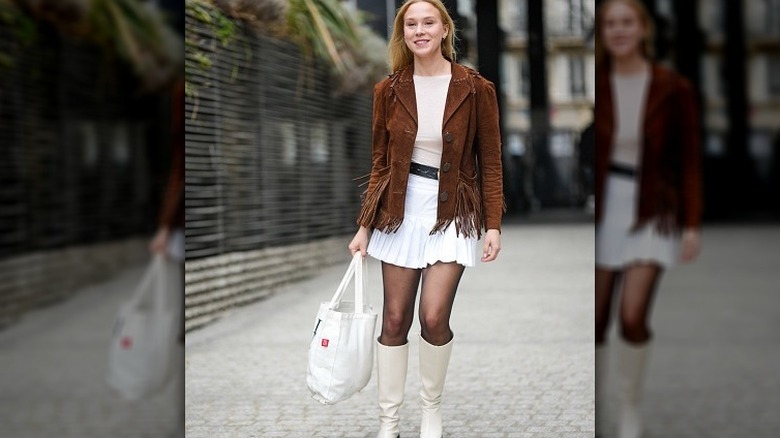 Edward Berthelot/Getty Images
Another short pleated skirt and leather jacket and boots combo seen on the streets of Paris during Fashion Week is a white tennis skirt with a brown suede fringed jacket and pristine cream knee-high boots. A big canvas tote bag keeps the look casual and convenient; swap out the tote for an oversized hobo bag to make the outfit a little more upscale and polished.
Advertisement
Chiffon and leather — together at last and looking fabulous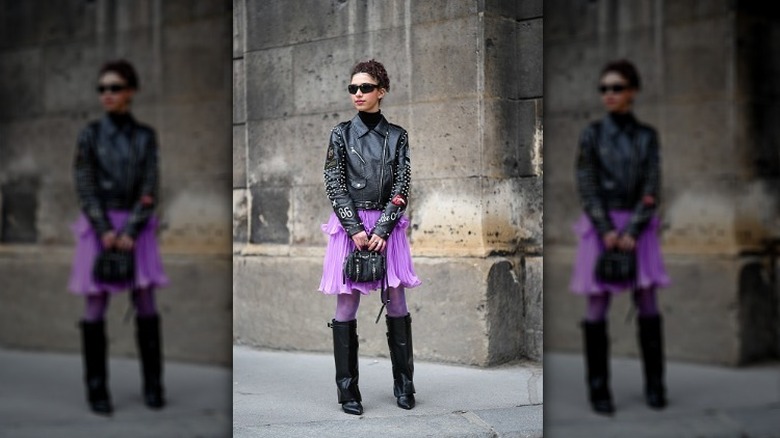 Edward Berthelot/Getty Images
Mix it up by pairing unexpected textures and colors like this floaty lavender chiffon pleated skirt with a black leather jacket decorated with studs and nail heads, a matching small handbag, chic knee-high black boots, and sleek sunnies. Swap out the leather jacket and boots for a black t-shirt and chunky platform sandals to keep the same look but cool it down for late spring and early summer.
Advertisement
Stripes and pleats are a sure thing
Throw a striped sweater over your shoulders, and add a big leather bag for instant preppy style based around a short pleated skirt and a simple sleeveless top. An oversized bag makes a fun accessory; this look also leaves a lot of options for jewelry and footwear. You can keep it classic with subtle gold or silver pieces and tasseled loafers, or go more glam with larger, colorful jewelry and heels. 
Advertisement
Change up a pleated skirt with different shoes
A tweed pleated skirt that falls just above the knee and a classic cashmere crewneck are the perfect canvas for all sorts of looks. Add boots for streetwear cool, as seen here, some pumps for the office, or sneakers for a weekend brunch date. A ladylike structured bag takes it in a dressier direction, while a fun canvas tote makes it cooler and nonchalant  When you have an outfit with good bones, like this one, you can take it anywhere by swapping out your accessories as needed.
Advertisement
Accessories can take a pleated skirt to another level
Keep it all in the same color from head to toe to look taller in a calf-length pleated skirt. Look entirely put together when you add a status-y hat, belt, heels, and handbag for a pretty, ladylike vibe that's anything but frumpy. A monochromatic shirt and top give dress vibes and make it easy to get dressed and go, but having separates gives you more options. The skirt would look beach ready with a tank top and strappy flat sandals.
Advertisement
A polo and a short pleated skirt is always perfect
Look classic and cute to boot with a short plaid skirt, a cropped polo, and sneakers. It's a timeless look that stays periodically popular for a reason. This outfit is another one that looks great when you add a cardigan and tights during cooler weather and stands on its own when it's warm. 
Advertisement