The Single Earring Trend Is The Good-Time Gal Of The Jewelry World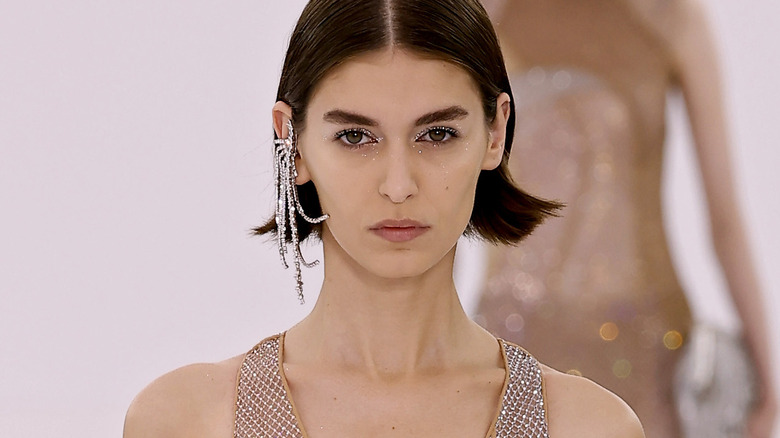 Estrop/Getty Images
The single earring trend gives counter-cultural vibes, but don't call it new. Single and double earring styles have a dynamic history that can be traced back to ancient civilizations. According to a historical account of earrings in Reader's Digest, earrings were regarded as a status symbol among ancient Egyptian men and dismissed as "low-class" because of their association with women of the night in ancient Rome. During the Middle Ages, earrings were a symbol of criminality (think of your favorite brutish pirate with his single gold hoop earring). By end of the Victorian era, a pair of bejeweled earrings was a symbol of aristocracy among society women.
A study conducted in The Research Journal of the Costume Culture shows that women wearing earrings were "perceived to have higher individuality, attractiveness, potency, loveliness, and elegance than women without earrings." These results exemplify how earrings are generally perceived in present-day culture. However, this refers to earrings worn on both ears. Single earrings are different. They take us back to when wearing earrings was more rebellious (Ahoy, matey!).
Research presented at the 2015 International Conference on Textiles, Apparels and Fashion hailed "self-expressive, anonymous" style as the current trend popularized by Gen Z'ers. It's a style that "tends to remove social prejudices about fashion in society" and can explain why we're now embracing the "good time gal" single earrings trend. So if you're looking to make a statement, try these single-earring styles.
Wear it with bohemian flair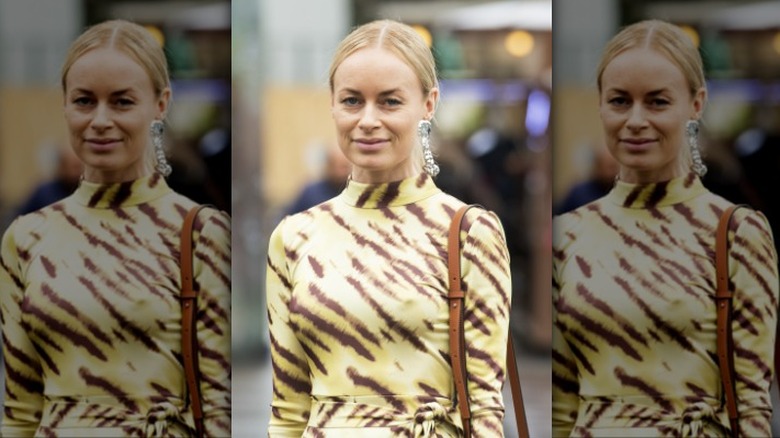 Kirstin Sinclair/Getty Images
The diverse symbolism of earrings can be understood by what psychologists call the social perception process. It's when people make inferences about others based upon salient or novel cues that act as cultural symbols. Here, a salient cue is the dazzling, chunky silver earring, giving a '70s bohemian vibe. One earring on, one off. Nothing says individuality like a little bohemian rebellion. Worn with a belted, fit-and-flair printed dress, it evokes all the sensibilities of a woman about town who knows how to have a good time.
Think of it like a broach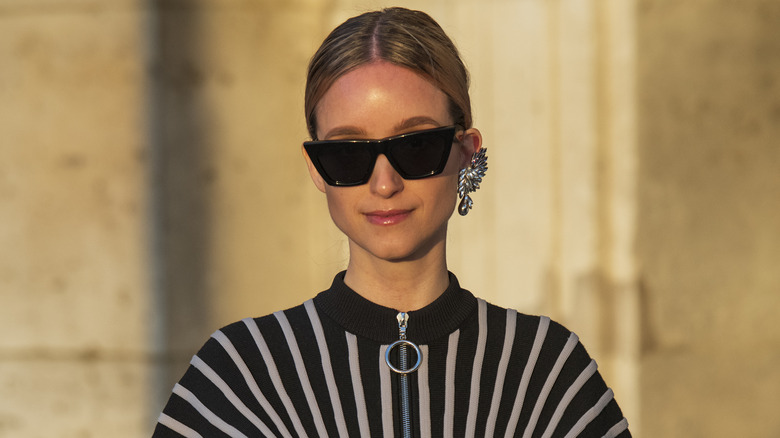 Kirstin Sinclair/Getty Images
Brooches, ornamental pins sometimes used as fasteners, were the quintessential lady-like accessories of generations past. They've since been given a facelift in the form of a single earring. This carved, feathery motif earring would probably look good as a brooch, but as a single earring, it's a distinctively offbeat accessory.
Wear it with something traditional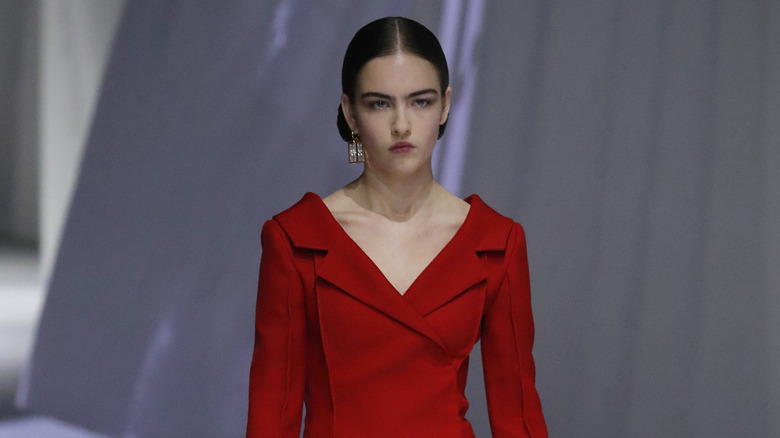 Estrop/Getty Images
Wearing one dangly earring with a suit is probably an intriguing and unexpected pairing to most. When the single earring is worn with an angular-shaped suit jacket, it creates an asymmetrical theme that feels exciting. Red, which typically reflects dominance and assertiveness (depending on your cultural context), adds to the thrill.
Make it subtle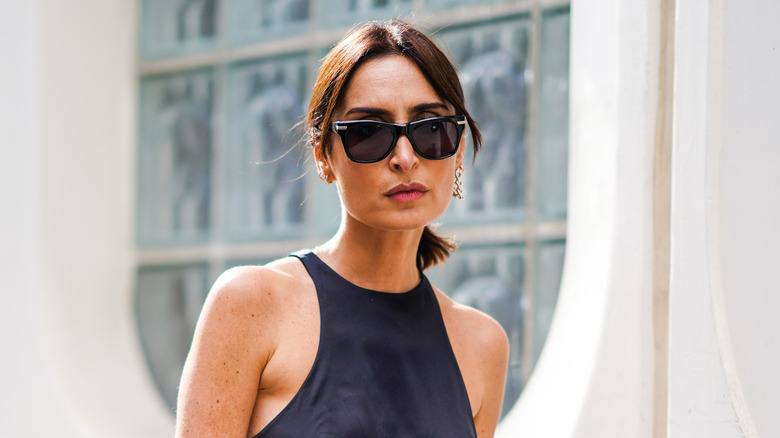 Edward Berthelot/Getty Images
So if an in-your-face single earring is a little too much, try a more subtle option. You can wear a single, dangly earring on one side along with smaller earrings on the other side. While this is also known as the mismatched earring style, it gives you the single earring look without actually wearing just one earring. It's kind of a way to dip your toe into the single-earring trend without having to go all in.
Go full Pirate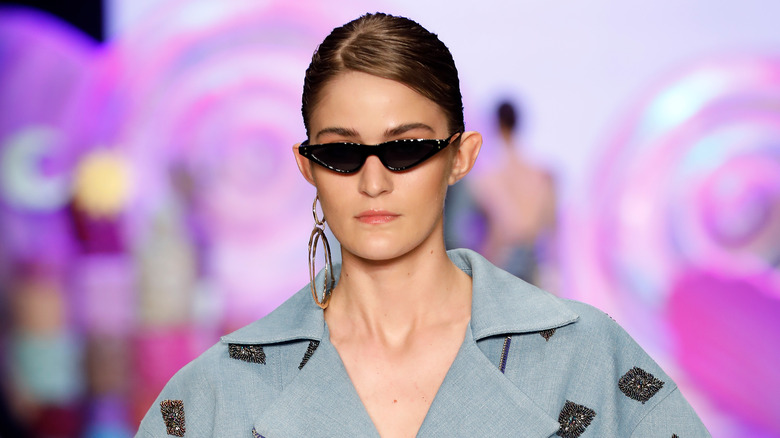 Tristan Fewings/Getty Images
Alternatively, should you decide to go all the way with the single earring style, try an oversized hoop earring. While pirates sometimes wore them for superstitious reasons, they helped to create the whole gutsy persona that still exists today. While a pair of hoop earrings is a bold choice, a large single hoop earring gives 'tude because that's all you need for this strong, rebellious look.
Go postmodern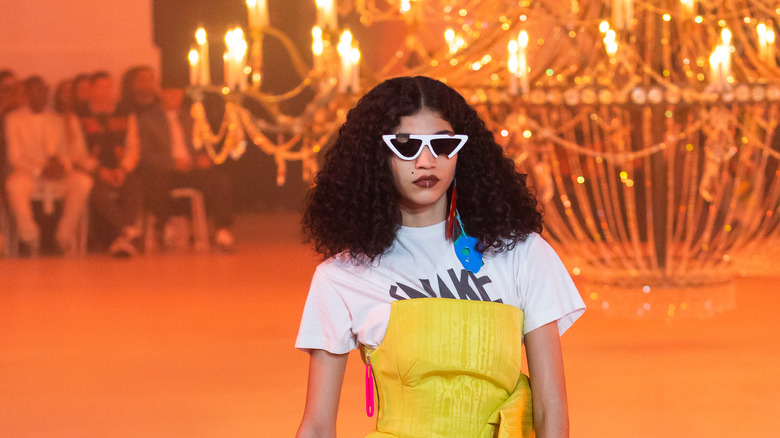 Victor Boyko/Getty Images
Postmodernism is about playing with traditional forms, and what better way to do that than by wearing colorful, single earrings in varied shapes? The colorful, angular glasses and dress layered over a t-shirt are the epitome of streetwear meets high fashion. The single earring helps solidify the deconstructed look.
Mix it with matching earrings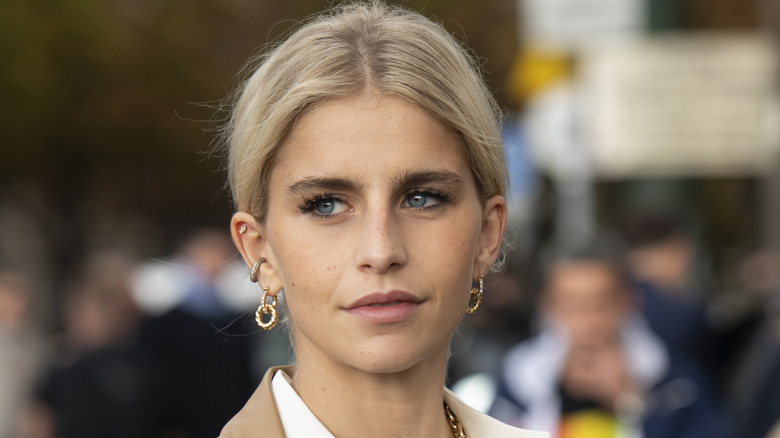 Kirstin Sinclair/Getty Images
Here is another subtle option: Instead of wearing mismatched earrings, pair your single earring (or single earrings) with a matching pair. Gold double hoops, accented with two single earrings, give off an understated cool. With the best of both worlds, you can be as traditional or non-conformist as you want.