The Latest Viral Mascara Hack Promises The False Lash Look Without The Falsies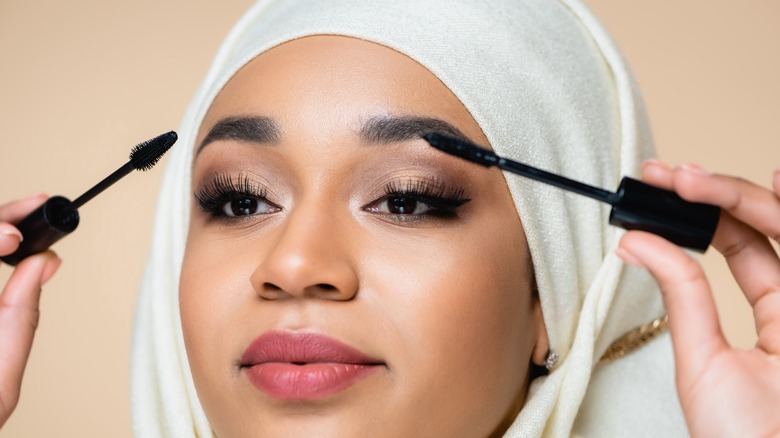 LightField Studios/Shutterstock
It's no exaggeration to say that a thickset veil of lashes is the crown jewel of the eyes. Long and voluminous eyelashes create the impression of bigger and deeper eyes and make a face look more feminine. According to a 2021 study published by the American Psychological Association, women with longer eyelashes were perceived to be more feminine, healthy, and attractive than those with shorter eyelashes. This explains why many women use false eyelashes to look like they won the genetic lottery with a pair of captivating eyes. Mascara can darken the lashes and make them look thicker to a certain extent, but it's no match for falsies, which are often attached to the eyes after a thin coat of mascara to lend the eyes a dramatic, one-look-could-kill boost. A few coats of mascara are sufficient for those who want a more subtle and natural look. 
But what if you're going to a red-carpet event with no falsies at your disposal? The good news is that false eyelashes are not the only thing that could make the eyes camera-ready, and you can still create the false lash look with mascara. This makeup hack, which promises significantly fuller-looking lashes without falsies, has hit fever pitch on TikTok. Although TikTok is a melting pot of unreliable beauty fads and fetishes, we have reasons to believe that this hack is worth its weight in likes. Here's why. 
The mascara hack by Gigi Hadid's makeup artist
Turns out, this hack that could make people go, "Did she or did she not use false lashes?" is created by Erin Parsons, a professional makeup artist from Maybelline. She is the brains behind some of Maybelline's most hyped mascara campaign looks sported by Gigi Hadid. Throughout her career, Parsons has worked with the biggest names in modeling, including models Gisele Bündchen and Kendall Jenner and notable high-fashion publications.
In her TikTok video, which has garnered 3.7 million likes at the time of writing, Parsons shares: "I'm a makeup artist. And on every advertisement we do, we're not allowed to use false eyelashes." No photoshop or editing is involved in making the lashes pop either. To beautify models to perfection sans falsies, Parsons devised a simple hack using only four items: a lash curler, a waterproof black eyeliner, a waterproof mascara, and a lash comb or brush. So, here's how you can use these items to create gravity-defying lashes and look like a cover girl.   
Practice makes perfect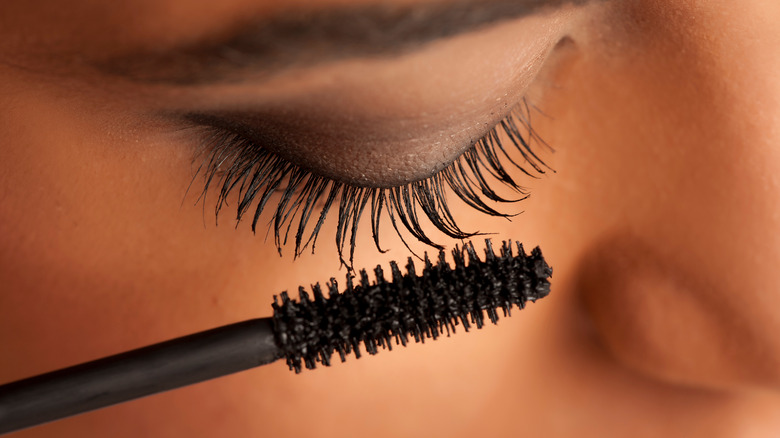 Vladimir Gjorgiev/Shutterstock
In her tutorial video, Parsons demonstrates the technique on her eyelashes. To start, lift your eyelashes with an eyelash curler, beginning at the tips, doing a light pinch to curl, and moving closer to the base. "Pinch the base, don't pinch the eyelid," stresses Parsons. If your lashes are extremely straight or fringe, this curling step will go a long way toward adding structure to your eyes and making you look like you've just got eyelash extensions. 
Next, apply eyeliner to the upper waterline to help make the lash line look thicker. Then, swipe your lashes with a few coats of waterproof mascara, wiggling the wand repetitively from the root to the tip to get more product at the base. Apply mascara to your bottom lashes to give your eyes all the oomph it needs. At this stage, you should start noticing a significant boost in the fullness of your lashes. If you see clumps on your lashes, grab an eyelash comb and run it through them three times to gently separate the lashes and remove build-up. In the final step, layer some extra mascara on the outer edge of the upper and lower lash lines to give your lashes an extra volume boost.
For those who don't have a steady hand with mascara and tightening, this hack might need some getting used to. But once you've mastered it, you'll save tons of money on false lashes.