13 Life Lessons That You Can Learn From None Other Than Barbie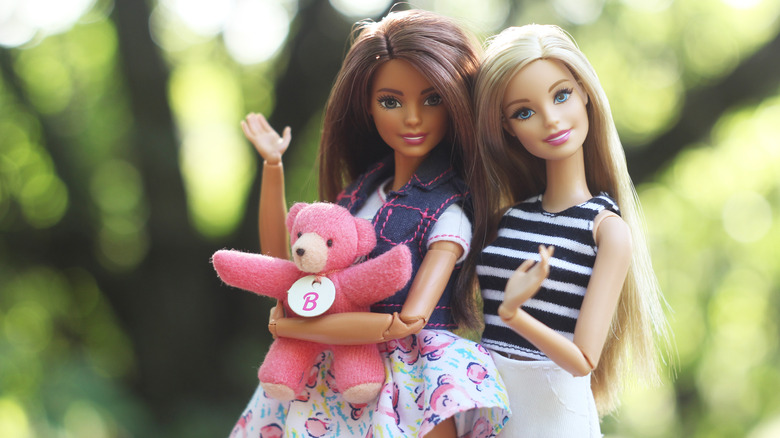 DinosArt/Shutterstock
Since you were a kid, your opinion of Barbie has probably changed a million times. One year, you may have seen her as a powerhouse representation of women's independence. In the next, she may have seemed a menace to confidence and body image. We can't argue that Barbie certainly has her pros and cons (although the company has improved tremendously in the diversity department in recent years), but there's no denying that there are actually some valuable life lessons that Barbie can, and has, taught us since her iconic debut in 1959.
"For 60 years, Barbie has spanned three generations of girls, inspired them with over 200 careers and sold more than a billion dolls in the process," Barbie senior vice president and general manager Lisa McKnight tells Toy World. We've broken down some of the most important lessons that Barbie has taught us — whether we realized it or not. No matter your current age, Barbie's got some life advice for you. 
You don't need a Ken to be successful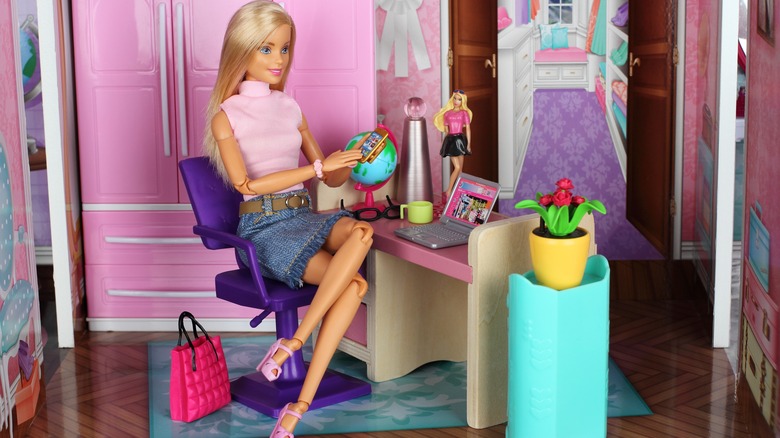 Aygul Bulte/Shutterstock
When we think of Barbie clichés, it's hard not to somehow entangle Ken into the mix, too. Upon seeing a beautiful couple walking down the street, it's almost impossible to ignore the "Wow, they look like Barbie and Ken!" whispers or the envy as they stroll by. But did you know that in 1961, the year the Ken doll was introduced, he was originally woven into Barbie's life story as an on–again–off–again boyfriend? And it's easy to see why. According to the Barbie website, in 1961, Barbie had a whopping total of five jobs, including a fashion designer, a registered nurse, and a flight attendant in that year alone.
So, as you can see, even though Ken is in the picture, Barbie was never designed to be the housewife that was typical of the generation of her dawning. She certainly had that option if she wanted it, which is great, too, but she was a genuinely independent woman from the jump. And this sentiment is certainly very impressionable on young children. For us, a Ken doll was and still is simply an extension of Barbie. He added enjoyment and spice to her story, but at the end of the day, he remains an accessory to the main feature.
When you know your self-worth, you can achieve anything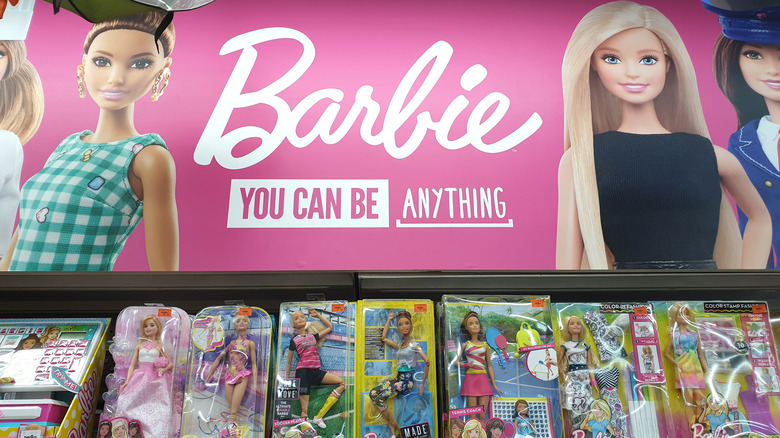 TY Lim/Shutterstock
Barbie has achieved a lot in her decades-long fame. Even though the doll and her story are a work of fiction, it becomes clear to anyone following her tale that she has never let anyone define her. This can be seen pretty significantly in all of the stereotypes about her that have developed since she was created, but despite what people say, she continues to reach for the stars. Somewhat reminiscent of a "Legally Blonde" story, Barbie has long been type-cast as the unrealistically "perfect" blonde-haired, blue-eyed woman with a cinched waist and flawlessly symmetrical face — who just happens to love domestic activities like baking and cleaning the Dreamhouse.
In all reality, however, Barbie is whoever she wants to be. She loves fashion and makeup but loves her career, too. She loves to bake and cook but has a dream of becoming president one day. The point is, Barbie knows exactly who she is and what she wants to achieve, so outside voices who try to label her have no effect on her goals.
Beauty lies within diversity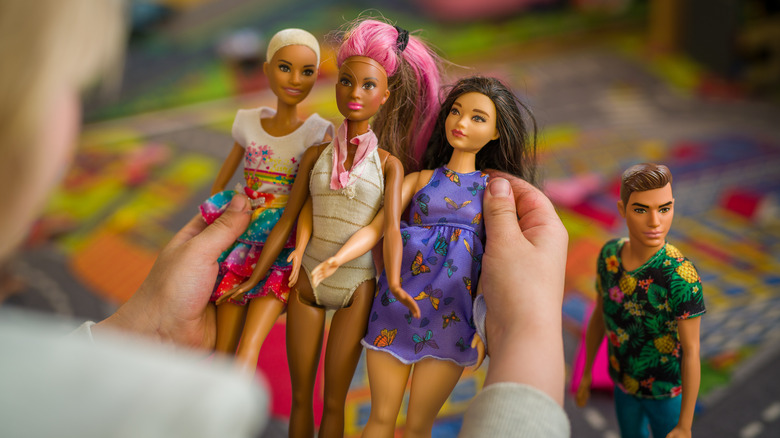 goodbishop/Shutterstock
Barbie has never been a brand to shy away from highlighting the beauty in diversity and inclusion. In fact, many people don't realize that the first Black Barbie doll, Christie, was introduced as early as 1967 as part of the Equal Rights Movement. But for the company, this still wasn't good enough. Christie was simply one of Barbie's friends until 1980 when the first Black and Hispanic dolls were released under the name Barbie. This was an iconic moment in Barbie history because it signified that girls didn't have to look like the original doll in order to embody the spirit of who Barbie is: a true believer that all "girls can be anything."
Barbie's endeavor of inclusivity didn't stop there. In 2015, Barbie company Mattel founded the Barbie Sheroes line — a collection of dolls created to celebrate women who are rewriting history for females everywhere. Some women included in the line are anti-racism activist and BBC DJ Clara Amfo, professional skateboarder and surfer Sky Brown, German track cyclist Kristina Vogel, and Muslim-American Olympic fencer Ibtihaj Muhammad.
Not everyone gets the Dreamhouse, and that's okay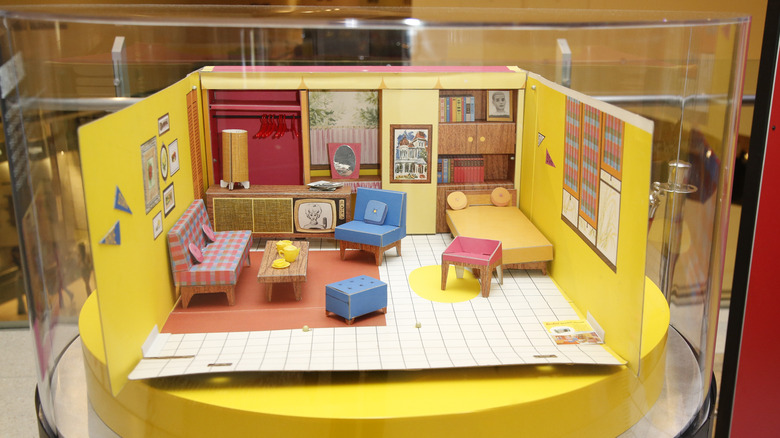 Gabe Ginsberg/Getty Images
When we were children, whether we played with Barbie dolls or not, we can likely recall knowing other kids who did. Maybe one of your friends had every single one of the hottest Barbies out at the time, along with the accessories, car, and house in their doll collection. Perhaps you felt a tinge of jealousy toward your friend, and you begged your parents to get you the new Barbie Dreamhouse, which never seemed to happen for whatever reason. Or, maybe you were the friend with the Dreamhouse, and all of your peers were constantly pleading with you for a chance to play with it.
These exact scenarios have probably trickled into your adult life, as well. We all have friends who have what we don't, or we have friends who may go through periods of envy toward us. But thanks to Barbie, we have become pros at handling these situations like champs. As kids, we saw that even though we might not have the beautiful Barbie Dreamhouse or flashy convertible, we can still have fun with what we do have. We learned how to share with our friends and see them for who they are, instead of focusing on material items.
A kind smile is always en vogue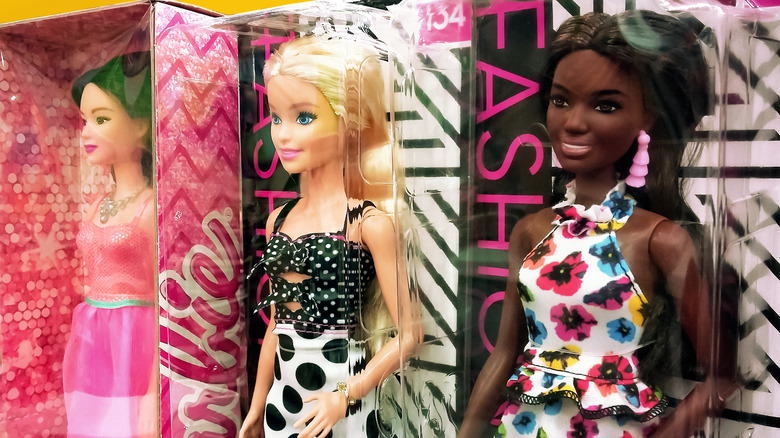 Al Sorbi/Shutterstock
Walden University reports that smiling has psychological effects on the brain that reduce stress, lessen chances of cancer or infection-related death, and even make you appear more physically attractive. Although Barbie had somewhat of a smug, sideways expression until 1977 when she was redesigned with her iconic smile, smiling has become a legendary part of Barbie's appeal, and we believe there is something that can be said about that.
In fact, FlexJobs even shared that smiling has been proven to help folks find jobs because, essentially, it leaves a greater impression on those whom you are interviewing and networking with, and Barbie certainly knows a thing or two about landing successful jobs. Can we attribute that to her contagious smile? That's probably up to each of our own individual imaginations, but there's no doubt that in the real world, Barbie's warm and infectious smile would take her to great heights.
Never underestimate the power of pink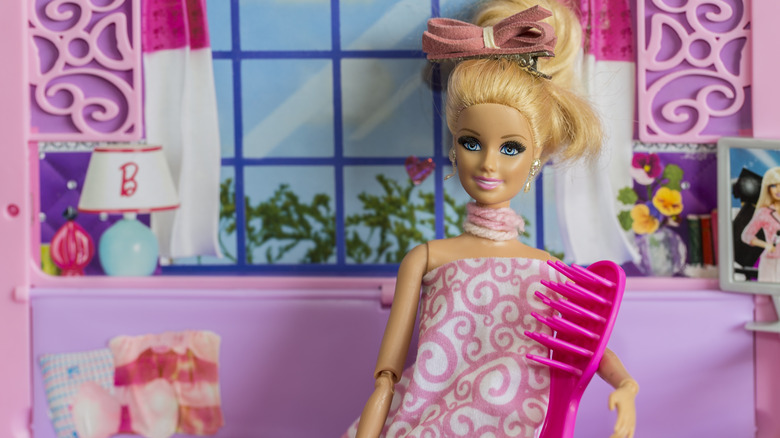 Suphatthra olovedog/Shutterstock
One thing we all know for certain is that Barbie is unequivocally synonymous with the color pink. In fact, Barbie Pink is actually a trademarked color — one that Aqua, the band famous for their smash hit "Barbie Girl," found themselves entangled in a messy lawsuit over after using the color on their album cover. Moreover, Barbie Pink is at the root of the infamous Barbiecore trend, which only further highlights how much impact Barbie has had over the years in the world of fashion.
While most of us think of pink as a stereotypically "girly" color — perhaps greatly thanks to Barbie herself — this sexy hue is actually quite a powerful shade. "More muted pinks represent youth and innocence while loud forms of pink elude sexiness and boldness," one Verywell Mind reader wrote. "Every time I come across anything in my favorite pink shade," she continues, "I can't help but stop and admire its inherent beauty. Pink is my euphoria."
So, next time you're in fear of pulling out that hot pink power suit from the back of the closet, just think of Barbie and all she's accomplished while adorning this buoyant tone.
Friendship is at the root of happiness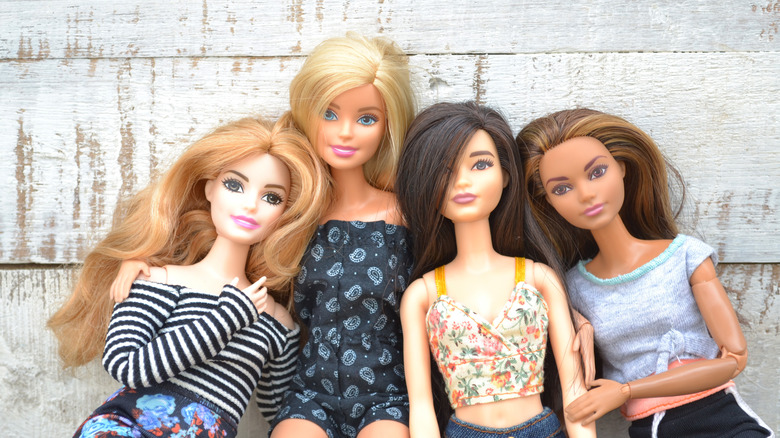 Leka Talamoni/Shutterstock
If you take a glance at Barbie's YouTube channel, it becomes quickly apparent that most of her vlogs, music videos, and series aren't centered around Barbie alone — the focus is on Barbie and her friends. In fact, in one video called "Teamwork Makes the Dream Work," a major malfunction happened at the Dreamhouse, leaving Barbie upset and worried that things won't be straightened up in time for a party that she and her friends are throwing for her little sister, Chelsea. The group unites to clean everything up before Chelsea arrives, and they even have fun while doing it.
The theme of the episode is meant to teach children about the importance of friendship and having people by your side to work through life's ups and downs, but oftentimes, as adults, we can easily forget simple lessons like this one. Mayo Clinic shares that many adults have a difficult time finding and maintaining friendships due to increased responsibilities as we age, but friendship is actually scientifically proven to help our overall physical and mental health.
You can flow with the trends but still remain true to yourself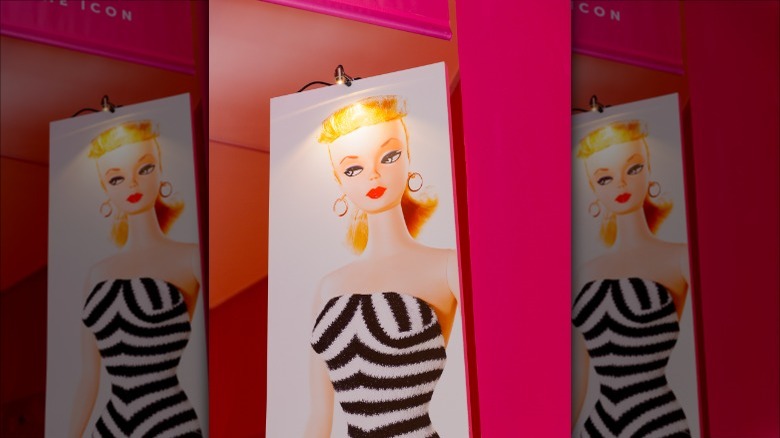 Anton_Ivanov/Shutterstock
From the moment Barbie hit the scene in 1959, she showed the world just how fashion-forward she was in her original outfit — a black and white striped pinup-style swimsuit along with a pair of oversized, thick-framed sunglasses that were ever so representative of the times. As the decades passed and evolved, so did Barbie. She breezed through the '60s and '70s with mod fashion and groovy gear, sailed through the '80s with aerobic tights and big hair, and schooled us on exactly how cool crimped hair was in the '90s.
But no matter what trend Barbie was rocking at the time, she still always had the same goal from the get-go: to teach girls that they can do and be anything they want to be. Basically, Barbie has grown with the times, but she's never let go of exactly who she is at the core. As women, we can sometimes feel like we're confined to being only one thing or that we can't dress a certain way without being labeled, but Barbie is here to tell us to throw those restrictions out the window.
Self-care should be a priority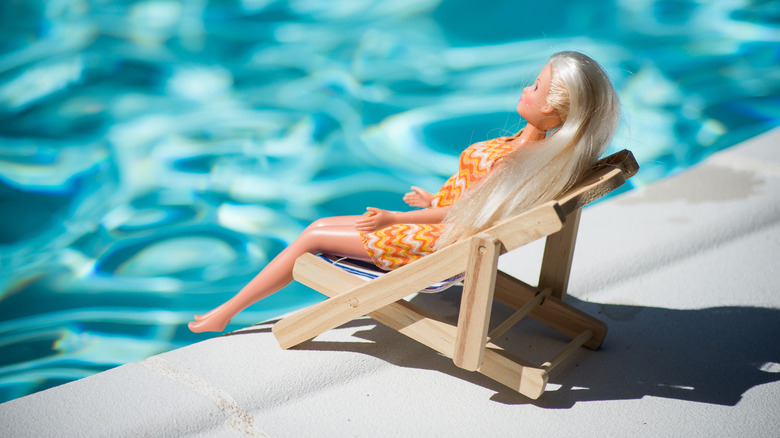 NeydtStock/Shutterstock
Barbie is a busy girl. She has juggled over 200 careers in her lifetime, has a long list of friends and relatives, and even has extensive hobbies and interests including riding a motorcycle and taking care of animals. But our imaginations have to wonder, when does Barbie have time for, well, Barbie? Over the decades, Barbie has come to focus on herself a little bit more, and society's shift in the way we view self-care may have a part to play in the recent releases of spa and wellness-themed Barbie dolls. But even back in 1983, Barbie was making it a priority to take a break from her career and spend some of her time working out with the year's Barbie Workout Center Set.
And we get it, Barbie is a doll with a fictional life story; it can be hard to compare her made-up life to the reality in which we're living. Carving out time for ourselves is easier said than done amidst work, children, relationships, school, etc., but the positive effects self-care has on our mental and physical health are huge, so let's always try and remember to take notes from Barbie when it comes to me-time.
Expressing yourself through fashion can be healing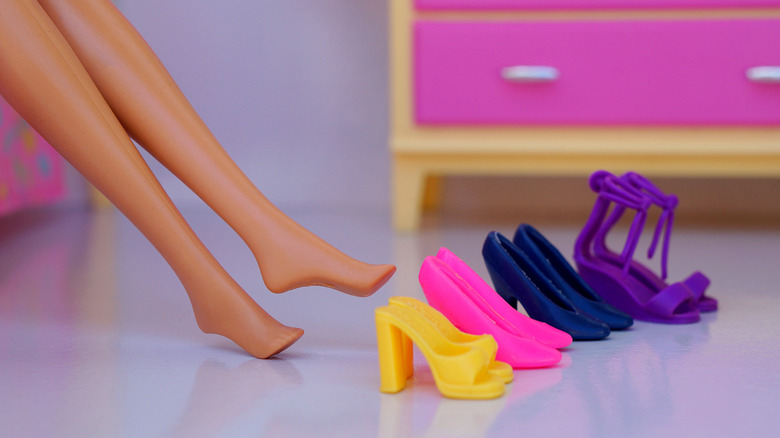 Brenda Rocha - Blossom/Shutterstock
Fashion is truly an incredible art, and Barbie has known that since her origins. In fact, one of her first jobs in 1960 was a career as a fashion designer, and it's easy to see why. When the doll was introduced, she didn't look like the other typical baby dolls children were playing with at the time — she looked more like someone you would see on a Parisian runway who donned elegant accessories like pearls, hats, high heels, gloves, clutches, and sexy trench coats.
As children, seeing all of the accessories that Barbie had to offer was arguably more exciting than a candy store. We mixed and matched outfits and jewelry, we learned about experimenting with color and its endless combinations, and we found joy in expressing who we were through dressing Barbie however we wanted. For many of us, no matter where our individual style has taken us, our earliest fashion moments were with none other than Barbie. Perhaps, at the end of the day, showing off who we are through fashion is so therapeutic because of the dear childhood memories that go along with it.
Imagination never dies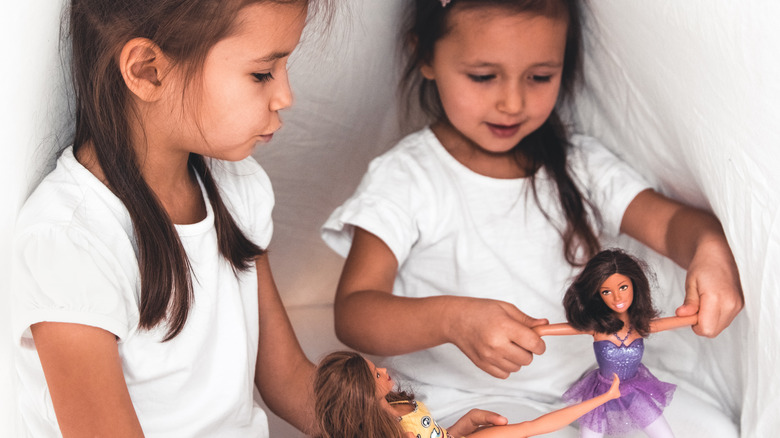 Risen20019/Shutterstock
Back in 2021, Mattel introduced a campaign called "A Doll Can Help Change the World," which was developed after a neuroscience study from Cardiff University released new details on the positive effects that occur when children play with dolls. "As category leaders in the doll category, we've always known that doll play has a positive impact on kids, builds storytelling, imagination and creativity," Lisa McKnight shares with The Drum. "The research from Cardiff University provides us with neuroscientific data that demonstrates the positive benefits doll play has on preparing children for the future through nurturing social skills like empathy."
So, while most of us likely don't play with dolls anymore unless it's with our kids, we actually probably developed some very important social skills and abilities from our early years playing with Barbies, without our parents even knowing it. Next time you're in a situation where you're feeling particularly empathetic towards your friend's recent breakup or your neighbor getting laid off, know that you might just have Barbie to thank for that.
Independence is sexy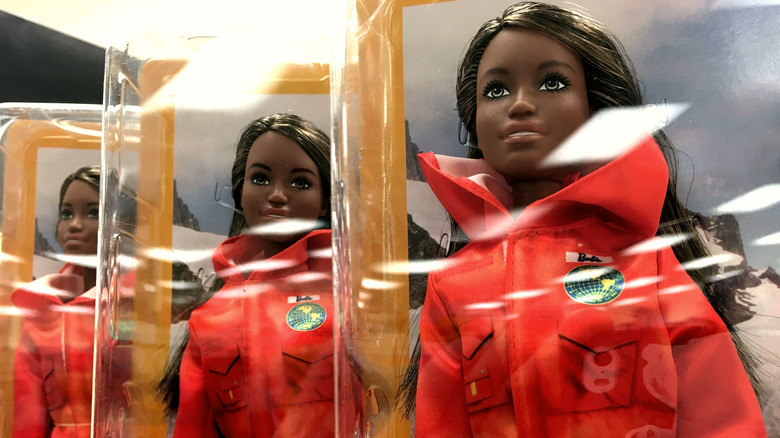 Catherine Zibo/Shutterstock
What is it that makes Barbie so appealing to the masses? Is it her silky long locks? Her smooth and pristine skin? According to psychology, it might actually be her independent spirit. Best-selling women's author and award-winning publisher Priya Florence Shah notes that independence is such an attractive quality because it shows that you acknowledge your own self-worth and that you can take care of yourself with or without a partner — two things Barbie showed the world she was completely capable of when she officially broke up with Ken back in 2004.
Furthermore, as the author of "Forever Barbie: The Unauthorized Biography of a Real Doll" M.G. Lord wrote in her book, "There were no parents or husbands or offspring in Barbie's world; she didn't define herself through relationships of responsibility to men or to her family. Barbie was independent because she did not have to answer to men or a family, which was uncommon for women in the 1950s and early 1960s" (via "The Intentions Behind the Creation of Barbie.").
No matter who you choose to be, you are important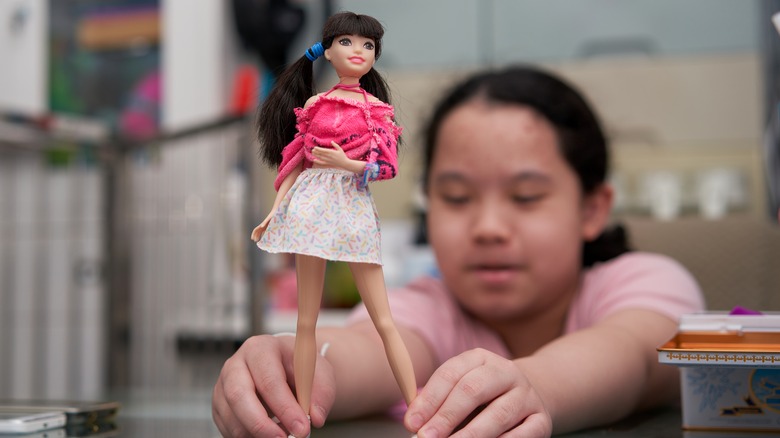 Vach cameraman/Shutterstock
Sure, Barbie has had some absolutely incredible jobs through the decades. She's been an engineer, a National Geographic photographer and scientist, an astronaut, a surgeon, a racecar driver, an Olympic champion, and much, much, more. All of these high-success careers are meant to teach young girls that they can be all of those things, too, but did you know that Barbie worked at McDonald's, as well? Yes, the same Barbie who ran for president and became a doctor also showed us there are no jobs that are beneath her.
What lesson can we take away from Barbie's work ethic? Perhaps most notably, we can learn that no matter which path in life makes us happy, our role in whatever we are doing matters. Be it having the desire to become the first female president or wanting nothing more than to be an amazing stay-at-home mother, we can, and will, own our title with confidence, a smile, and a sense of our own self-worth.