Pre-Highlighting: The Simple Change To Your Makeup Routine That Offers A Lit-From-Within Glow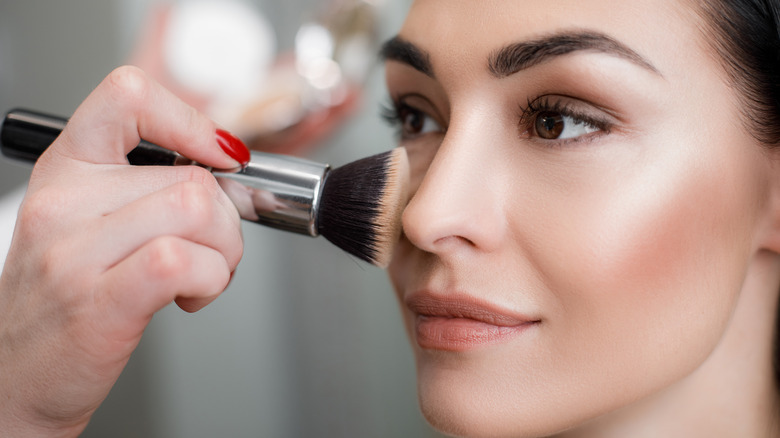 Olena Yakobchuk/Shutterstock
We may receive a commission on purchases made from links.
Creating your perfect makeup routine can take a lot of time, especially if you're a beginner. There are various makeup looks you can try out, including a matte look, a dewy look, a natural look, and more. Finding the right one will determine the type of products to use. If you already enjoy a dewy or natural look, you might opt for makeup products that will make you glow, like liquid eyeshadows, glow drops, cream blushes, and highlighters. You don't need to use too many items, but cream and liquid products work the best since they easily melt into the skin.
Advertisement
However, using the right highlighter in your routine can change everything to achieve the best glow. Some people apply a pressed-powder highlighter as their final step, swiping it above their cheekbones, on their nose and cupid's bow, and below the brow. It's perfect for highlighting specific areas of your face, but if you're looking to illuminate from every angle, you'll want to try a liquid highlighter. Celebrity makeup artist Nikki DeRoest has perfected the dewy makeup look with one simple twist — pre-highlighting. Here's how she gets that lit-from-within glow every time.
Right before your foundation
We mentioned how most people who wear makeup apply their highlighter as their last step. It might sound a little crazy, but applying a liquid highlighter before your foundation can help you get and keep that fresh, gleaming, and dewy look you see all over social media. Liquid highlighter is a handy product that many people don't use often. Granted, using it can be nerve-wracking if you've never tried it before. If you apply too much, you can look too shiny, but using too little won't give you the glow you want.
Advertisement
Before applying any makeup products, ensure you prep your skin for a pre-glow before the real pre-glow. Skin prep is crucial for keeping your skin hydrated and allowing the products to melt into your skin. Once you've prepped your skin with moisturizer and primer, use a beauty blender to add liquid highlighter to the high points of your face, like the cheekbones, brow bone, and cupid's bow. Since beauty blenders soak up makeup products, you'll want to use a generous amount of liquid highlighter to ensure it peaks through your foundation. If you don't want to waste the product, you can use your fingers to pat the highlighter on your skin. Finally, follow your makeup routine as normal. You can add some powder highlight at the end for an extra glow.
Advertisement
Some liquid highlighters to try
Many liquid highlighters are similar in the sense that they work to illuminate and give your skin that fresh, dewy glow. While prices range from low to high, luckily, there are quality highlighters out there that will fit any budget. If you've never tried a liquid highlighter before but are ready to add one to your makeup bag, Milani's Soft Focus Glow is $11 and perfect for a first-timer. It's available in three shades and also contains hyaluronic acid to add more hydration to your face. 
Advertisement
For the makeup girlies who enjoy viral products, Rare Beauty's Positive Light Liquid Luminizer Highlight is $25 and available in eight different shades. Users state that the highlighter lasts a long time, is silky and smooth, and blends easily. Another viral highlighter you might've seen on TikTok is Charlotte Tilbury's, Beauty Highlighter Wand. It's on the pricier side at $42, so you might want to use it for those special occasions when you want to look extra glowy. It has ingredients that work to give a natural glow and a high gloss effect without visible glitters.