The Bronzer Swap That Makes Warming Mature Skin A Breeze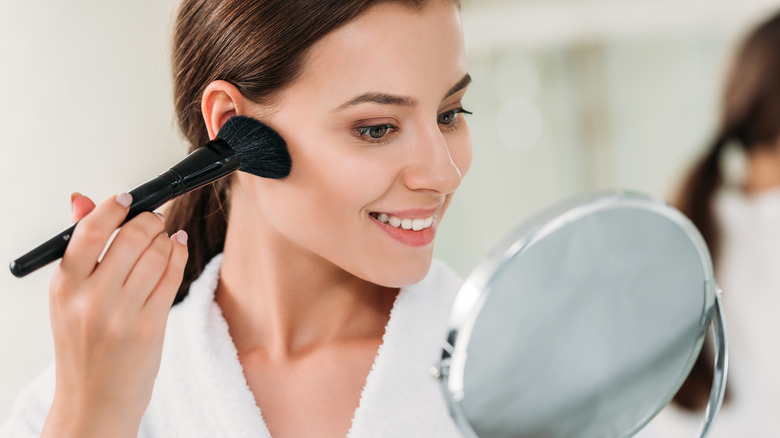 LightField Studios/Shutterstock
Bronzer is a great addition to any makeup look. The goal of bronzer is to create the glowing complexion you might attain poolside at home. Bronzers are darker than your natural complexion and often have a warmer undertone to give the coveted sun-kissed look. To get the most natural appearance, it's best to apply it around the forehead, cheekbones, and jawline. Bronzers come in many forms, including liquid, cream, and powder, with bronzer options for every skin tone.
As we begin to mature, how we do our makeup needs to be adjusted. While most people assume it's because their skin is changing, there is a more complex reason for it. Celebrity makeup artist Cynde Watson explained to ABC news that our hormones begin to fluctuate, changing our body temperature, texture, and surface changes that cause us to switch our makeup products. While most would try to change the type they use, the best option might be skipping it.
Replace your bronzer with a foundation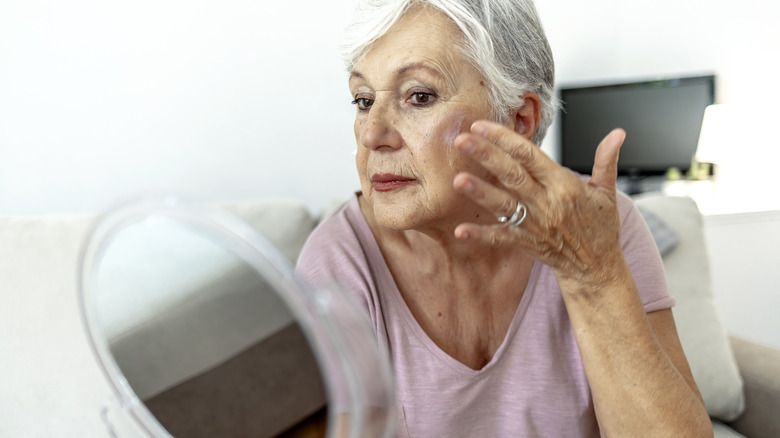 Jelena Stanojkovic/Getty Images
While it might seem counterintuitive, getting rid of your bronzer is the key to applying bronzer like a total makeup pro. When applying bronzers, you might notice that the product highlights your fine lines, wrinkles, and others areas you may be trying to draw attention from. This is because some bronzers have a lot of shimmer that draws attention to the skin's texture. While this can be disheartening, especially for those who of us love the glow, foundation is a better alternative. After using this method, you may never reach for a bronzer again.
Beth Follert, a 15-year veteran in the makeup industry, explained to Ipsy that foundation is the best way to go for mature skin. She often uses a warm-toned foundation that is darker than her client's natural complexion for a beautiful, bronzed look. She recommends using an illuminating formula for the best finish.
Stick to a liquid foundation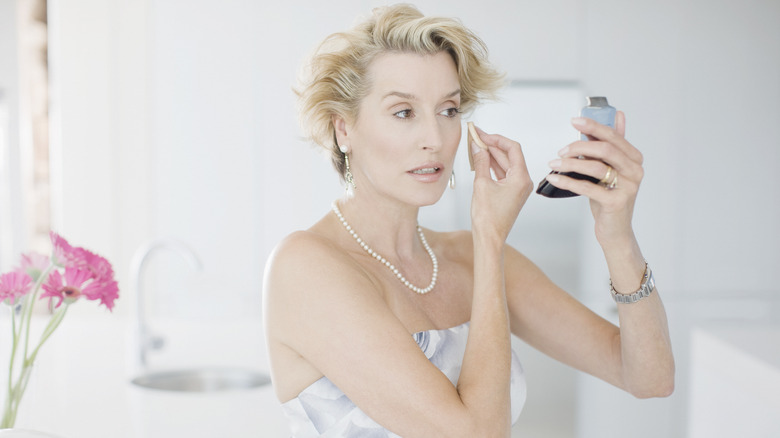 Paul Bradbury/Getty Images
When using a foundation as a replacement for your bronzer, the kind of foundation you decide to use makes a substantial difference. Beth Follert told Ipsy that it's best not to use a powder foundation. Use liquid foundations instead because powder tends to sink into lines and wrinkles and make them more visible. To get the most flattering, flawless look, the best option is to go for a hydrating liquid-based foundation.
Also, Follert warns against using full-coverage foundations. While we love how they can erase minor imperfections and create a smooth base, they may be more problematic for mature skin. Instead of getting a beautiful glow, a full-coverage foundation can look harsh. When searching for foundations, she recommends using a light to medium coverage that is buildable. Also, it is best to look for ingredients like hyaluronic acid and vitamin C for a fresh glow.