Does Olaplex Help With Hair Growth & Loss? Here's The Deal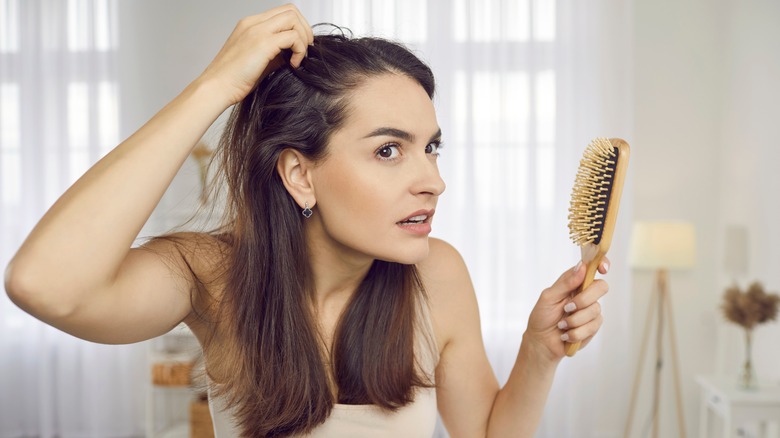 Studio Romantic/Shutterstock
Recently, Olaplex has become a go-to brand for reversing and repairing damage and breakage to the hair, both at the salon and at home. The problem, however, is that it's a bit of an investment, especially compared to typical drugstore shampoos and conditioners. One 250-milliliter bottle — or about 1 cup, if you want an imperial measurement — of its No. 4 Bond Maintenance Shampoo is $30, but most people choose to incorporate multiple items from its system to tackle their individual haircare concerns. Its Complete Hair Repair System costs $240, so it's worth doing a bit of research before you blindly jump in, hoping for a miracle worker that will leave you with luscious, full locks.
Olaplex is a well-loved choice for those with bleached or brittle hair, but thanks to its popularity, many people think it's able to treat every issue they face when it comes to their hair. Unfortunately, for those facing hair loss or thinning, this isn't really the case.
Does Olaplex prevent thinning hair?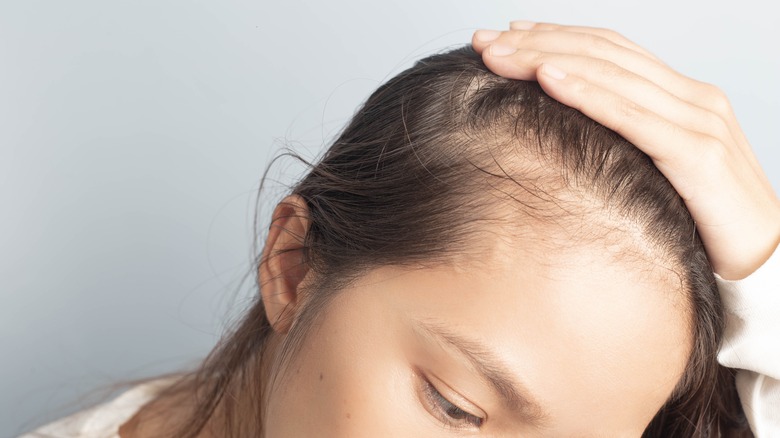 Parkin Srihawong/Shutterstock
Olaplex has a wide range of products that include serums, heat protectants, shampoos, conditioners, and masks, but these products are primarily used to stop damage in its tracks, especially from chemical treatments like bleaching. If you're looking for something to help with hair loss and regrowth, this likely isn't the line for you, especially if your thinning hair is the result of female-pattern hair loss, stress, or poor diet.
Olaplex, however, can give you the appearance of faster-growing hair if your issue is breakage. Damage to the hair can travel up the shaft, causing splits and snaps that shorten your hair over time. The number-one way to stop this damage from traveling up your strands is through regular trims to clear away split ends, but a repairing system can make your hair stronger, more moisturized, and less prone to breaking off before it reaches the length you want.
Other options for hair growth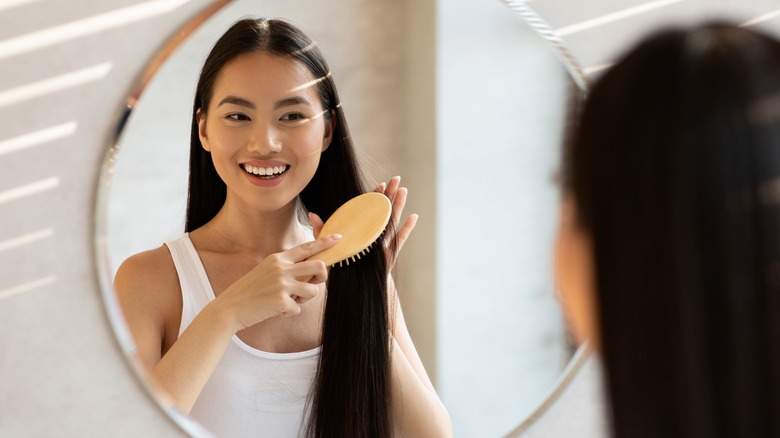 Prostock-studio/Shutterstock
If your main concern is hair loss and thinning from the root, there are other methods you can look to that will likely give you better results than Olaplex's products. This, of course, depends on the cause of your hair loss. For some, hair will naturally regrow and thicken once the cause of the thinning has stopped. Per Cleveland Clinic, hormonal hair loss, especially associated with pregnancy or stress, is temporary and not usually a sign of a larger issue. Traction hair loss, as the result of wearing tight braids or ponytails, will also usually reverse with time as long as you stay away from the styles that caused the issue in the first place.
By talking to a doctor, you'll be able to determine the exact cause of your hair loss and thinning and determine a more precise plan of action to regrow your hair. This might mean supplements to treat deficiencies, or minoxidil serum — commonly known as Rogaine — to encourage new growth. For a more holistic approach, you can also try hair oils that include rosemary. A study published in Skinmed found that the consistent use of rosemary oil over the course of six months yielded similar hair regrowth results to that of a 2% minoxidil solution in a clinical trial.
What should Olaplex be used for?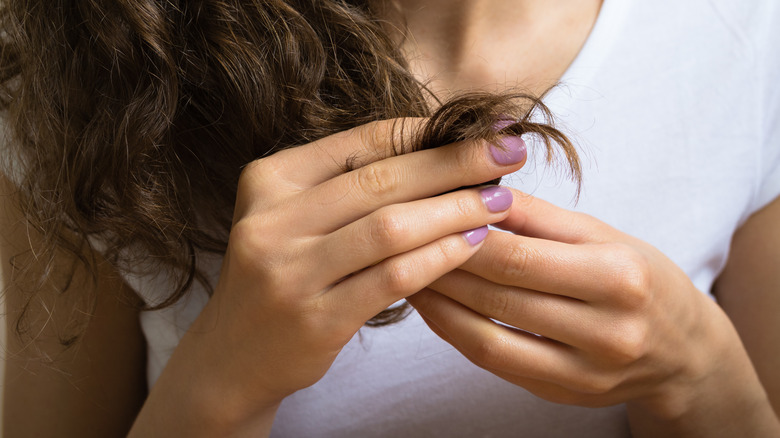 Iprogressman/Getty Images
Just because Olaplex won't do much to encourage hair regrowth from the root, doesn't mean that it can't still be an effective part of your routine. Olaplex has a wide range of products designed to treat oiliness, dryness, frizz, damage, dullness, and coarseness, so if your hair is feeling dry or lackluster, it's worth looking into. This brand is most well-known for helping to repair damage and prevent breakage, so it could be especially helpful if your hair growth issues are stemming from brittle ends.
Olaplex's products include a unique compound, Bis-Aminopropyl Diglycol Dimeleate, that targets and repairs the disulfide bonds in the hair, essentially strengthening it from inside the shaft. This compound is patented by the brand and likely the reason the brand is so popular — and expensive — so if you're looking for a more cost-effective dupe, it could be difficult to find. Because of this, it's worth trying out if you're willing to spend some extra cash and want to focus on your hair's health, but it won't encourage new growth like minoxidil.
How to use Olaplex to get the best results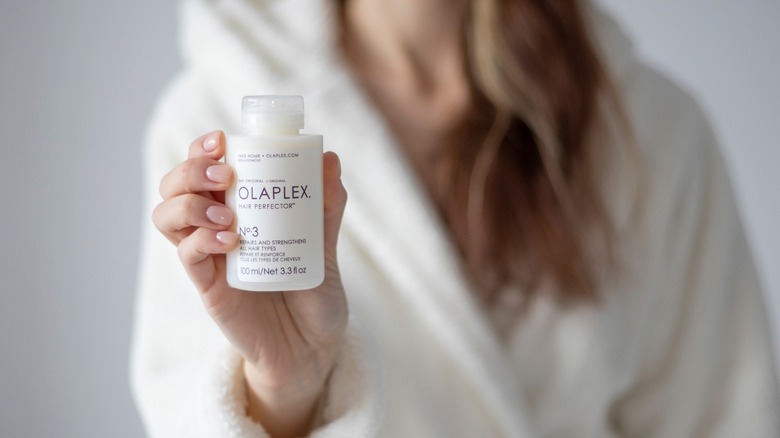 Zaruna/Shutterstock
If you're planning to take the leap and try out Olaplex to reduce your hair's damage, there are a lot of options for products available. Luckily, the brand has made it quite convenient to build a haircare routine that works for you. Along with the categories that sort products by hair concern and type, the brand has created a quiz that will give you personalized recommendations for products. 
There are about 15 questions that cover just about everything that goes into your haircare routine — frequency of washes, hair texture, damage level, familiarity with products — and after answering, you get a list of recommendations that range from single products to more involved routines. Unfortunately, hair loss isn't an option for your primary treatment concern, but this can still be a very helpful tool if you want to create a more precise plan of action to treat any other issues you may have.