Shania Twain's New Hair Saved Her From A CMT Music Awards 2023 Fashion Faux Pas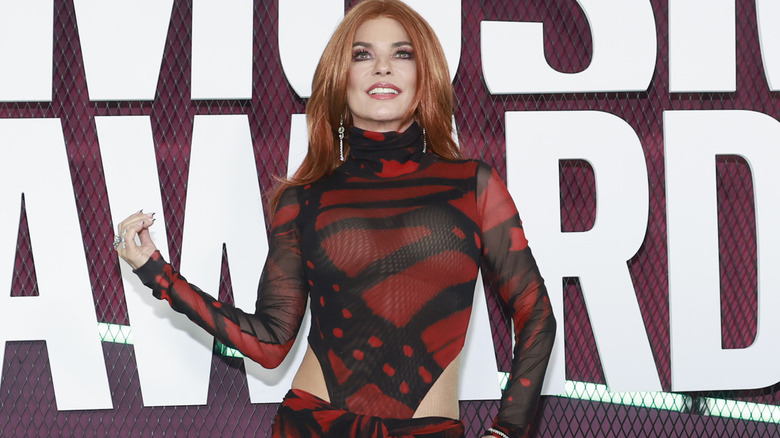 Emma Mcintyre/Getty Images
The 2023 CMT Music Awards is in full swing, and Shania Twain is amongst the celebs displaying their best looks on the award show's red carpet. The singer walked in wearing a flowing red and black dress with a jaw-dropping slit, letting her sky-high black platform Mary Janes peek through underneath its train. While her outfit was positively breathtaking, she appeared to be suffering difficulties due to the trailing hem that swirled around her feet. The combination of her cut-out gown's billowing skirt and dramatic choice of footwear led to a bit of a fashion faux pas as she seemed to stumble her way down the carpet while posing.
Despite the slight hiccup that Twain experienced as she entered the ceremony, one element of her look stole the show. The "Man! I Feel Like A Woman!" star's radiant red tresses were the center of attention, drawing eyes away from her near-mishap in front of the cameras. While tonight's style was not quite as bright as her cherry-colored locks at the 2023 Grammy Awards, the glossy auburn hue was a stunning complement to her red and black ensemble.
Twain's had a tougher night on the red carpet
She may have been stumbling on her train at tonight's ceremony, but this isn't the first time that Twain has suffered a dress-related disaster while attending the CMT Music Awards. Devoted country fans may recall an embarrassing incident at an earlier CMT Music Awards show when Twain didn't stumble, but actually fell to the floor, due in part to her fashion choices. While ascending the stage to present Blake Shelton with 2011's Male Video of the Year Award, Twain had to catch herself as she tripped up the stage steps. Although her mid-length black dress was far less dramatic at the 2011's CMT Music Awards, Twain's fall was substantial enough to be edited from subsequent television repeats of the event, per CBS News.
Encountering a fashion blunder on live television is certainly no walk in the park, but Twain appeared unfazed during her most recent slip-up at the 2023 CMT Music Awards — and rightfully so. Beyond her lustrous red locks, the star cut a striking figure in her floor-length gown, wrapped in a sheer print reminiscent of a monarch butterfly's wings. To top things off, she sported slinky silver jewelry encrusted with diamonds, which slid comfortably over the long sleeves of her dress. In addition to performing at tonight's CMT Music Awards show, Twain is set to receive the CMT Equal Play Award for her efforts to increase representation in country music.