The Best Bra Types To Wear With A Slip Dress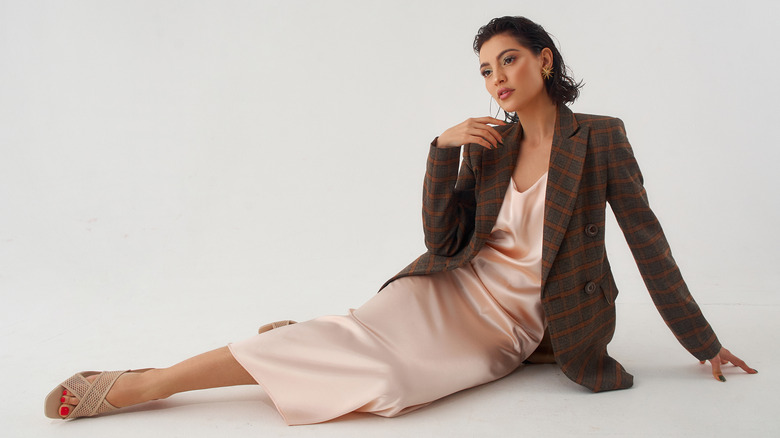 Dmitry_Tsvetkov/Shutterstock
If you ask us, slip dresses are one of the most recent staples of the spring and summer seasons. These clothing pieces have become a must-have in every wardrobe since they were brought back into the spotlight a few seasons ago. While everyone wears their slip dress differently, there's one common problem most people face — which bra to wear underneath the slip dress. It's no secret that this item is one of the most challenging to figure out, considering its various characteristics. Besides the low plunging neckline, these dresses often have a matching low back, making it hard to wear your daily bra. However, the slip dress can be a perfect clothing item for any occasion.
Depending on how you plan to style your slip dress, you can get away with wearing a bra. If you are layering a piece underneath your dress, you can wear a strapless bra or one in a nude shade. You can also wear a regular bra if you're rocking a piece over your dress and don't plan to take it off. However, most tend to wear slip dresses with no layering pieces, making the bra situation something that needs a solution. Thankfully, there are some ways you can still feel covered while rocking this piece. One way that's popular among more risque wearers is going sans bra.
The bra to wear with your slip dress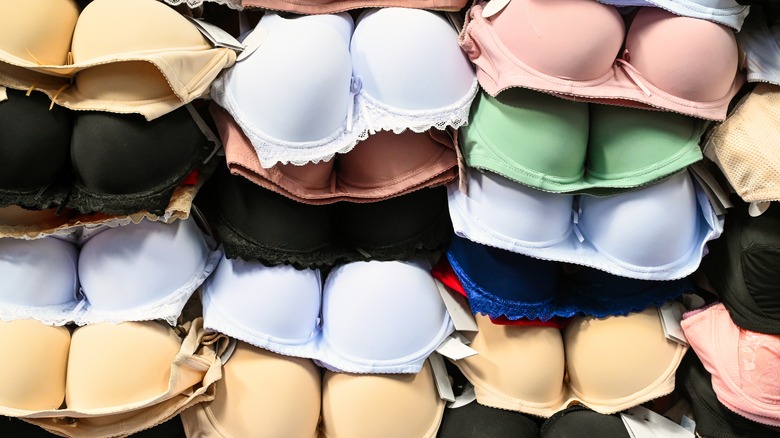 Ajdin Kamber/Shutterstock
While this won't be for everyone, many find it more liberating and fun to wear their slip dresses without any bra or covering underneath. Depending on the fabric of your slip dress, this option may not be too revealing. If your dress is a thicker fabric, you may not need a bra. This solution is also ideal during extreme heat or humidity when more layers aren't always the best.
Alternatives include a strapless bra, a self-adhesive bra, pasties, or tape. Strapless bras could work with your slip dresses, granted your dress doesn't hang too low. If your neckline, sides, or back reach low, you'll risk your bra showing at any of these angles. If your back or sides are low, but your neckline isn't, you could opt for an adhesive bra. These bras stick on and don't have a back or sides. While this isn't the most comfortable choice, it might be the best solution for most slip dresses. Other options that could work are pasties or tape. These stick onto the breast and keep the fabric in place. While this will work for any slip dress, it might leave you with more fear.
What to wear with a slip dress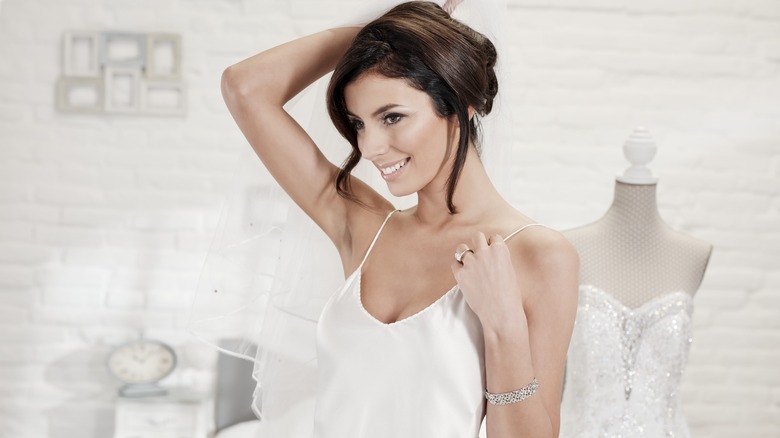 StockLite/Shutterstock
Styling your slip dress is entirely up to your preferences. However, there are some items you may want to avoid. Undergarments with harsh lines could show through the fabric, revealing it entirely. Avoid bold prints or colors on your undergarments, as these will show through the fabric of the dress. Slip dresses are usually made of thin fabrics like satin, making it easy for bold items to stand out. If you're worried about a wardrobe malfunction, keep a chic blazer or coat on hand for coverage. Blazers and slip dresses are a common combination if you want to create a sophisticated work outfit. An outer piece can also give you that extra protection you want. While blazers will always be a fashion staple, you can switch one out for a denim or leather jacket, depending on your event.
When it comes to your underwear, be mindful of how form-fitting your slip dress is. In most cases, you'll want to opt for seamless panties or thongs, which won't show through the fabric. Keep your undergarments as light as possible, as any form-fitting garment can get too warm, especially in summer-like weather. Finish your slip dress with either sneakers or heels to keep your outfit stylish.