You May Be Using The Wrong Concealer Shade To Cover Up Your Blemishes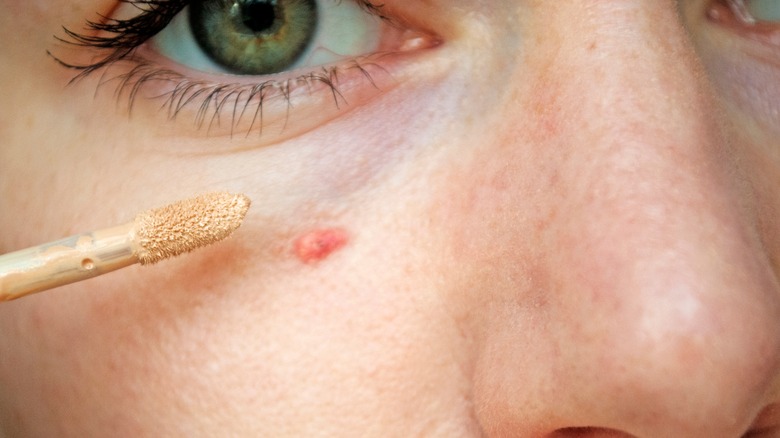 Lina Ptashka/Shutterstock
We may receive a commission on purchases made from links.
Finding the right shades of different makeup products can take a lot of time, especially if it's your first time buying foundation or concealer. You might pop over to a store to ask someone to match a product to your skin. While they might help you find the right foundation shade, concealer can be a little trickier. The rule of thumb regarding concealer is that you want it to brighten specific areas of your face. For example, most people will use concealer to hide dark undereye circles. They might also place a couple of dots over a few unnoticeable blemishes or dark spots. You can use concealer to lift and highlight the central parts of your face, such as your nose and cheekbones, and create the illusion of a more contoured look.
Advertisement
On the other hand, concealer can come in handy when covering small acne spots, but you might've noticed it's harder to cover larger zits. If you typically pick or pop your zits, they likely become inflamed and develop a bright red tone. It's something you definitely don't want to highlight, so using a brightening concealer isn't the best choice. Many of us use the wrong concealer shade to cover up those stubborn red blemishes. As it turns out, going a shade darker is the best move.
Go a shade darker for concealer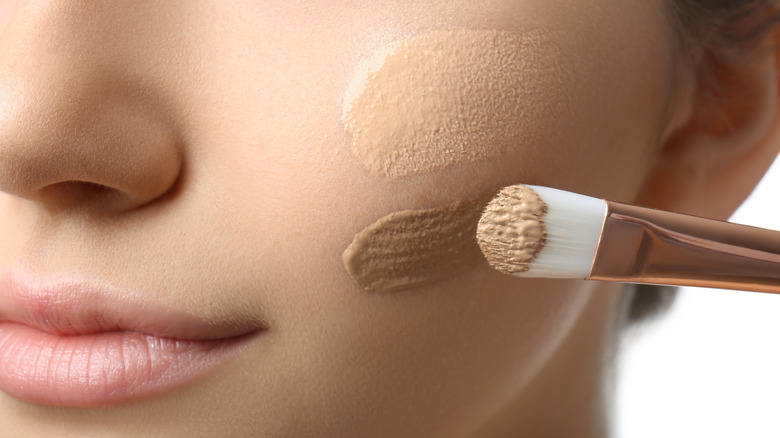 New Africa/Shutterstock
Concealer is used to brighten specific areas of your face, so if you use a lighter shade of concealer over any irritated pimples, you'll draw attention to them rather than away from them. Instead of using a lighter shade, you want to use a half to a full shade darker than your skin tone to help it blend in with your face naturally. In addition, opt for a full coverage concealer that's buildable and easily blendable. You'll also want to consider buying a foundation powder that's full coverage and denser to boost the effects.
Advertisement
The secret to making your concealer last is using the right tools. You'll want to use a beauty blender with the concealer, and then a small fluffy makeup brush with the foundation powder — tap the product on the zit and the skin around it for effortless blending. If you find that using a darker shade of concealer isn't giving you the results you're looking for, various color correctors can help hide blemishes. A green color corrector is ideal for red acne spots — green is the opposite of red on the color wheel, and it'll help disguise your blemish.
Shop for concealers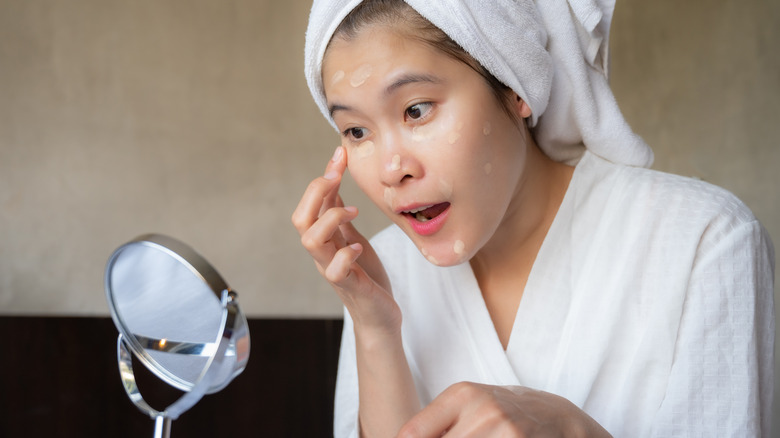 Boyloso/Shutterstock
Many concealers have their viral moment, but choosing the best one for you and your skin type can be challenging. When looking for the perfect concealer, you want one that's lightweight and won't look cakey when it dries. The NARS Radiant Creamy Concealer is one example of a multipurpose concealer that's meant to brighten, hydrate, and correct any dark spots and blemishes. While it's more of a medium coverage, it's also buildable, so you can apply as much as you need to get the coverage you want. There are 30 different shades available as well.
Advertisement
For a more affordable option, NYX's Professional Makeup Can't Stop Won't Stop concealer is lightweight and provides full coverage all day long. You can use it on any skin type, and it is perfect for covering blemishes. Additionally, it's composed of a waterproof formula — you won't have to worry about your makeup running if you're going out dancing. Try out several concealers to see which will work for you. Find makeup brands with an abundance of shades to give you more options — there can be a drastic difference between two similar shades within the same tonal range.