The Q-Tip Makeup Hack Is The Simplest Way To Get Natural-Looking Coverage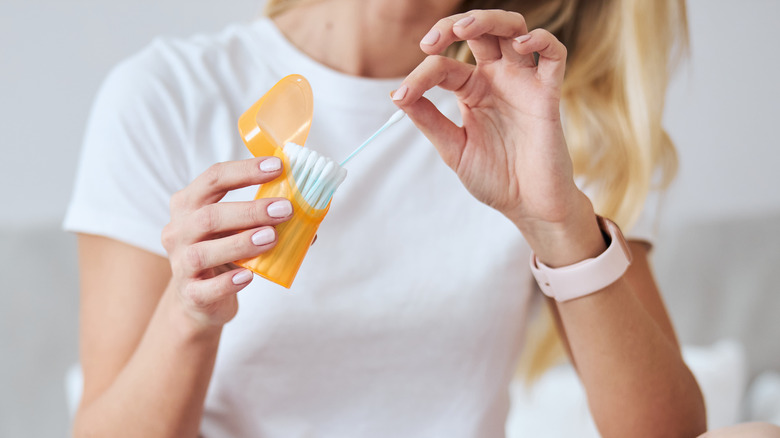 Svitlana Hulko/Shutterstock
A Q-tip or cotton swab is the perfect example of why we shouldn't judge something's worth by its size. The versatility of Q-tips lies in their small size. Because they are tiny and easy to maneuver, Q-tips are often used to access super tight spaces, such as clearing the ear canal of build-up dirt, fixing eyeliner or mascara smudge, and removing excess nail polish. Medical-grade cotton swabs can also be used in medical operations on infected areas. Yup! A well-stocked box of Q-tips will help you handle lots of things. 
Advertisement
Another lesser-known benefit of cotton swabs is that they can help take your makeup look to the next level. This may sound surreal, but a tiny stick with a minute mass of absorbent cotton can do wonders in evening out your foundation coverage and helping you hide imperfections with minimal effort. Use them properly, and you won't even need a concealer. So, if you're a fan of no-makeup makeup, this Q-tip makeup hack is the simplest way to help you achieve natural-looking coverage in no time. 
It gives your coverage a dewy finish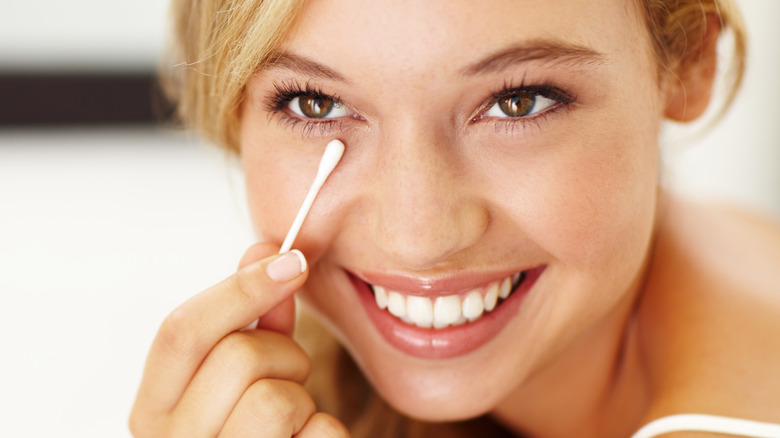 Globalstock/Getty Images
The Q-tip makeup hack was shared by makeup artist Megan Lavallie via TikTok. In the clip, she uses only a foundation and a Q-tip, which makes an ideal shoo-in for a pointed brush that's often used for concealing and contouring. Since a cotton swab has a tapered head, it enables the targeted application of a makeup formula to achieve a precise approach.
Advertisement
To test it out, she dips one tip of a cotton swab in her foundation, then taps the product onto her blemishes. You can dot the formula over pesky zits or any areas on the face that need extra coverage.
The reason why you don't need a concealer, in this case, is because a foundation, being closer to your natural skin tone than a concealer, can help diminish the appearance of imperfections in a more natural way than a concealer. Besides, foundations are lighter than concealers, per Ipsy. 
However, foundations are available in varying levels of consistency and coverage. If you want enough coverage to hide surface blemishes or there are certain areas on your face that need more coverage than others, a medium-coverage, a full-coverage, or a buildable coverage foundation is a good shout, L'Oréal Paris advises. To help the product stay on for longer, dab some loose or setting powder over the spots where you applied foundation to. 
Advertisement
What else can a Q-tip do?
Makistock/Shutterstock
Highlighting the inner corner of the eye is a great way to jazz up the eyes and lend a halo effect to any makeup look. And this step is usually done using a small, flat brush. However, if you're always on the go and you don't have the right brush at your disposal, you can also use a Q-tip to gently press a highlighter into the inner corner of the eye instead. 
Advertisement
A Q-tip is also a wonderful helper to the eyebrows. To fill in your eyebrow for a natural look, you can pick up some brow powder or a dark shade from your eyeshadow palette and gently fill the gaps with small and light strokes. Once you're done coloring the areas that need filling, clean up any spilled color around the brow. To lend your eyebrow a more defined shape, apply a light coat of concealer under the brow, and use a clean Q-tip to blend the concealer out following the natural curve of the brow, shares Rachael O'Neil via TikTok. 
By the same token, a Q-tip can also do an amazing job in helping you ace your lipstick application. In this viral makeup hack, as shown by TikTok user Rocio Soria, you're supposed to hold a Q-tip between your lips while applying lipstick. It's supposed to help you apply lipstick without the color spilling into the surrounding corners of your mouth or onto your teeth.  
Advertisement